That's not the Eye of Sauron pictured above, it's a new multi-sensor that can detect not only movement but also ambient temperature and light intensity. It's one of three new products from Fibaro that are compatible with Apple's HomeKit smart-home platform. Fibaro also announced a new flood sensor and a new door/window sensor today.
The $70 Fibaro Motion Sensor is battery powered and uses Bluetooth LE (low energy) technology to communicate with an iOS device and/or a central hub or control panel. The eye-shaped LED indicator changes color when it detects motion, temperature and lighting changes, and tampering (thanks to an onboard accelerometer that can trigger an alarm if the sensor is moved).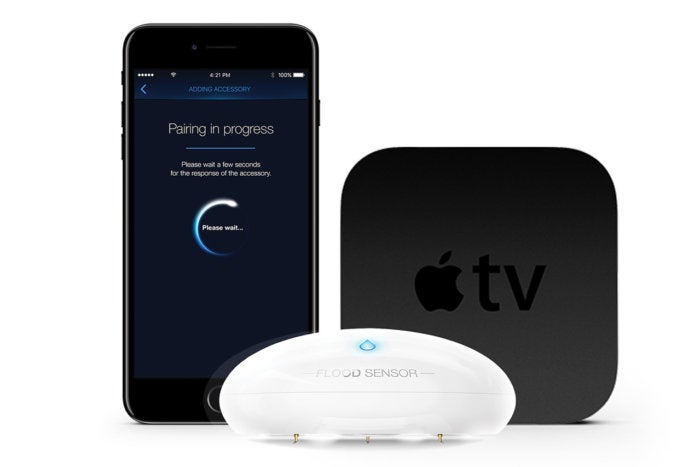 The Fibaro Flood Sensor, also $70, is similar to the Z-Wave-based model we reviewed earlier this month. Like that model, this one is outfitted with three telescopic probes that enable it to detect water even on uneven surfaces. In addition to sending alerts to your smartphone or to a hub, the sensor has an onboard alarm and an LED that signals when water is detected. The Fibaro Flood Sensor can also monitor ambient temperature, so that you'll be aware if it gets cold enough for your pipes to freeze and possibly burst.
Fibaro's Door/Window sensor is the least interesting of the company's new offerings, but few such devices are. You attach one half of the sensor to the door or window frame and other to the door or window itself (using the provided adhesive backing). When the two contacts are separated—when the door or window is opened—the sensor sends a message using the Bluetooth LE protocol to your smartphone or to an internet-connected hub if you want to incorporate the it into a larger smart-home system and receive alerts when you're away from home. These sensors are available in seven colors and cost $60 each.
Why this matters: It's taken a while for Apple's HomeKit technology to gain traction in the marketplace, but it's catching on now. Sensors like these are important for the basic infrastructure of a smart home, and Fibaro's are better than many that we've seen. But you'll need a central hub to get the most out of HomeKit devices, and you'll also need an Apple TV if you want to interact with them via the internet. That makes the HomeKit platform more secure than some other DIY smart-home systems, but it's also more expensive.