At a Glance
Expert's Rating
Pros
1080p video
Can be connected to other smart home products via IFTTT
Records video locally and to the cloud
Cons
No audio detection
Image has some fisheye distortion
Our Verdict
Don't let the small size fool you. This camera delivers home security features on par with its bigger competitors.
The Ezviz Mini I reviewed late last year was a home security camera that stood out from the hordes of Dropcam clones, thanks to its small size and even smaller price tag. Ezviz has now released a new-and-improved version, the Ezviz Mini Plus, while keeping it attractively priced at $100.
From the outside, there's little to distinguish the Ezviz Mini Plus from its predecessor. It sports roughly the same dimensions and weight—just under 3.5 inches tall and about 3 ounces respectively—and it features the same sturdy metal housing, though it's now offered in a black finish as well as white. The camera swivels 180 degrees on its magnetic base. This last feature gives you additional mounting options if you don't want to permanently place it on a wall or ceiling with the included bracket and screws.
This review is part of our comprehensive coverage of home security cameras. You'll find more reviews here.
The "plus" comes in the upgrade of a couple of crucial specs. The camera's video resolution has been bumped up from 720p to 1080p, and its viewing angle has been expanded from 115- to 135 degrees. That means you'll be able to see more and see it more clearly. The latest version of the Ezviz companion app also adds IFTTT integration.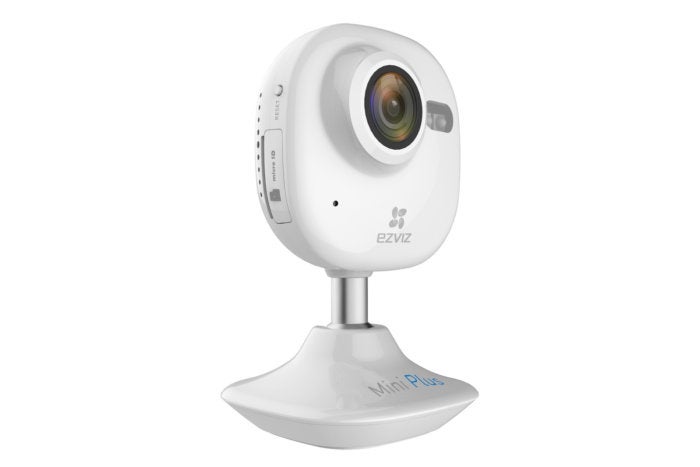 The rest of the camera's features remain much the same. The camera detects motion and pushes a notification to your phone, but audio detection is still curiously not supported. A built-in mic and speaker provide two-way communication, so you can tell your dog to get off the couch or, check in with your kids, or startle an intruder. And a single infrared LED provides night vision up to 25 feet.
Mentioned in this article
EZVIZ Mini
Also like the original Ezviz Mini, the Ezviz Mini Plus can record video simultaneously to a microSD card—up to 16GB. You can supply your own or purchase the Ezviz Mini Plus with one included, which knocks the price up to $120—and the cloud. The latter requires a CloudPlay subscription: After a free 30-day trial, you can purchase seven days of stored recordings for $6 per month or $60 per year, or 30 days for $11 per month or $110 a year.
Setup and usage
One of my criticisms of the original Ezviz Mini was the setup process. You had to scan a QR code and then follow on-screen prompts to connect to your wireless network. It sounded quick and painless, but was anything but. The Ezviz companion app wouldn't recognize the code, and after several fruitless attempts, I resorted to the more tedious method of manually entering the camera details.
The setup process is essentially the same for the Ezviz Mini Plus, but it works far better. This time the Ezviz app recognized the code immediately, and I had the camera up and running in just a few minutes without any hiccups.
The Ezviz app got a fresh coat of polish in the interim between our reviews and a few extra features as well. The basic functions are still in the same spots: From the toolbar below the live feed window, you can turn the camera on and off, mute the live audio, toggle between single and multiple (up to four) camera feeds, and flip or zoom in on the camera image. Beneath this are buttons for triggering the mic, taking a screenshot of the feed, manually activating video recording, and switching between basic, standard, and hi-def resolution.
A couple of new features round out the camera's home screen: A video history timeline lets you scroll through a day's feed, highlighting in orange any motion-detected events so you can easily find and review the video recording. While that makes hunting for specific footage easier, the daily recap feature is even better. It condenses every motion event into a single summary video. It's a great way to quickly review the days' goings-on when you get home from work.
The camera's new 1080p resolution is impressive, rendering razor-sharp images with brilliant colors in day mode, and sharp detail and optimal contrast with night vision on. Unfortunately, the camera image still suffers from fish-eye bending around the edges. Many other home security cameras use some kind of de-warping technology to mitigate this byproduct of wide-angle lenses. It might be time for Ezviz to look into something similar.
The fussy nature of motion-detection algorithms often means benign movement, such as a tree branch bouncing in the wind outside a window, can trigger an alert. Too many of these false alarms and your security camera can feel more like an annoyance than a help. Unfortunately, errant alerts were common with the original Ezviz Mini and the early version of the Ezviz app offered few customization options to curb the camera's hair-trigger sensitivity.
The Ezviz Mini Plus rectifies both of these issues. Out of the box, motion detection was a lot less jumpy—at one point I had to double check that it was even toggled on—but you can now decrease or increase the sensitivity to your liking, using a sliding scale of 0 to 6. If you use the app's scheduling feature to activate motion detection only during certain times of day, such as before your kids get home from school, you can reduce potentially annoying alerts even further. In all my testing, I never got an alert that wasn't legit.
The Ezviz Mini Plus' biggest plus may be its new IFTTT integration, which allows you to connect it with other smart home products like Amazon Alexa, Nest thermostats, WeMo switches, and Philips Hue lighting. Even if you're not into home automation, you can use IFTTT to trigger additional actions, such as automatically turning the camera on when you leave home or enabling sleep mode when you walk in the door. The Ezviz app includes a few IFFTTT recipes but you can add more from the IFTTT website or create your own.
Bottom line
The original Ezviz Mini was a solid, if basic, home monitoring solution. If the Ezviz Mini Plus did nothing but improve on its few shortcomings—which it definitely has—it would be worth recommending. But the bump in resolution, wider lens, and addition of IFTTT integration, make this little camera perfectly capable of contending with its bigger competitors. If you're looking for a no-hassle camera for security purposes or just checking in on kids and pets, the Ezviz Mini Plus will deliver.