The latest version of the intriguing Vivaldi browser just rolled out with an interesting addition meant to meld the Internet with your physical space. In a first for web browsers, Vivaldi 1.5 includes native Philips Hue smart lighting integration.
Chrome and Firefox can also integrate with Philips Hue, but only through add-ons or extensions, not native integration.
It's unlikely most mainstream browsers would add this feature, either. Chrome and Firefox are focused on simplified, customizable browsers for mass appeal, for example, while Vivaldi wants to win over power users.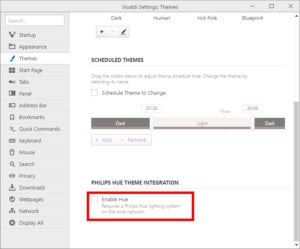 Vivaldi's Philips Hue integration is nothing earth shattering, but it's a pretty neat trick. The idea is that the lighting in your area can change color based on the color themes of the website you're visiting. It's reminiscent of the way some HDTVs include peripheral lighting that changes based on the picture displayed on the TV.
On TVs this gives you the illusion that your display is extending a bit farther out than it actually is. Vivaldi's integration, meanwhile, appears to be more about blurring the lines between physical space and what's on your screen through the use of color.
The impact on you at home: Thematic color changes appear to be just the beginning for Vivaldi's smart lighting dreams, however. Vivaldi hopes this feature could one day be used for notifications and perhaps other integrations with your digital life. "Imagine a world where you get notified for a new email or web notification through a light bulb," Vivaldi Technologies CEO Jon von Tetzchner said in a written statement. Philips Hue bulbs can already carry out similar actions for real world events. There's an IFTTT recipe, for example, that lets your Hue lights change color based on weather conditions.
How to use Vivaldi's Hue integration
To connect Vivaldi with your Philips Hue system, download Vivaldi 1.5 for Windows, then click the settings cog at the bottom of the left-hand navigation panel. When the settings window opens up, click on Themes. Now check the Enable Hue box under the "Philips Hue theme integration" heading.
Next, click the Find Bridge button that appears, and then confirm the connection on your Philips Hue Bridge. Finally, decide which lights Vivaldi will control, and you're done.
After you're done fiddling with Philips Hue integration, Vivaldi 1.5 also brings the ability to drag multiple tabs (including tab stacks) at once. There's also a reader view button in the address bar, delta updates, and the browser can now automatically add screenshots to notes any time you create a note from selected text on a webpage.