At a Glance
Expert's Rating
Pros
Wide-angle field of view
Customizable motion and sound detection
1080p video
Cons
No battery backup
No cloud backup
Our Verdict
This new and improved Full HD 180-Degree Wi-Fi Camera is among the best home security cameras available.
Best Prices Today: Full HD 180-Degree Wi-Fi Camera (DCS-2530L)
Earlier this year, we reviewed the Full HD 180-Degree Wi-Fi Camera (model DCS-2630L), a good camera handcuffed by a limited app. This second iteration of this camera, model DCS-2530L, retains all the previous version's strengths while eliminating its weaknesses.
At first glance, the design of the DCS-2530L would seem a carbon copy of its predecessor: a round camera body mounted to horseshoe-shaped stand, all in a black finish. But the new camera is actually about two-thirds the size of the 2630L. As one of our knocks on the earlier model was its bulk, this is a vast improvement. The ability to conceal a security camera among your home décor is desirable for both stealth and minimizing the creepy factor inherent in any kind of surveillance. This new version achieves that much better than the original.
Beyond this, however, the 2530L's specs are nearly identical to the 2630L's. It boasts a 180-degree field of view with de-warping technology to mitigate the fish-eye distortion common to wide-angle lenses. The new model also still supports motion and sound detection alerts, up to 1080p video recording, two-way audio, and night vision up to 16 feet. The only significant deviations from the original that we could find are its 10x digital zoom—which betters the 2630L's 8x digital zoom—and the fact that D-Link downgraded wireless connectivity to the 802.11n standard from 802.11ac.
One of the things that sets D-Link's home security cameras apart from most of its competitors' is the lack of a cloud offering. The 2530L, like all D-Link models, records video locally to MicroSD/SDXC card (up to 128GB). The obvious benefit of this is that there's no ongoing cost for a cloud subscription, which can add hundreds of dollars of year to the cost of ownership. Not recording to the cloud also frees a lot of network bandwidth. The drawback, though, is that you don't have a backup of your security footage if intruders decide to take or break your camera to their tracks.
Setup and usage
I still have painful memories of the 2630L's troublesome setup. But though the process is essentially unchanged for the 2530L's—scan the device's QR code with the mydlink lite companion app, and the connect it to your Wi-Fi network either manually or via WPS—it went way more smoothly this time. The camera was up and running within 5 minutes instead of 45.
You can view the camera's live feed in three resolutions—480p, 720p, and 1080p—which you can toggle through on the app's menu bar below the feed window. Full HD provided the crispest image, not surprisingly; but even at 480p, the image was still pretty good, with none of the pixelating you sometimes see at lower resolutions. That's a plus if you're planning to run the camera a lot and want to conserve bandwidth.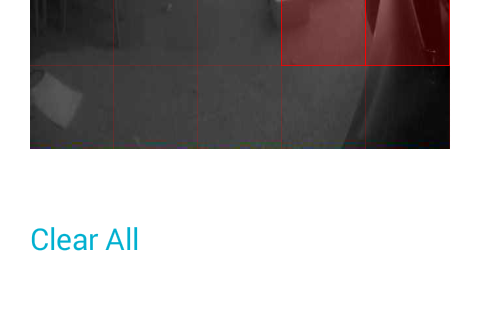 D-Link's de-warping technology continues to do its job. Even though the 2530L easily took in the expanse of my living room, there was no detectable image bending even at the sides of the frame. Night vision worked well, too, illuminating the entire room and allowing enough contrast to make out details in the picture.
The biggest fault I found with the original version of D-Link's 180-degree camera wasn't with the camera itself, but the mydlink lite app. At that time, it only gave you control over the camera's video and audio features; for advanced settings, you had to access the MyDlink web portal. That's not exactly convenient when you're away from home with only your smartphone.
The app has evolved considerably since then, as we've seen using it with other D-Link cameras, and those advanced settings have been integrated into it and improved. The upshot is you have more finely calibrated motion and sound detection at your fingertips.
You have the option of enabling motion detection only—if you just want to be notified of an event so you can tune in to the live feed—or motion detection-triggered video recording. You can also now set motion-detection areas from within the app. Previously this was a web-only option and required you to draw squares with the mouse on the feed image to define areas you wanted to monitor. It was fairly clunky. The new implementation mirrors other apps where you just tap squares on a grid overlay. You can adjust the detection sensitivity, as well, using a slider control.
As with motion detection, you can opt for sound detection only or sound detection with video recording. A graph displays the current decibel level, and you can move a level bar up or down to set the detection level you want.
These settings give you a lot more latitude for customizing your surveillance. If you have a pet or children at home, for example, you can raise your sound-detection threshold and limit motion detection to areas where movement is more likely to indicate a security breach, such as doors or windows, to drastically reduce false alarms.
Bottom Line
Apparently it's the second time that's the charm, because D-Link nailed it with this second generation of its wide-angle security camera. Are the improvements enough to justify the cost of upgrading from the DCS-2630L? Probably not. But if you're just jumpting into DIY home security, you can now count the Full HD 180-Degree Wi-Fi Camera among the best options available.
Best Prices Today: Full HD 180-Degree Wi-Fi Camera (DCS-2530L)