At a Glance
Expert's Rating
Pros
Excellent playback of commecial UHD Blu-ray discs
Can decode 2.8- and 5.6MHz DSD audio files
Stereo and 7.1-channel analog audio outputs
Cons
Supports fewer media file formats than the competition
Overpopulated remote
Price tag limits its appeal (unless you're an audiophile or home theater buff)
Our Verdict
This is a great Ultra HD Blu-ray player, but most people won't benefit from the advanced features that lift its price tag so high.
Best Prices Today: Panasonic DMP-UB900 Ultra HD Blu-ray player
Panasonic's DMP-UB900 is the most feature-rich UHD Blu-ray player you can buy. It boasts a raft of abilities the competition doesn't, including support for high-resolution DSD audio files. But if you're not an audiophile or a home theater buff with the outboard gear to take full advantage of it, there's little point in paying the high price that Panasonic demands. In fact, you could buy two Xbox One S gaming consoles or two-and-a-half Samsung UBD-K8500 players for the same cash.
The DMP-UB900 delivered playback as good as any of the players we've tested. Fast motion and action scenes were as smooth as a baby's behind, the color was dead on, and there was hardly any shimmer in pans of highly detailed images. We did see a bit more of the drag-field effect (some areas don't appear to move when others do) when scaling 720- and 1080p video up to 4K than we did with the Samsung and the Xbox One S, but images appeared slightly more detailed on the Panasonic. We did have one issue where a menu didn't appear on a non-commercial disc, but commercial discs mounted quickly and without fail.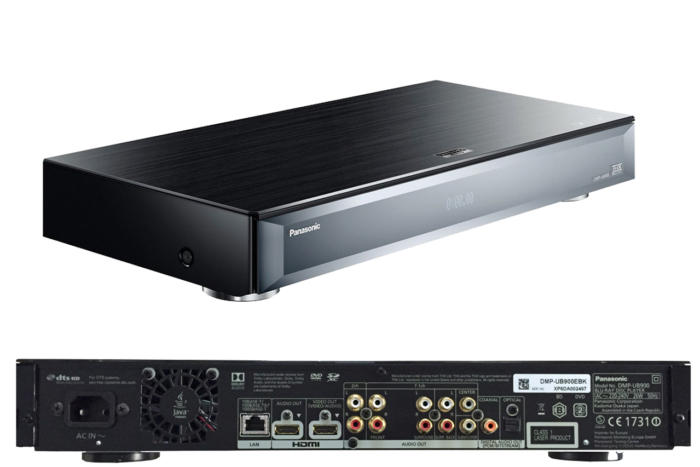 The DLNA compliant DMP-UB900 can play media from local (USB or SD card) and other DLNA devices on your network. But Panasonic is choosy when it comes to file format and codec support. On the upside—for audiophiles, at least—the DMP-UB900 can play two-channel 2.8- and 5.6MHz DSD audio files, although it cannot play the Super Audio CDs that gave birth to that format. It can also play FLAC, MP3, Apple AAC, Apple Lossless, WAV, and WMA (but not WMA Lossless) audio files.
On the video front, Panasonic's player is compatible with MKV, MPEG, and MP4 (h.264 video with AAC audio) files. Panasonic released a firmware update that added support for HEVC MP4 playback after this review was written. JPEG and MPO (3D stills) are the only image file formats supported. You can't view any of the BMP, GIF, or PNG image files that are so common on the internet.
Part of the reason the DMP-UB900 is so expensive is its comprehensive set of A/V connections, including HDMI and HDMI audio out (very convenient if you're going to connect the player to a video projector), S/PDIF optical and coaxial digital audio outputs, analog stereo out, analog 7.1-channel out, and ethernet (there's also a dual-band Wi-Fi adapter onboard). A tilt-down panel in front hides an SD card slot and a USB 2.0 port (the Panasonic's USB ports can support both a mouse and a keyboard).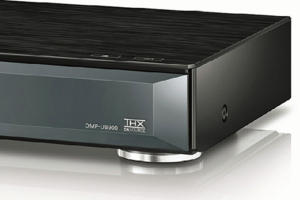 The DMP-UB900's on-screen interface is boldly rendered and easy to use. Panasonic's app ecosystem, meanwhile, includes most of the major services—Netflix, YouTube, Amazon, et al—and there's a dedicated Netflix button on the remote control, but the other two players offer even more. This can change with firmware updates, of course, or you might prefer a dedicated box or stick from vendors such as Roku or Amazon.
Speaking of the remote, it's large with a lot of buttons. On the other hand, unlike the Xbox One S and the Samsung UBD-K8500, it allows you to control playback without resorting to an on-screen menu (Microsoft offers an optional media remote for the Xbox One S, but it costs extra).
To sum things up: Panasonic's DMP-UB900 is the Ultra HD Blu-ray player to buy if you're a home theater enthusiast or an audiophile and you have the outboard gear that will take advantage of its advanced audio features.
Best Prices Today: Panasonic DMP-UB900 Ultra HD Blu-ray player