The Amazon Echo challenger Google Home is now available, and the teardown kings at iFixit wasted no time in ripping one apart. What they found inside wasn't all that exciting, but iFixit did discover that Google Home is a close cousin of the 2015 Chromecast owing to the similarity of components on both motherboards.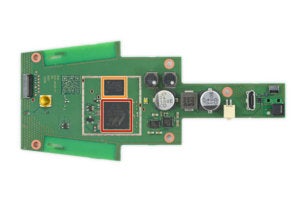 They're not identical twins by any stretch, as each features some device-specific components that wouldn't make sense on the other. Google Home has a Texas Instruments TAS5720 audio amplifier, for example, which the Chromecast doesn't need. However, both devices are rocking the same dual-core ARM Cortex-A7 media processor, and the the same kind of Toshiba NAND flash for internal storage—the Chromecast has 2GB onboard, while Google Home has 256MB.
The two devices are also rocking the same Marvell Avastar wireless connectivity module for WLAN, Bluetooth, and NFC, and similar SDRAM from Samsung. Google Home packs 512MB of Samsung K4B4G16 B-Die DDR3 SDRAM, while the the Chromecast is rocking 4GB of Samsung KK4B4G1646D-BY DDR3L SDRAM.
Other than the motherboard echo from 2015, there's not much exciting lurking inside Google Home from a hardware standpoint. The device does have a hidden mini-USB port for debugging/programming hidden under the Home base. Incidentally, Google is now selling a variety of Home bases to add a splash of color to your smart speaker, as first reported by Android Police.
The story behind the story: Google Home may not have all that much excitement in terms of specs, but it doesn't need to. The real magic of a device like Google Home happens on Google's servers, for which the Home is merely a conduit. The only thing it really can't skimp on is the sound, which we were impressed by in our review. IFixit discovered the Google Home's audio is driven by a Peerless PLS series speaker.
One last interesting tidbit to note: iFixit only found two far-field microphones stashed in Google Home, which is a big drop compared to the seven mics in the Amazon Echo. Nevertheless, we found Google Home's mic range superior to its rival's.