At a Glance
Expert's Rating
Pros
1080p video resolution
Powerful, dimmable floodlight
No subscription fees
IFTTT compatible
Cons
Might not match your architectural aesthetic
Operates only on 2.4GHz Wi-Fi networks
Video is stored locally in the camera (there are back-up options)
Our Verdict
The Netatmo Presence is an exceptionally good, easy to install outdoor security camera that can replace your porch light.
Best Prices Today: Netatmo Smart Outdoor Camera
Wi-Fi security camera/porch light mash-ups like the Netatmo Smart Outdoor Camera make a whole lot of sense. The best place to locate an outdoor security camera is near an exterior door, and exterior doors nearly always have porch lights nearby. That instantly eliminates the biggest hassle with installing an outdoor security camera: The electrical wiring needed to power the camera is already in place.
Update, June 5, 2019: Netatmo has renamed the Presence the Smart Outdoor Security Camera. Since this review, the company also added Apple HomeKit and Google Assistant support to the product, features we have not evaluated.
Since most burglars break into homes through entry doors, that's also an ideal location to mount a camera. It's one of the reasons I like the Kuna Security Camera & Smart Light I reviewed last June. There's also one significant drawback to this approach, however; porch lights are almost always controlled by a wall switch. Turn off the switch and you shut down your security camera until you flip the switch again. I'm no electrician, so my low-tech solution has been to remove the switch's cover plate and tape a strip of transparent packing tape over it so that it couldn't be toggled.
The Kuna is much less expensive than Netatmo's Smart Outdoor Camera, and it has one key feature that Netatmo's product doesn't, but Netatmo's device will cost much less over the long run. That's because Netatmo doesn't store your video in the cloud and charge you a subscription fee to access it. More on that later.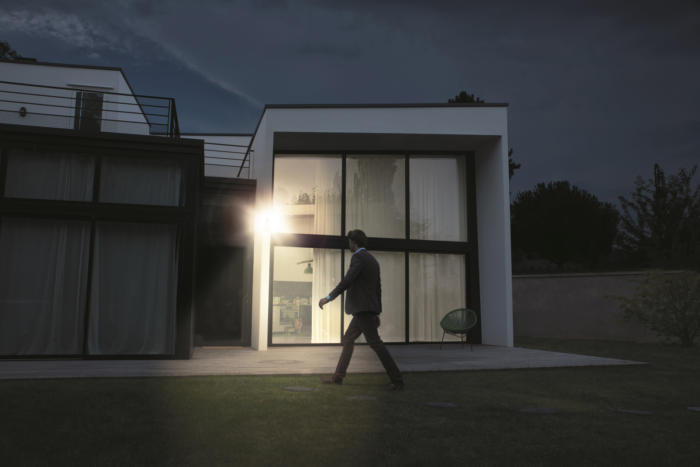 An effective camera and floodlight
I'm sure the first thing you'll want to know about the Netatmo Smart Outdoor Camera is the quality of its video camera and its effectiveness as a porch light. Both are excellent. The camera has a 4MP CMOS image sensor (albeit one with a fairly narrow 100-degree field of view), and you can move the camera itself left and right and up and down—again, to a limited degree—to capture the area you're interested in monitoring. In my installation to the left of my patio's screen door, I was able to capture a broad swath of my yard, nearly my entire porch, and about two-thirds of the door itself.
Mentioned in this article
Nest Cam Outdoor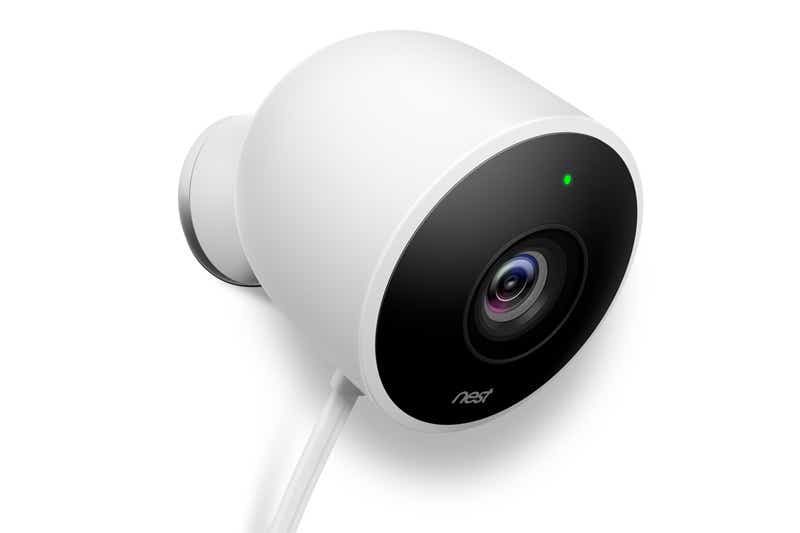 Price When Reviewed:
$199.00
An onboard microphone records ambient sounds, but sound won't trigger the camera to record and there's no speaker for two-way audio. That means you can't communicate with anyone in the camera's view. It's one of the features I like about the Kuna, that device will even play pre-recorded audio clips to discourage unwanted visitors from hanging around your door.
The Smart Outdoor Camera has infrared night vision, of course, but most people will configure the camera so that its motion sensors will also turn on its huge floodlight when anyone steps into their 50-foot range. This serves two purposes: The camera can capture even more area when its light is on, and intruders will reflexively look to the source of the sudden light. Boom, they've presented their face directly to the camera, which will capture their mugs in up to 1080p resolution. The LED floodlight itself produces 1000 lumens of brightness, which Netatmo says is equivalent to a 120-watt halogen lamp. The floodlight is very bright, but you can dim it within the app if you find it too harsh for outdoor gatherings.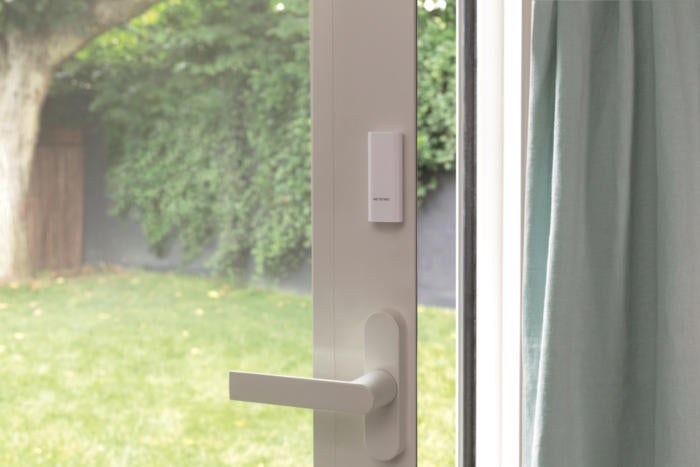 Netatmo Security app
If you find the motion sensor's 50-foot reach to be too deep, so that people walking down the sidewalk or moving cars on the street are setting off the camera and floodlight, you can create trigger zones on Netatmo's Security app (the same app used to connect to Netatmo's Welcome indoor security camera). This works by drawing boxes on your Android or iOS smartphone or tablet with your thumb and index finger, but I found doing it with any precision to be maddeningly difficult. This is a minor complaint, though, as you'll only need to do it a few times during your initial installation. If it really bothers you, use the Netatmo web app on your computer and draw the zones with your mouse.
When anything moves within those alert zones, the Smart Outdoor Camera will record a video/audio clip and—if it's dark—turn on its floodlight (unless you configure it otherwise). The camera will also attempt to identify the source of movement as an animal, a person, or a car and then send a message with that information to your phone. The video clips won't be attached to these messages, though; you'll need to open the Security app to see them. Finally, you'll receive alerts if the Smart Outdoor Camera goes offline and when it comes back. The Smart Outdoor Camera is also compatible with Netatmo's Tag door/window sensors, providing additional ways of triggering the camera and the floodlight.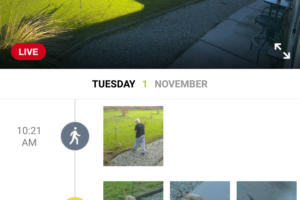 Open the app and you'll see a live view from the camera along with a series of thumbnail images in reverse chronological order. Icons next to the clips will indicate what triggered the camera to send the alert, and the thumbnails themselves are cropped to focus on the source of the motion.
Tap any of these thumbnails and the full video clip will play, replacing the live view in the app's larger window. In full-screen mode on an iOS device, you can pinch the display to zoom into and out of areas of interest, but you'll have to use onscreen +/- icons to do this with an Android device. The web app doesn't have any zoom capabilities.
Netatmo's algorithm is pretty good at distinguishing between people, cars, and animals, including small dogs. I set it up in my kitchen for a dry run and it even flagged a truck that appeared on my TV screen. It was never triggered by things like insects (a problem that dogged Logitech's otherwise excellent Alert series of security cameras, which are no longer manufactured). But there have been a few occasions at night where it mistook a wind chime hanging from my house's eave for a person. The Smart Outdoor Camera doesn't attempt to identify people's faces, which is wise; that's a feature Netatmo's indoor sibling promises, but largely fails to deliver on.
Onboard storage
Unlike many home security cameras, Netatmo doesn't store your video in the cloud. The good news is that they don't need to charge you a subscription fee for that service. When you stream recorded video from the camera, it comes from a 16GB microSD card (user upgradeable to 32GB) inside the camera itself. Live video is likewise streamed directly to your smartphone. Videos is encrypted in both scenarios as its passes from the camera to your 2.4GHz Wi-Fi network (a possible bone of contention if the 2.4GHz frequency band where you live is extremely crowded) and then over the Internet to your smartphone (or computer, if you're using Netatmo's web app).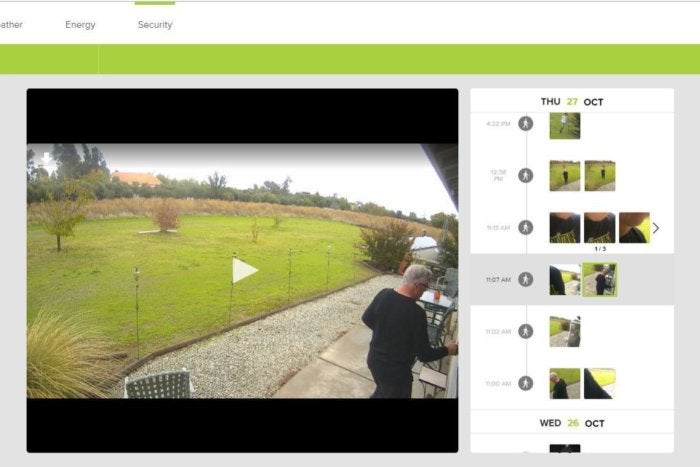 The microSD card is well hidden and not casually accessible, but there's an inherent risk with relying solely on local storage for forensic evidence. When the card fills up, the oldest videos are automatically deleted to make room. If you miss downloading an important clip, it will be lost forever. And any burglars who are aware of this limitation could rip the camera off the wall and take it—and the evidence of their presence—with them. Smart Outdoor Camera buyers would therefore be wise to take advantage of one or both of its video-backup features: You can configure the camera to automatically back up its videos to your Dropbox account, or you can configure it to back up to an ftp server—on a NAS box under your control, for example—preferably at an offsite location.
Protection from the elements
Being an outdoor device, the first fact-check question I put to Netatmo was to ask if it had an IP (International Protection Marking) code. These two-digit codes rate a device's protection from dust and solid particles (the first number) and liquids (the second number). The higher the numbers, the greater the protection. IP codes can have additional numbers to rate mechanical impact resistance and other protections, but the two-digit code is the most common.
Mentioned in this article
Outdoor Home Security Camera & Light
Price When Reviewed:
$199
Netatmo, however, went a different route to protect the Smart Outdoor Camera from the elements. Instead of sealing its one-piece aluminum enclosure to protect the components inside, Netatmo used a waterproof coating called HZO to protect the electronics from water and humidity. "So water can actually get inside the product and therefore we can't assign an actual IP code. But the equivalent would be IP65," a company spokesperson replied.
An IP65 code would mean the device is completely protected from dust, and that water projected from up to a 6.5mm nozzle will have no harmful effect. That would certainly protect the Smart Outdoor Camera from rain, dew, and melting snow, and while I wouldn't recommend doing it on a regular basis, it should be able to withstand a shot from a garden hose. Netatmo tells me the camera will be able to operate in extreme temperatures, ranging from -4 degrees F to as high as 122 degrees F.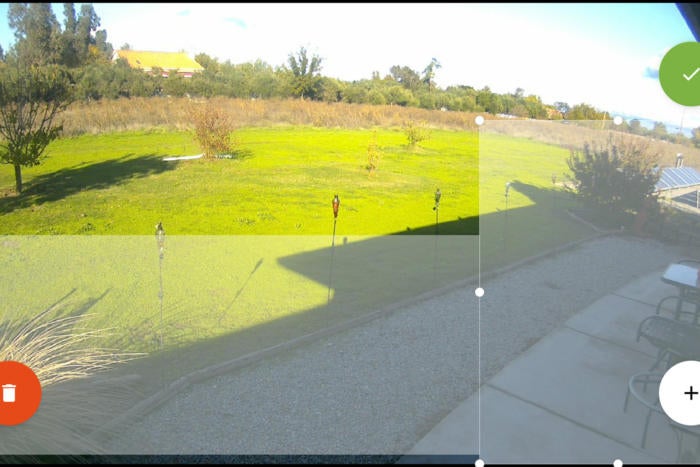 Installing the camera
The Netatmo's Smart Outdoor Camera is fairly easy to install, and the printed instruction manual is quite detailed and well written. You'll be replacing an existing fixture, so the AC wiring you'll need is already in place. I encountered some difficulty, however, because of a very shallow junction box behind the light I was replacing. The camera's wiring is pre-connected to a two-sided plastic connector with set screws on both sides. You push the hot and neutral wires from your home inside this block and tighten them down, and then fasten the ground-wire terminal to the junction box along with the home's ground wire.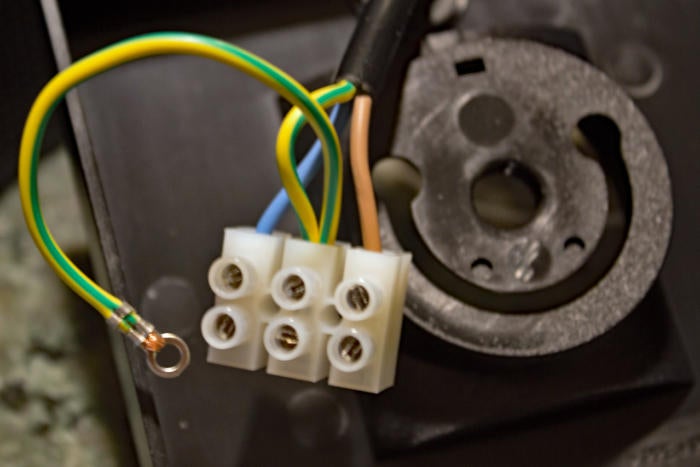 Where I had difficulty was fastening the camera's housing to the bracket on the junction box. The housing rests on a short pipe nipple that emerges from the center of that bracket. Once it's on there, you put in just one screw to secure the housing to the bracket and prevent it from rotating on the nipple, and a second screw to secure the camera to the housing. The camera's internal stub cable and that plastic wiring connector kept pushing the plastic housing away from the wall. I did as the user manual suggested and used silicon caulk to seal the small gap I was left with to prevent water from getting inside, but Netatmo's tech support insists that I should have been able to close up that gap first. You probably won't encounter this problem if your junction box is deeper or if you can push the wiring inside the wall.
Once you have the Smart Outdoor Camera mounted, you install the app and then pair the camera to your smartphone over a Bluetooth connection. The final step is to provide your Wi-Fi login credentials to the app so the camera can join your home network.
Is this the outdoor security camera to buy?
This Netatmo Smart Outdoor Camera is $100 more expensive than either the Kuna Outdoor Home Security Light or the Nest Cam Outdoor (which doesn't have a light at all). But the money you'll save on subscription fees will make up the difference in a year or less. The Nest Cam Outdoor is more flexible than either of those products when it comes to placement, since it uses a weatherized AC adapter that plugs into a socket; and if you're already a Nest Cam user, you'll probably want to stick with that ecosystem.
If you don't mind pulling ethernet cable, the Reolink RLC-410 PoE security camera is another good and very inexpensive alternative. But you should take a good long look at the Netatmo Smart Outdoor Camera. I think you'll like it.
Best Prices Today: Netatmo Smart Outdoor Camera