If there's one Apple product that would truly benefit from some courage, it's the new Apple TV.
Apple's $150 streaming box isn't a bad product, but it faces the same fundamental challenge as other streaming boxes: With so many apps competing for users' attention, managing and sorting through them all can be a chore.
Last week, Apple provided a glimpse at its solution, a new app called "TV" that acts like a universal viewing guide. Instead of bouncing between a dozen apps to find something to watch, TV pulls lots of content into one place. Apple will also offer a "single sign-in" feature for cable-authenticated apps, so you don't need to keep re-entering the same login credentials. Both features are due out in December.
There's just one problem: Some of the biggest streaming services and TV operators aren't on board with what Apple is doing. Netflix, for instance, won't feed its content into the new TV app, and so far only Dish Network and DirecTV have confirmed support for single sign-in. It's unclear whether major cable providers such as Comcast or Charter will participate.
But rather than call these companies out for holding back the user experience, Apple is pretending as if nothing's wrong. That seems uncharacteristic of a company that's been congratulating itself on its own courage lately.
Time to talk back
While Apple hasn't released a list of streaming services that will support the new TV app, I suspect Netflix won't be the only omission. Media companies in general can be skittish about supporting universal watch lists and recommendations, because they don't want to lose control over users and dilute their own brands. Netflix just happens to be the most notorious offender, having withheld content from system-wide discovery features on other platforms such as Roku Feed, Xbox One OneGuide, and Android TV's recommendations bar. (One notable exception: The home screen on Amazon's Fire TV devices.)
As for single sign-in, the big concern among cable companies is probably password sharing. They're already struggling to maintain subscribers, and they don't want to make mooching someone's cable login any easier than it is now.
The counter-argument is that system-wide discovery and single sign-in will make the experience better for paying customers, resulting in more usage and new business opportunities. It's an argument Apple could easily make, given its rhetoric about growing the business by focusing on the customer. Yet in this case, Apple has been silent.
Comparing present-day Apple to the Steve Jobs era can be tiresome, but Apple itself hasn't shied from doing so lately. When the company omitted a headphone jack from the iPhone 7, Apple's Phil Schiller defended the move as courageous—seemingly a nod to an old Jobs quote about not supporting Flash on iOS devices.
It takes courage to publicly tell powerful media companies that they're wrong, but Jobs wasn't afraid to do so. In 2007, for instance, Jobs publicly criticized the music industry for draconian digital rights management. In an essay published on Apple's website, Jobs argued that limiting iTunes music playback to Apple devices was holding the industry back, and he called for more pressure on record labels to let go:
Perhaps those unhappy with the current situation should redirect their energies towards persuading the music companies to sell their music DRM-free … Convincing them to license their music to Apple and others DRM-free will create a truly interoperable music marketplace. Apple will embrace this wholeheartedly.
There's a parallel between the music DRM issue and TV operators' fear of single sign-in. Instead of worrying about password sharing, what if cable companies saw it as an opportunity to open app authentication to a new audience?
I'm also reminded of when Apple tried to introduce 99-cent TV show rentals on the Apple TV in 2010. At the time, only ABC and Fox agreed to participate, and Jobs didn't shy from painting other studios as short-sighted:
This is a big step for some of the studios to make, and not all of them wanted to take the step with us, so we've got ABC and Fox taking the step with us, going be offering their shows for 99 cents. We think the rest of the studios will see the light and get on board pretty fast with us.
The fact that Apple ended up losing that battle is beside the point. At least Jobs had the conviction to argue publicly for what he thought was best for consumers, while calling attention to companies that he believed were holding back progress. Maybe it's time for modern-day Apple to do the same.
Lack of faith
The Apple TV's lack of conviction isn't just about words, it's about action. On that count, the upcoming TV guide will be a half-hearted solution for as long as Apple relegates it to a separate app, rather than making it a core element of the Apple TV interface.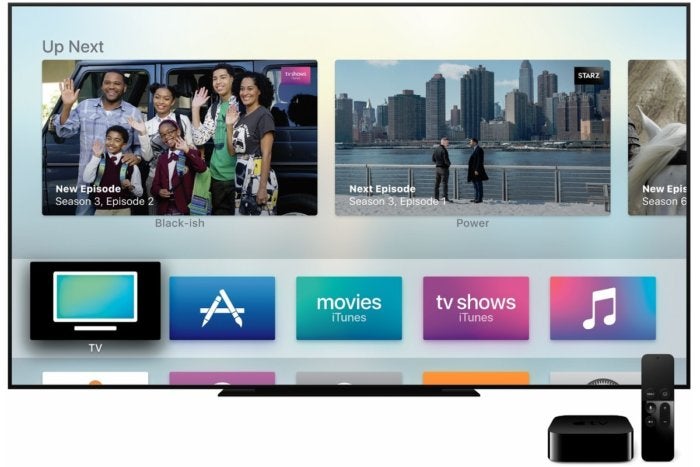 Sure, the Apple TV is about more than just watching TV. It also plays games—though Apple has been waffling on an ideal input method—and it can access photos, music, and all kinds of novel non-video apps. And with HomeKit, it's even a gateway to the smart home. But it's hard to believe Apple can't devise a home screen with integrated recommendations and watch lists while also including quick access to apps.
As it stands, the TV app risks being forgotten or ignored by users, especially without essential streaming services like Netflix. That in turn reduces the incentive for those services to participate.
Apple has time to sort all of this out. Despite all the attention around cord cutting, cable TV still reigns in the United States, and I suspect that market is what Apple is ultimately shooting for. The company doesn't want to sell a supplemental streaming box; it wants to be the focal point of your living room.
But to get there, Apple will need to convince TV industry holdouts to change their attitude. Doing so may require more courage than cutting away a headphone jack.
Sign up for Jared's Cord Cutter Weekly newsletter to get this column and other cord-cutting news, insights, and deals delivered to your inbox.