At a Glance
Expert's Rating
Pros
A button press lets you hear ambient sounds
Four levels of active noise cancellation
Lightning cable means no batteries to recharge
Cons
None of the stock ear tips deliver a good seal
Active noise cancellation doesn't measure up to the top competition
Lighting-only interface drastically limits its appeal
Our Verdict
Poor-sealing ear tips and just average active noise cancellation weigh down an otherwise great pair of in-ear-monitors, and the Lightning cable means they're incompatible with the vast majority of mobile devices.
In-ear monitors with active noise cancellation (ANC) are an ideal solution for commuters and frequent air travelers. They're compact, light, and conveniently sized for slipping into a shirt or coat pocket. Equally important is their ability to mask the drone of jet engines, train tracks, wind noise, and other distracting ambient noise. But if you forget to charge the batteries the ANC depends on, you can end up with a pair of expensive paperweights on a string.
Denmark's Libratone has come up with a solution that might appeal to folks with Apple iPhones, iPods, and iPads manufactured since late 2012: Its Q Adapt In-Ear headphones are outfitted with a Lightning adapter that powers the headphone's ANC circuitry in addition to performing digital-to-analog audio conversion from the mobile device they're plugged into. I judge the effort a partial success.
Smart design
The Q Adapt In-Ear's Scandinavian design is slick and stylish. There's a lot to like here, from the packaging all the way down to the accessories. The main cord is covered in a high-quality nylon braid that helps prevent dreaded cable tangle. There's a large inline remote control at neck of the Y connector that the company calls the Combox. You can perform all the typical forward, reverse, play/pause, and Siri functions you'd expect. The Combox is neatly and logically laid out.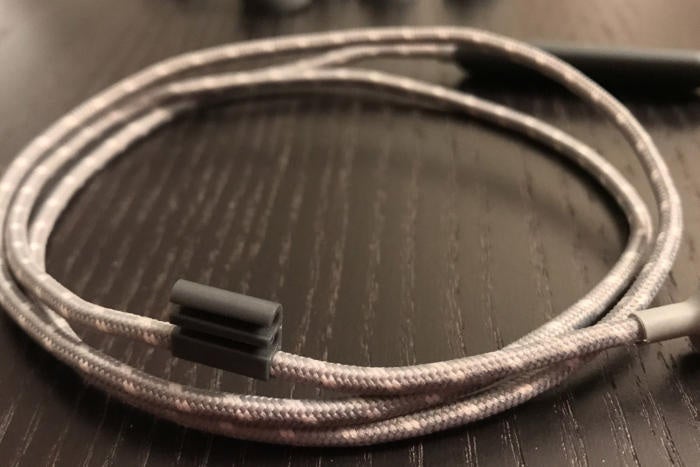 The button at the top of the Combox toggles the Q Adapt's ANC. Press it for a few seconds and it instantly initiates Hush mode (more on that below). The inline remote is covered in rubber, and you can easily make out each button with your fingertips—there's no need to look at the remote. The right earbud cord has a microphone for voice calls. You can always tell which earbud is which without needing to read the indicator on each earbud.
Libratone's smooth, slim carry pouch is the icing on the cake. A magnetic latch on the pouch keeps the Q Adapt In-Ear perfectly secure.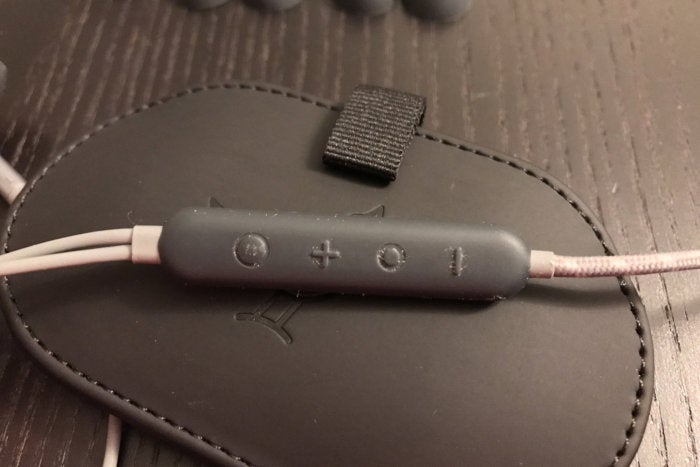 Lightning strikes: No battery required
Most active noise-cancelling headphones come with a rechargeable battery that adds mass and weight. And if you don't remember to charge the headphones, you can't use the ANC. Libratone took a different approach by including Apple's Lightning connector on the end of the headphones, so that it can draw the power it needs from your iOS device's battery. Voila! The Q Adapt In-Ear don't require a battery, and they never need charging.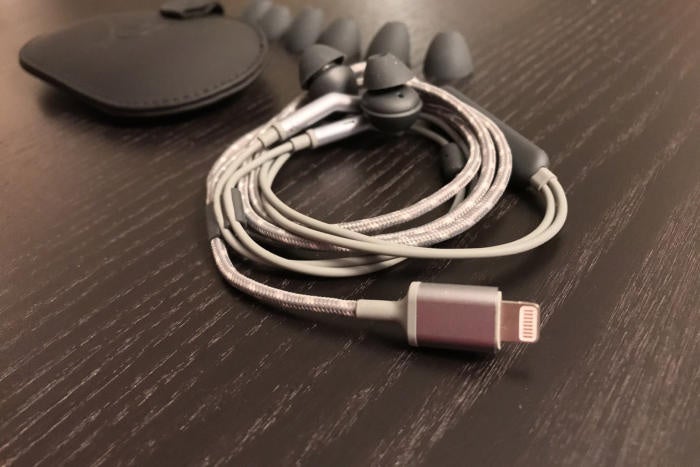 The downside to Libratone's approach is that you can use the Q Adapt In-Ear only with iOS devices—they're incompatible with mobile Android and Windows products and you can't use them with a computer or a high-res digital audio player. A Lightning-to-3.5mm headphone adapter isn't an option.
As an aside, I encountered an anomaly when using the Q Adapt with Apple's iPhone Smart Battery case. There were times when I'd plug in the Q Adapt and the iPhone simply wouldn't recognize the headphones. Unplugging them and plugging them back in usually solved the problem. I encountered this issue at least two or three times out of every ten, more than enough to give a potential buyer pause. A firmware update resolved a different problem that I had with Libratone's Q Adapt On-Ear headphones, so I wouldn't be surprised if this issue could be resolved in the same fashion.
Four levels of noise cancellation
Libratone brands its ANC as CityMix, and you can select from four levels using either the inline remote or Libratone's iOS app. I recommend using the app, because that's the only sure way of knowing which level you're using. The other way is to push the button until you've heard a double-beep that signals you've reached the highest level and then count backward from there as you repeatedly push the button. A better approach would have been to provide an audible cue for each level.
The app uses a clock motif to help you visualize the level of noise cancellation it wlll perform: Level one is at nine o'clock, level two at noon; level three is at three o'clock, and the highest level is at six o'clock. The city skyline on the face of the clock becomes dimmer as you move up the levels until it disappears at the six o'clock position, telling you that you are now achieving maximum noise cancellation.
Hear the world around you with Hush mode
Activate the Q Adapt In-Ear's Hush mode, either by using the app or pushing a button on the Combox, and the headphones will deactivate noise cancellation, mute the music (or a phone call), and turn on a set of external microphones so you can hear your surroundings without needing to pull the headphones out. This is a great and very effective feature.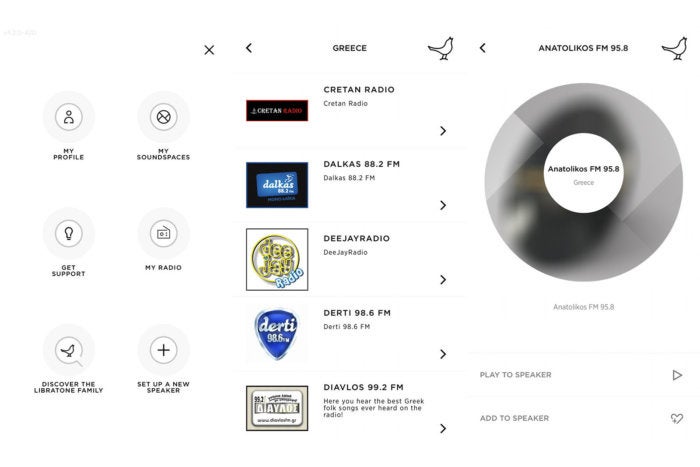 With Hush, you can engage in conversations and hear announcements (over an airport PA system, for example) without removing the headphones. Hush mode generally worked as advertised, but in certain settings, they introduced a annoying amount of AM-radio-style hiss. Overall, however, the Q Adapt In-Ear still performed better in this area than many higher-end ANC headphones, including Sony's MDR-1000X.
Subpar ear tips; average-quality noise cancellation
Libratone's ear tips are good, but they're certainly not great. They don't provide a tight fit that can block out a lot of outside noise. That said, the production ear tips are light years better than the pre-production set Libratone initially sent, but that's another story. I hope Libratone will re-design their tips again and offer customers a free upgrade.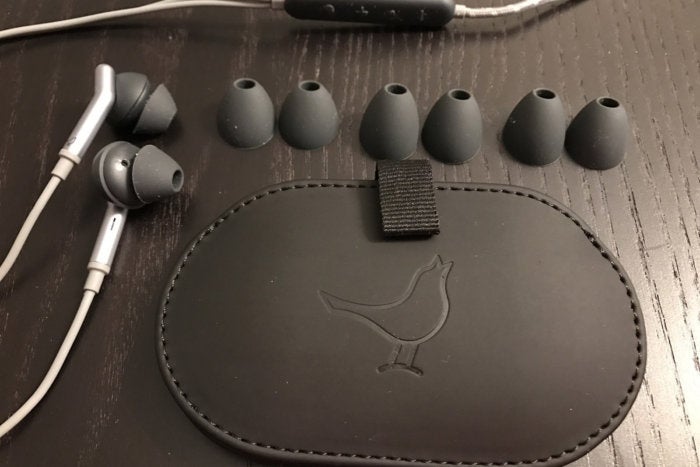 Libratone's active noise cancellation, meanwhile, is average at best, and it produces lots of hiss at level four. If you're expecting the Q Adapt to give you better performance than what Bose offers, you'll be disappointed. They're also inferior in this regard to Libratone's on-ear ANC headphones.
The CityMix noise cancellation does a great job of taking the edge off ambient noise, but it never reaches the point where you feel sounds but no longer hear them. And if you want the most effective noise cancellation and musical performance out of these headphones, you'll need to ditch their included tips and replace them with a superior aftermarket set; perhaps something from the Comply memory-foam line.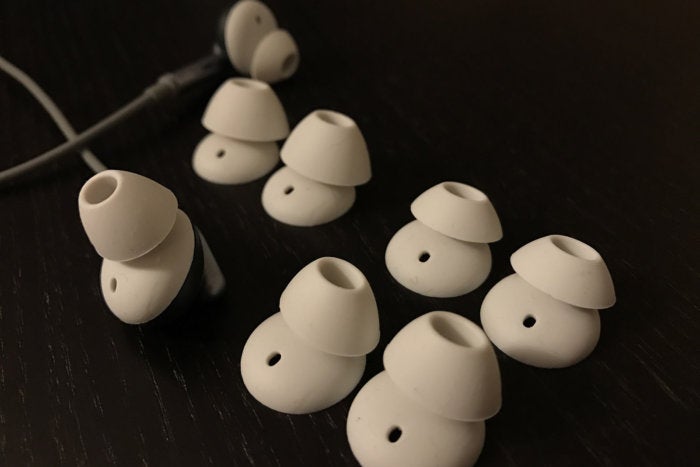 In the end it's mixed results
Musically, the Q Adapt headphones do a good job of providing a balanced top-to-bottom presentation. Bass was punchy and the midrange warm and satisfying. There was also decent extension at the top end. I will caution, however, that your mileage will vary. Many musical attributes—especially bass—are dependent on the quality of the seal the ear tips produce.
The Q Adapt In-Ear had the potential to be amazing, using Apple's Lightning technology to deliver active noise cancellation without the hassle of recharging a battery. They could have been Bose killers, with much less bulk and a price tag significantly lower than a pair of Bose QC20's. Alas, the Q Adapt In-Ear fell short. The factory tips just aren't as good as the competition when it comes to creating a noise-isolating seal, and Libratone's active noise cancellation is average at best. Libratone's Hush feature is great idea well executed, but that's just not enough to push our final score any higher than it is.