At a Glance
Expert's Rating
Pros
Drop-dead simple setup
App puts all the basics front and center; zero learning curve
Apple Watch supported
Cons
Impractical for daily use
Extremely low brightness level
Rather unattractive bulb design
Our Verdict
Mood lighting gets an upgrade in the form of the Elgato Avea, but it's just not built for prime time (reading in prime time, that is).
A mood light in every sense of the word, the Elgato Avea is a party bulb through and through. In fact, its approach doesn't even pay lip service to utility—it's here for fun, and it refuses to apologize for that.
The bulb sets up easily, using an integrated Bluetooth pairing system like the Flux Bluetooth bulb to quickly associate itself with your phone. Multiple bulbs can be quickly paired, and all will coordinate to work in sequence.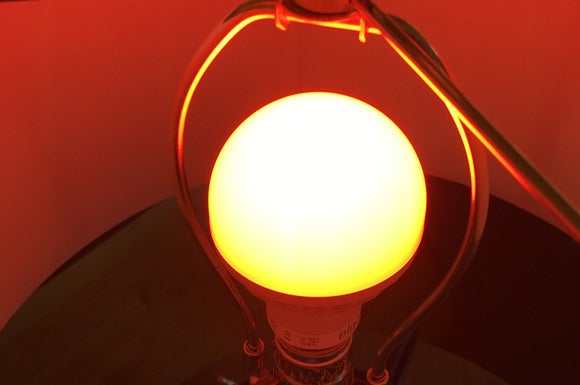 Elgato's control app is an utter no-brainer: just install and quickly pair your bulbs, and then you're off. While many smart lighting apps overwhelm with features, Elgato's is stripped down completely. There's really nothing to learn here. The main screen is straightforward to a fault, offering 12 different modes to choose from, most of which slowly change in color in tune with the app's preset schedule. These range from "Cozy Flames" (flickering red lights) to "Caribbean Sea" (shimmering shades of blue). There's more fun to be found in the form of modes like "Candy Land" (which is exactly as colorful as you'd expect).
The closest the Avea comes to being an everyday light bulb is through the final of those 12 modes ("Solid Colors"), which gives you a palate of seven unchanging shades to choose from, one of which is white. This isn't tunable, however, offering only a dull white light somewhere in the 3000K spectrum. You can fine-tune the brightness and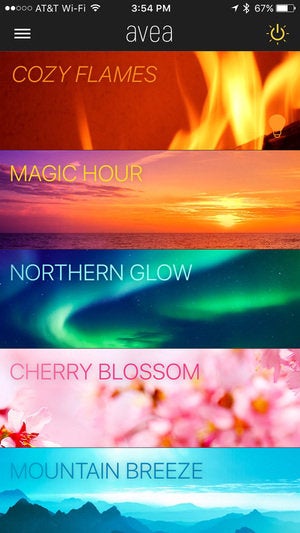 "vividness" (or color intensity) of the various modes; otherwise, tweaking options are limited. Only one of the modes, "Wake-Up Light," includes a rudimentary timer system, complete with an audible alarm chime that lets you use it in lieu of a regular alarm clock.
Avea is a novelty bulb, and that's fine, particularly since the app is so uncomplicated. (It's so basic that the Apple Watch widget looks almost the same as the full app.) Were it considerably brighter—at just 430 lumens, it's literally the dim bulb among its contemporaries and completely unfit for use in a standard lighting environment—it might make sense as a primary bulb. As it is, most users will find better and brighter options abound.