At a Glance
Expert's Rating
Pros
Core tech improvements make this one of the best-looking and brightest bulbs on the market
The redesigned Hue Bridge is less intrusive than the original
Next-gen features include support for Apple's Siri and Apple Watch
Cons
Nearly as expensive as the first-generation Hue
We experienced some hiccups during setup; the app still has room for improvement
Hue is all business: There are no native "fun" features
Our Verdict
The Hue is a top-shelf bulb. If only its app were as good.
Price When Reviewed
$199
Best Prices Today: Philips Hue White and Color Ambiance A19 Bulb Starter Kit (Hub and 4 bulbs)
Arguably no company has done more to push forward the world of smart LEDs than Philips. Its latest bulb, the Hue White and Color Ambiance, is evidence as to why the company has been a major player in this space since day one.
The bulbs have changed little in design since then. These latest ones are still shaped like a rounded-off tornado, but they now feature a white heatsink/base instead of a silver one. On the whole, the bulb remains quite demure in comparison to the competition. As a ZigBee solution, the bulbs are designed to work with a bridge that connects to your Wi-Fi router via an ethernet cable.
Looking for the more current Philips Hue bulbs that support Bluetooth as well as Zigbee? You'll find our reviews of the E26 and BR30 versions at this link.
The Philips Bridge, which is smaller and more streamlined than the prior model, costs $60, but it's included—along with three bulbs—in the $200 kit reviewed here. Hue lights also work with Amazon's Alexa voice assistant (and its Echo, Tap, and Echo Dot hardware), Apple's HomeKit platform, and a number of other smart-home products. Philips has since replaced this three-bulb starter kit with a four-bulb kit, but the hub and the bulbs remain the same.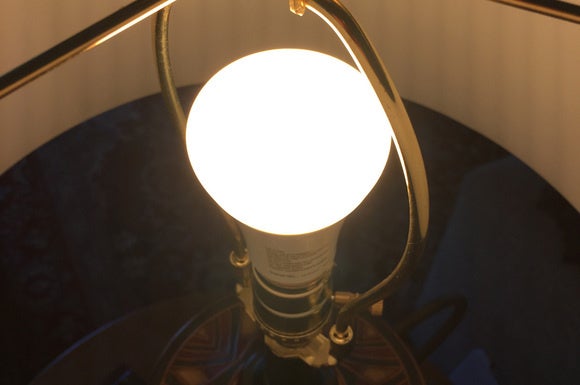 The bulbs themselves have seen some upgrades, most notably a boost in brightness from 600 to 800 lumens, and the light they emit actually seems considerably brighter than that. Perhaps that's due to the richer blue and green color palate that the newest Hue now produces, according to Philips—colors do seem warmer and more inviting across the spectrum. Bulb lifespan has also been upgraded from 15,000 to 25,000 hours. An external dimmer switch ($25) is available as an add-on.
The Hue control app is mature and has been revamped (it's an entirely separate app download), but it still seems overcomplicated. Partly this is because the Hue is unique in that it will work locally without an account, but if you want to enable some of its more advanced features—controlling lights when you're not at home or setting the bulbs to turn on or off with your arrival or departure, for example—you'll need to create one. This is a clever decision that nicely balances ease of use, privacy, and security, but it does add complexity. It also adds bugginess in my experience, due to the app-bridge connection frequently coming undone.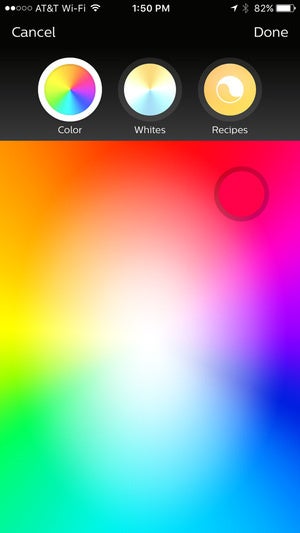 While setting up our environment was marred by some glitches—the hub didn't find the bulbs at first—the bulbs themselves work well. Assigning bulbs to rooms is intuitive, setting colors is simple, and configuring timers (here called "routines") is quick and easy. Also, the serious range issues I experienced in the prior model have all but vanished here.
The Hue system covers all the basics, but it lacks the "party mode" strobe and color-fading settings that most other bulbs have. Those looking to make a room highly festive are better off with another solution. (While you can download third-party apps, not all of them are free.)
Philips has completely redesigned its Hue system of lights, and it continues to upgrade it with the smart home fully in mind. The company appears to see a future where an entire home is outfitted with Hue bulbs, all controlled from your phone. That's a serious vision, with the result of the Hue feeling a bit stodgy—perhaps a bit too much so.
Best Prices Today: Philips Hue White and Color Ambiance A19 Bulb Starter Kit (Hub and 4 bulbs)