At a Glance
Expert's Rating
Pros
Stellar sound, with dual DACs and dual amps
2.5mm output for balanced headphones
Beautiful, fluid, intuitive interface
Cons
Inconsistent battery life
Bulky and heavy
Pricey
Our Verdict
Onkyo's DP-X1 music player is an all-star musical performer. It can play the latest high-resolution audio formats and drive high-end,balanced headphones too.
Price When Reviewed
$899
Onkyo is a household name when it comes to A/V receivers; but in the world of digital audio players dominated by Apple, Sony, and Astell&Kern, Onkyo's DP-X1 is nothing more than a brash upstart. But take note, the DP-X1 isn't some minor league punk. On the contrary, not only does this DAP expect to play in the majors, it also expects to be a first-team all-star.
An audiophile's dream under the hood
To be regarded among the ranks of the elite, Onkyo needs to back up its swagger with solid numbers. At first glance, the DP-X1's specs resemble its cousin, Pioneer's XDP-100R hi-res audio player. Pioneer's home audio group is owned by Onkyo.
While the XDP-100R is beautifully designed and a stellar performer, the DP-X1 brings more hardware refinement, features, and power to the plate. The Pioneer, for example, has one DAC and one amplifier for both channels. The Onkyo takes things up a notch, with dual ESS Sabre ES9018K2M DACs and dual ESS Sabre 9601K amplifiers. Each DAC and amplifier is dedicated to its own stereo channel for the highest possible fidelity and headphone performance. Consequently, the Onkyo is capable of supplying 150mW + 150mW of power and support headphones from 16Ω to 600Ω with balanced connections.
You can use high-end audiophile headphones to their fullest potential with the DP-X1's balanced headphone output. To the right of the traditional 3.5mm output, the Onkyo sports a 2.5mm balanced headphone output that can function in two different modes.
In addition to a standard Balanced drive, the Onkyo also supports ACG (Active Control GND) drive. Onkyo claims that even though the Balanced drive gives you more power, ACG drive gives better stability, increased S/N ratio, greater spacial dimensionality, and overall cleaner sound. I didn't have a balanced 2.5mm cable for the Oppo PM-2s for this review and was unable to test the unit's balanced output and Onkyo's claims.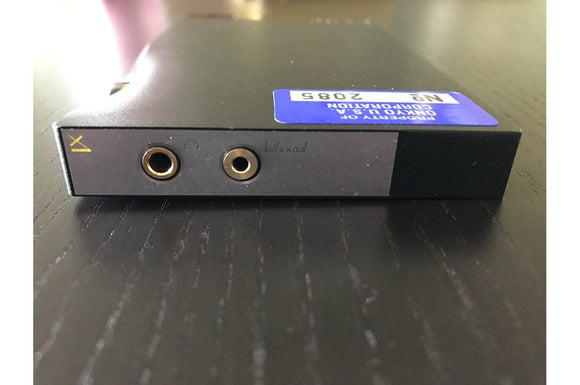 While most audiophiles will eschew EQ controls and prefer to play the unit in direct mode, the Onkyo gives you nearly infinite ability to tailor the sound of your music. The DP-X1 has 16,384 discrete EQ bands. You can set the EQ curves through the default Music app's slick, graphical display with the touch of your finger. You can save up to 1,000 EQ profiles. Onkyo claims that the unit's linear-phase finite impulse response (FIR) equalizer offers high-definition equalization with zero loss in audio quality.
In addition to EQ, the default Music app gives you the power to set your preferred digital filter, set the range, and engage/disengage audio upsampling. There are also three gain settings—low, normal, and high—to match the player to different headphone types.
If you ever want to pair the the DP-X1 with Bluetooth headphones, you'll be happy to note that the aptX codec is included for near CD-quality streaming over Bluetooth. I paired a number of Bluetooth headphones, including the B&W P7 Wireless, V-Moda Crossfade Wireless, and Sony MDR-1000X, without any issues. Unfortunately, the DP-X1 doesn't support LDAC, which can stream up to 96kHz/24-bit audio wirelessly without downsampling.
Monolithic look, natural feel
The DP-X1 is as large as a smartphone and far thicker. Aesthetically, the Onkyo looks and feels like a rectangular aluminum slab. There are no sleek, svelte edges. Thankfully the corners are ever so slightly rounded. You don't need to worry about the player poking you or ripping your jeans if you put the unit in your back pocket. Its weight of slightly more than 7 ounces makes it feel large and a heavy in your hand.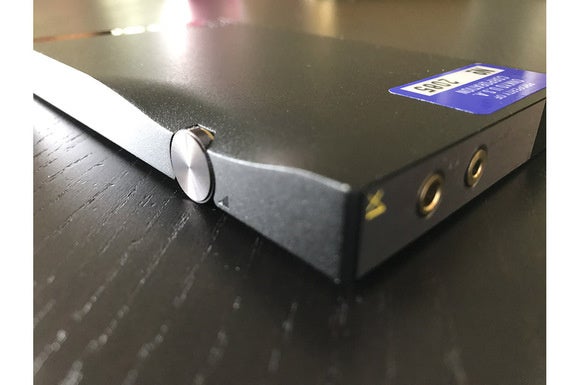 Like almost all high-res music players, the Onkyo has a large, prominent, analog volume dial. Consequently, headphone inline remote controls don't work. The dial is located on the upper-left side of the unit, and it sits flush with the player's left side. However, the rounded dial's knurled edge protrudes from the top like a sunrise.
If you're right-handed, holding the Onkyo might seem a little awkward. But in your hand, the dial is perfectly placed for your index finger. The unit's rear is smartly tapered exactly where your index finger rests. This clever design ensures you're not accidentally rolling the volume knob if you put it in your pocket. Even with its large size, it feels very natural to use the DP-X1.
Freeing my thumb from volume duties actually gave me a better grip on the unit too. Tactile power, pause, advance, and rewind buttons align the right side of the DP-X1. They are perfectly placed where your thumb rests. While Onkyo won't win any awards for industrial design brilliance, the unit's functionality is well thought out.
Highly functional Android user interface
Like the Pioneer XDP-100R, the DP-X1 is an Android 5.1.1 Lollipop-based player. Powered by a quad-core processor, the UI is smooth, fast, and responsive. All of the user interface aspects I noted in my Pioneer XDP-100R review hold true with the Onkyo. In fact, aside from a few thematic changes to the Music app, the app's functionality, layout, and features are identical for the two players.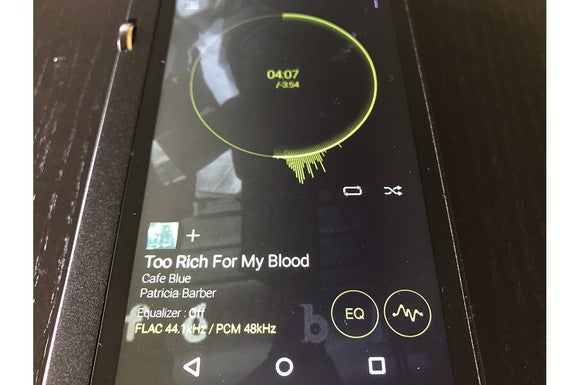 Coupled with on-board 802.11ac Wi-Fi and Bluetooth, the DP-X1 isn't just a powerful multimedia player, it can also be your personal digital assistant. You can watch movies, check email, sync contacts, and even surf the web. You have full access to the Google Play store to install pretty much any app you desire, including streaming services such as Tidal, Spotify, Apple Music, Amazon Music, or Deezer.
Of course, Onkyo would prefer that you fall in love with its own eponymous music store, which came preinstalled on my player. That might be a hard sell right now. I found Onkyo's music store catalog to be limited compared to competitors such as HD Tracks. Onkyo Music claims to sell high-res music, files but like most high-res music stores, you need to be attentive to what you're purchasing. Some music files are available as 24-bit/192kHz FLAC files while others are plain-old CD-quality 16-bit/44.1kHz and just saved as FLAC files. Just because a file is saved in FLAC doesn't make it a high-res file. And just because something is available as a 24-bit/192kHz file doesn't guarantee that it was recorded and mastered in high-res in the studio.
Speaking of studio master, the DP-X1 is also notable for its support for MQA (Master Quality Authenticated) file support. MQA is an authenticated file format that can certify that the music file you are listening to was derived from the original master. When you play an MQA file on the DP-X1, a small green light appears on the player's UI with the MQA logo to confirm that the player is playing an MQA file. The DP-X1 can play just about any lossless file format including FLAC, ALAC, and DSD.
Decent but fast-draining battery life
While rated for around 16 hours of playback (using 24-bit/96kHz audio files), battery life was one feature I found difficult to gauge. To state the obvious, the DP-1X's battery life resembles a typical Android phone. With mixed or heavy use, it was hard to get the stated 16 hours. My advice: If you're planning on using the Onkyo for a full day of intense listening and use, make sure you have a charger handy just in case.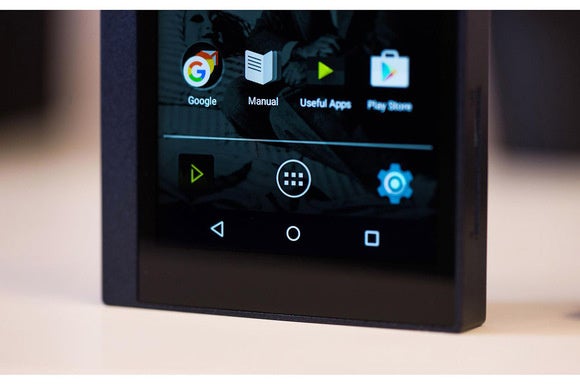 Maximum expansion and syncing files
Along with the XDP-100R, Onkyo's DP-X1 is among the most expandable players on the market. With dual MicroSD slots, each capable of supporting 200GB cards, you can expand the DP-X1's internal 32GB up to a whopping 432GB. Personally, my preference is always larger internal storage because those external mechanisms fail over time. In fact, the MicroSD slots failed on my used review model, sending my MicroSD card shooting out while it was simply sitting on a table.
Onkyo's X-DAP software (which is the same as Pioneer's) makes transferring music files a piece of cake. You can even select a storage device—internal storage or either MicroSD card—as your target. Even better is the fact that the software is now cross-platform with full Mac support. Mac users can still use Android File Transfer.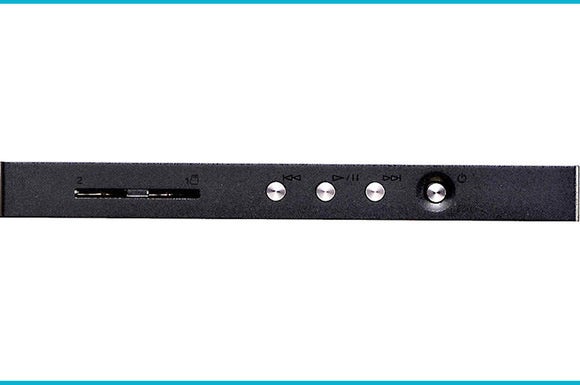 Listening pleasure with every headphone
While I used seven different headphones with the DP-X1 (including B&W's new P9 Signature), I did the overwhelming majority of my listening with Oppo's superb PM-2 and B&W's exceptional P7 Wireless (in wired mode) headphones. My impressions below are based on my experience with those two models.
When I first listened to the Onkyo, I knew right away this player was special. No matter which headphone I used, the Onkyo made each and every listening session reference-grade memorable. Music flowed effortlessly and smoothly without once compromising any details.
Firing up the DSD version of Eric Clapton's Slowhand was just mesmerizing. Clapton's guitar on "Lay Down Sally" from Wonderful Tonight (2.8MHz DSD) sang with pitch-perfect clarity. Kick drums on Steely Dan's "Gaucho" (DSD) or Tom Petty's "Here Comes My Girl" came across with exciting, surgically controlled dynamics. Classical recordings came across with beautiful sound-stage depth and engaging dynamics.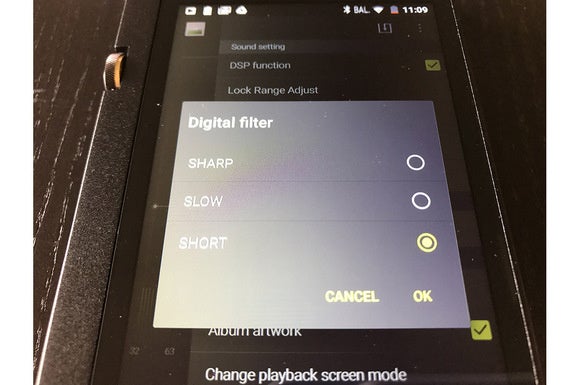 Perhaps what captured me most, however, was the noise floor. It's just pitch black and something to experience. Instruments and vocals burst forth from a seemingly noiseless background. This created a near three-dimensional presentation with laser-like placement on the sound stage.
The low noise-floor arguably made every single track among the best I've heard in a DAP. The opening piano from the MQA version of "Lush Life" from Lady Gaga and Tony Bennett's Cheek to Cheek was sensational. Lush, rich, and full-bodied. Instrument timbre and overall musical weight were spot on. And when Gaga's vocals kicked in, I sat back, stopped taking notes, and enjoyed the music.
Think you can't get a deep and wide sound stage with headphones? Listening to the DP-X1 will change your mind. The sense of depth and space that I noted on City of the Sun's "To the Sun and All the Cities in Between" (24-bit/192kHz FLAC) is spectacular.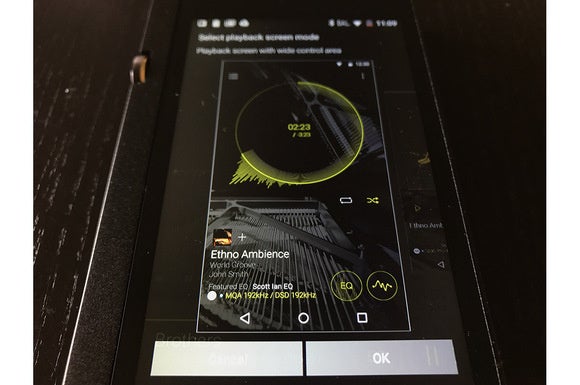 This a superb, analog-sounding digital audio player. The Onkyo doesn't have a hint of digital harshness to it. Its sound is nothing short of addictive.
I simply marveled at Ravel's "Debussy Faure" by the Guarneri String Quartet (24-bit/48kHz FLAC). Strings beautifully danced across the sound stage—always keeping their place, exhibiting timbral balance, and coming across with a smooth, natural presentation.
Every time I listened to the DP-X1, all I wanted to do was listen to track after musical track. It's a rarity that a piece of audio equipment will deliver such an emotive response, but the Onkyo does that.
The bottom line
This is one beautiful, natural-sounding music player. Onkyo's $899 DP-X1 is downright expensive, but boy is it worth every hard-earned penny. Spending the extra money on the DP-X1 becomes more compelling if you own high-end headphones with a 2.5mm balanced cable. However, if you own high-quality wired or Bluetooth headphones and don't want to shell out as much cash, you may find exactly the same performance with the cheaper (and equally stellar-performing) Pioneer XDP-100R.