At a Glance
Expert's Rating
Pros
Can be integrated into ZigBee-based smart-home systems
Can be paired with optional water shutoff valve
Relatively loud onboard siren
Cons
Water must reach the sensor itself (no extension cable)
No battery-life reporting
More expensive than many other water leak detectors
Our Verdict
It's pricey, but the LeakSmart's ability to integrate into broader smart-home systems and its relatively inexpensive optional water shutoff valve help this leak detector stand out.
Price When Reviewed
$76
Best Prices Today: LeakSmart Water Leak Detection Sensor
Getting notified of a water leak at home is nice, but being able to do something about it is even nicer.
That's why the LeakSmart Sensor is worth considering, even though it's pricier ($69 per sensor) than most of its competition. With LeakSmart's optional automatic shutoff valve ($159 at Lowe's), you can remotely stop the water from flowing in the event of a flood.
Setting up the sensor
The LeakSmart Sensor uses the ZigBee connection protocol, but it's mainly intended for Wink and Lowe's Iris hubs. (It also paired with a SmartThings hub in testing, but only registered as a generic "Thing" instead of a water sensor.)
Using a Lowe's Iris hub, the sensor paired quickly after inserting a few AAA batteries and pushing a button inside the battery enclosure. Once set up, you can drop the sensor anywhere, and the two contacts on the bottom will report both moisture and temperature. Unfortunately, there's no way to extend the device's range through additional cables, and it's too thick to fit under tight spaces such as a washing machine.
As for the water shutoff valve, LeakSmart strongly recommends professional installation, as it connects directly to the home's main water supply. The motorized valve fits a 3/4-inch pipe and draws AC power, with four AA batteries serving as backup, and connects to the sensor through a hub device. (As an alternative to Wink and Lowe's Iris, LeakSmart sells its own hub, six sensors, and a shutoff valve as a $699 bundle.)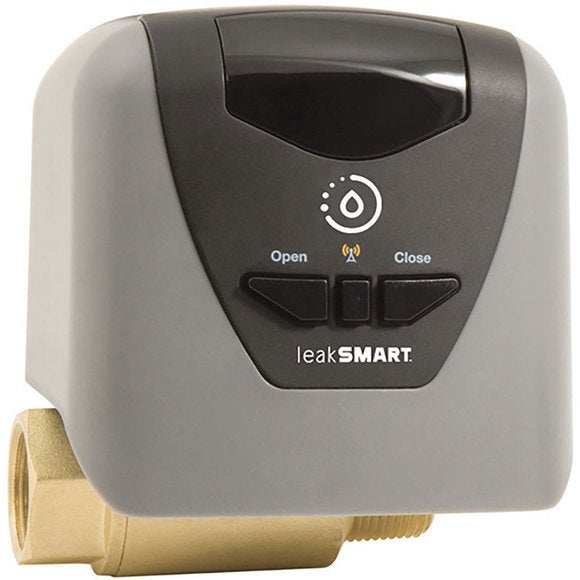 How it works
LeakSmart's sensor reported water quickly, with a middling alarm volume of 78 dB. Lowe's Iris users also get a much louder alarm of around 88 decibels on the hub itself. For mobile notifications, most hubs should deliver push alerts and emails, while Iris will also give your phone a ring.
Likewise, LeakSmart's integrations will depend on the hub you're using. Wink users, for instance, can flash the lights when water is detected, or use the LeakSmart's temperature sensors to automate thermostat controls. Lowe's Iris supports similar integrations, but charges $10 per month to use them.
The biggest selling point, though we haven't tested it, is the integration with LeakSmart's own water shutoff valve. While this isn't the only smart shutoff solution on the market, it appears to be the simplest, with a single product that supplies power, motorizes the switch, and connects to the leak sensor via a hub. Other solutions we've seen separate the relay switch and valve into separate products, leaving users to figure out what works with what.
The LeakSmart Sensor is expensive for a hub-based leak detector, at more than double the cost of Utilitech's Iris-compatible sensor ($30). Still, it's currently the only water sensor that works with Wink systems, and it's the most straightforward option if you're serious about cutting off the water supply in an emergency.