At a Glance
Expert's Rating
Pros
Hassle-free setup
Loud onboard siren
4-foot sensor cable can be extended (125 cables max, 500-foot range)
Cons
Up to one-minute delay before siren sounds
Cannot be integrated into broader smart-home systems
Pricey, especially if you want to deploy multiples
Our Verdict
Honeywell's Lyric Water Leak and Free Detector alerts you to three conditions that can cause problems in your home: water leaks, freezing temperatures, and high humidity. It's dead-simple to deploy, but its biggest drawback is that it can't be integrated into any smart-home systems.
Price When Reviewed
$79.99
Best Prices Today: Honeywell Home Water Leak and Freeze Detector
The best thing about Honeywell's Lyric Water Leak and Freeze Detector is that you needn't be a smart home aficionado to use it. That's also, in some ways, the worst thing about it.
Compared to other water leak sensors, the Lyric is dead-simple to set up through its companion smartphone app, and it connects to your network over Wi-Fi, eliminating the need for a separate hub. It also runs on battery power, so you can place it anywhere in a room.
But at $80 per sensor, Lyric isn't the most cost-effective way to monitor multiple spots throughout the house. For that type of use, you're better off buying a hub and several cheaper sensors.
Setting up the sensor
Hub-based systems can be somewhat intimidating to deal with, but that's not the case with the Lyric. Just pry open the Lyric's rear cover, throw in the few included AA batteries, and run the Lyric app. As long as your phone's Bluetooth is enabled, the Lyric will pair itself and prompt you to enter your Wi-Fi password, bringing the sensor onto your network.
At this point, you're done; the Lyric will begin sending push notifications and email alerts when it detects a leak. But if you want to tweak some settings, you can adjust the temperatures (high and low) and humidity at which to receive alerts, add more people to get alerted, and control how often the sensor reports non-emergency data. (The default is once per day, and provides about three years of battery life. Twice- and thrice-daily updates knock the battery life down to two years and one year, respectively.)
The Lyric also includes a 4-foot cable that resembles a headphone jack on one end, and a plug on the other. This entire cable is water-sensitive, so you can snake it under a washing machine or wrap it around a water heater. Additional cables cost $20 apiece.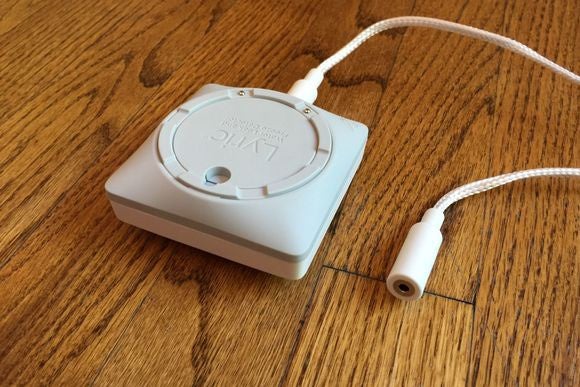 How it works
Honeywell's water sensor has the loudest alarm we tested, registering around 90 decibels, and users can also receive push notifications and emails in case of a leak. Disabling the alarm is simple as well: Just remove it from the water and dry it off.
The only problem is that the sensor usually took 20 to 30 seconds to trigger the alarm. That's probably not enough of a delay to cause serious damage, but it's strange given that most other sensors react almost instantly.
The Lyric's water sensor's other big downside is that it doesn't integrate at all with other smart home products or Internet services such as IFTTT. That means you can't set up the Lyric to flicker your Hue bulbs, sound a separate alarm, or get a phone call when a leak occurs.
Despite those omissions, the Honeywell Lyric Water Leak and Freeze Detector excels at what it sets out to do, with simple setup, informative sensors, and an alarm that's easy to hear. If you're just looking to monitor one part of the house, and don't need any fancy integrations, the Lyric provides enough peace of mind to justify its $80 asking price.
Best Prices Today: Honeywell Home Water Leak and Freeze Detector