At a Glance
Expert's Rating
Pros
Davis' accuracy is unparalleled
Best-in-class build and sensor quality
60-second update cycle for web and app connectivity
Expensive compared to competition that's almost as good
Cons
Dated console design, with a somewhat cumbersome user interface
Online connectivity is a pricey option
High priced compared to the competition
Our Verdict
The Vantage Vue is our top pick for weather enthusiasts. For everyone else, there are less-expensive alternatives that are nearly as accurate.
Price When Reviewed
$395
Best Prices Today: Davis Instruments Vantage Vue
Davis Instruments was putting accurate, near pro-grade weather stations in the hands of consumers for years before the personal weather station became a household gadget. Well, things have changed, and Davis is no longer the only worthy option. If you read my recent My AcuRite review, you know that Davis has strong competition.
The Vantage Vue is the consumer-centric station from Davis, and it measures all the common weather variables, including inside and outside temperature and humidity, barometric pressure, rainfall, wind speed, and wind direction. Unlike most of the other stations I've tested, it also comes with a desktop console as an alternative to an app or web-based connection to check weather conditions quickly. The console even has glow-in-the-dark keys, so you can find it when the lights are out.
While Davis stands out for its accuracy—it's more precise than the Netatmo Weather Station in some scenarios—it's far behind the competition in terms of connectivity. In fact, it has no connectivity right out of the box. If you want to track Davis' weather station on the internet or on your computer, you'll need to spend an additional $165 or $295 for one of Davis' WeatherLink products.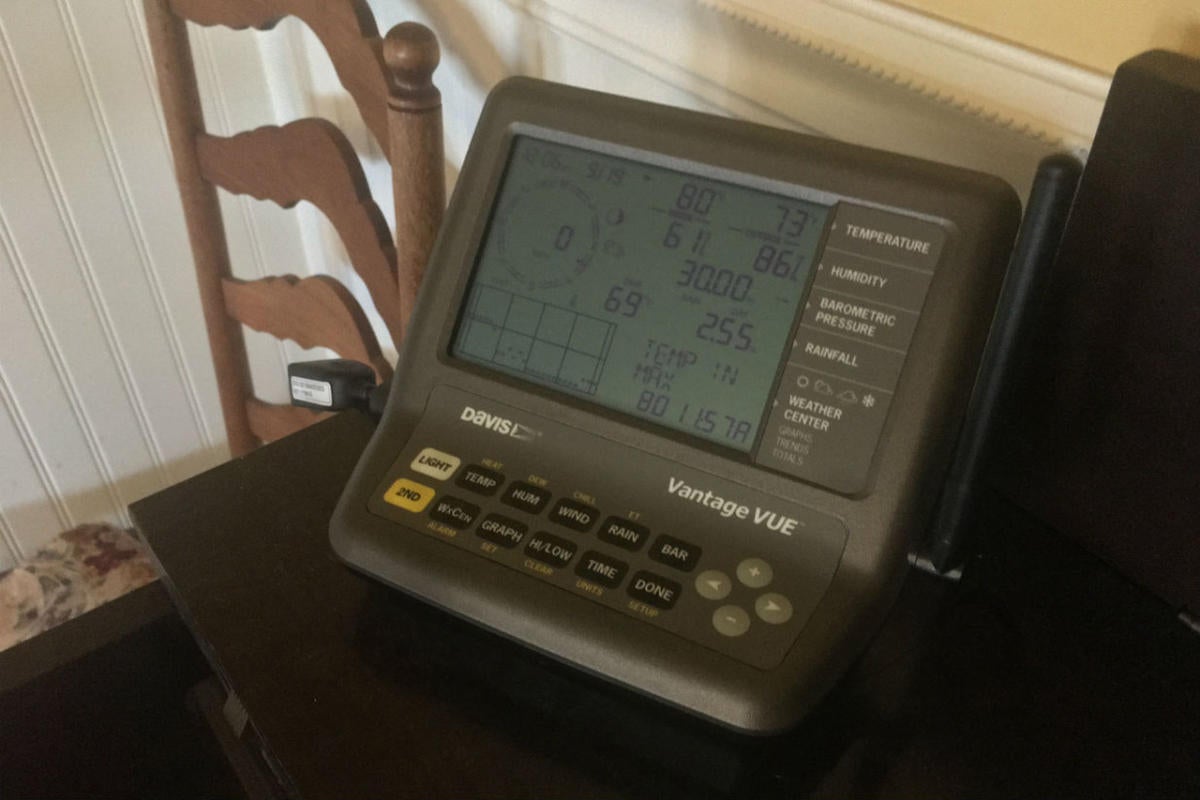 That effectively doubles the cost of the Vantage Vue compared to other enthusiast-grade stations. Is it worth it? That answer depends on what you need a weather station for, and how you intend to use it.
Setting up the Davis Vantage Vue
You'll need about 30 minutes to set up the Vantage Vue. You'll need to do some minor assembly—attaching this, screwing in that—but don't worry, Davis' instructions are clear and easy to follow.
You'll also need to setup the desktop console, but there's no website or mobile app to make it easy. It's cumbersome, but not difficult; in fact, it's nearly the same process I followed with my last Davis weather station—and that was a decade ago with a similar console design. I guess Davis figures if ain't broke, don't fix it.
If you also purchased a WeatherLink kit, you'll need to complete a few more steps, depending on which one you've bought. I'll cover that later. Allow me to also remind you of TechHive's sensor placement suggestions, which can be found in the buyers' guide, but keep in mind these sensors are an all-in-one package.
My Davis Vantage Vue experience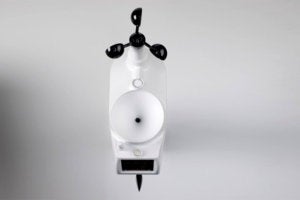 Nearly every aspect of my experience with the Vantage Vue was positive. The instruments are all housed in the same unit—something usually I'm not a big fan of—but it does make for easy setup and maintenance. Davis' sensor assembly doesn't feel cheap, and while you'll need to install a backup battery, most locales will provide enough sunlight to power the station without worry (dual solar panels is one of the features I really liked about AcuRite's sensor assembly).
All sensors performed without issue, and they reported highly accurate readings. Readings from the outdoor temperature/humidity sensor, for example, were extremely close to our "control" National Weather Service station about five miles away, and they were generally more accurate than those of the Netatmo weather station. Davis' station also reports conditions in as little as 2.5-second intervals depending on what's being measured, which is best in class among the stations I've looked at so far.
Davis' sensor shielding is what makes the difference. The temperature/humidity sensor is enclosed in louvered radiation shielding. This keeps direct sunlight from causing temperature readings from reading too high, and it prevents humid conditions from causing the humidity sensor to err high after heavy rains. There were still occasions, however, where Davis' humidity sensor ran too high.
The rain gauge also performed well, which—as in personal weather stations—works through a tipping mechanism that attempts to measure rain by the tips of a small cup inside the gauge. In the months since I wrote the Netatmo weather station review, I've noticed that its smaller than typical cups (which measure down to every four-thousandths of an inch) are more accurate than Davis' in light rain, but they under-measure heavy rainfall.
Davis uses a standard size cup that measures to the hundredth of an inch. If you live in an area that experiences regular downpours, Davis will give you a more accurate count over time even if it under-measures light showers. I experienced this: On the final day of my review period, my location experienced one of the heaviest rainstorms in months. When the storm ended two hours later, Netatmo measured 2.20 inches of rain, while Davis reported 2.55 inches—a dramatic difference. Based on other methods of rainfall verification, including radar and nearby observations, Davis was closer and Netatmo indeed too low.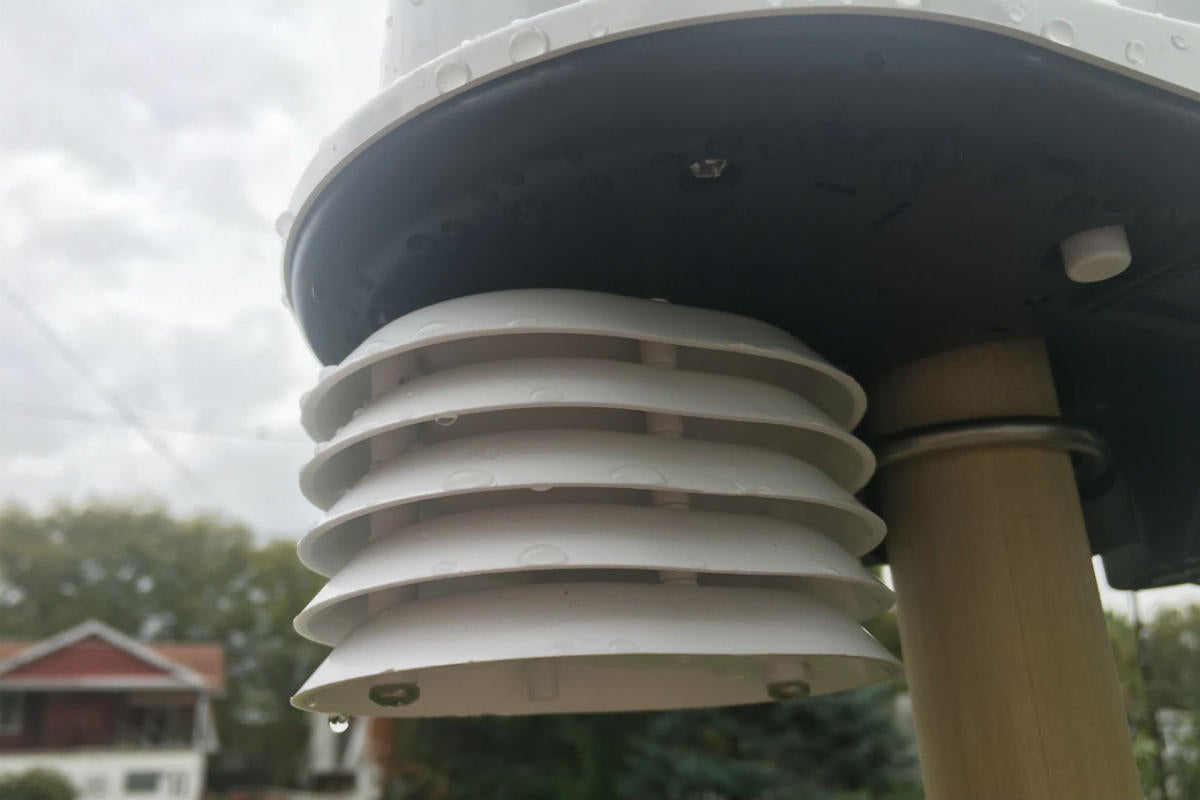 Davis' sensor measures wind speed and direction using the traditional cup and vane. Netatmo's sonic wind gauge is slick, but it seems to regularly under-measure wind speed. Once again, Davis' kit was typically more accurate. But the biggest drawback of Vantage Vue is its all-in-one sensor package. Wind speed and direction and temperature measurements should not be taken the same height: Temperature should be measured at eye level, while wind speed and direction should be measured at a height free of any obstruction. You might not know that your local National Weather Service station's wind observation is measured at 33 feet.
It's unlikely, of course, that you'll be able to mount your home weather station 33 feet above the ground, so you'll need to compromise one measurement or the other when you install it. If accurate temperature measurements are most important to you, mount the all-in-one sensor at eye level and accept the fact that your wind measurements will be less than accurate. If you need highly accurate wind readings, on the other hand, mount it high above any obstructions and accept the fact that your temperature readings will be slightly off.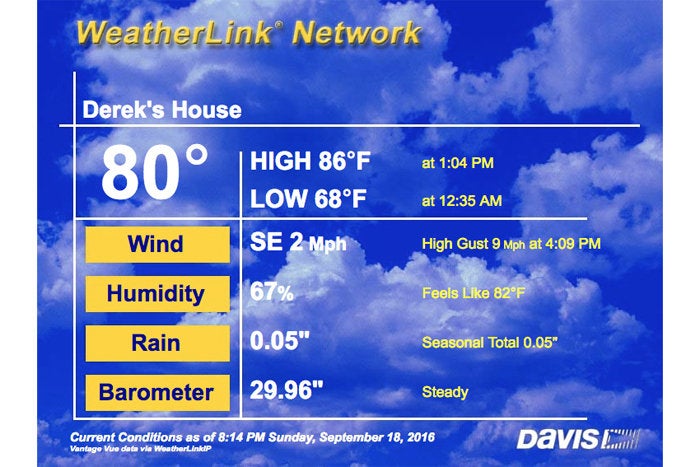 WeatherLink connectivity kits: Flash back to 1985
If you find the price tag for Davis' Vantage Vue acceptable, but you also want that information on your smartphone or computer, you'll need to buy one of Davis' WeatherLink connectivity kits. You won't be able to tie the system into your smart home, as you can with Netatmo's product, but you will be able to import the data to your computer, and from there, to services such as Weather Underground. From there,you can access it with an Android and iOS app on your smartphone or tablet.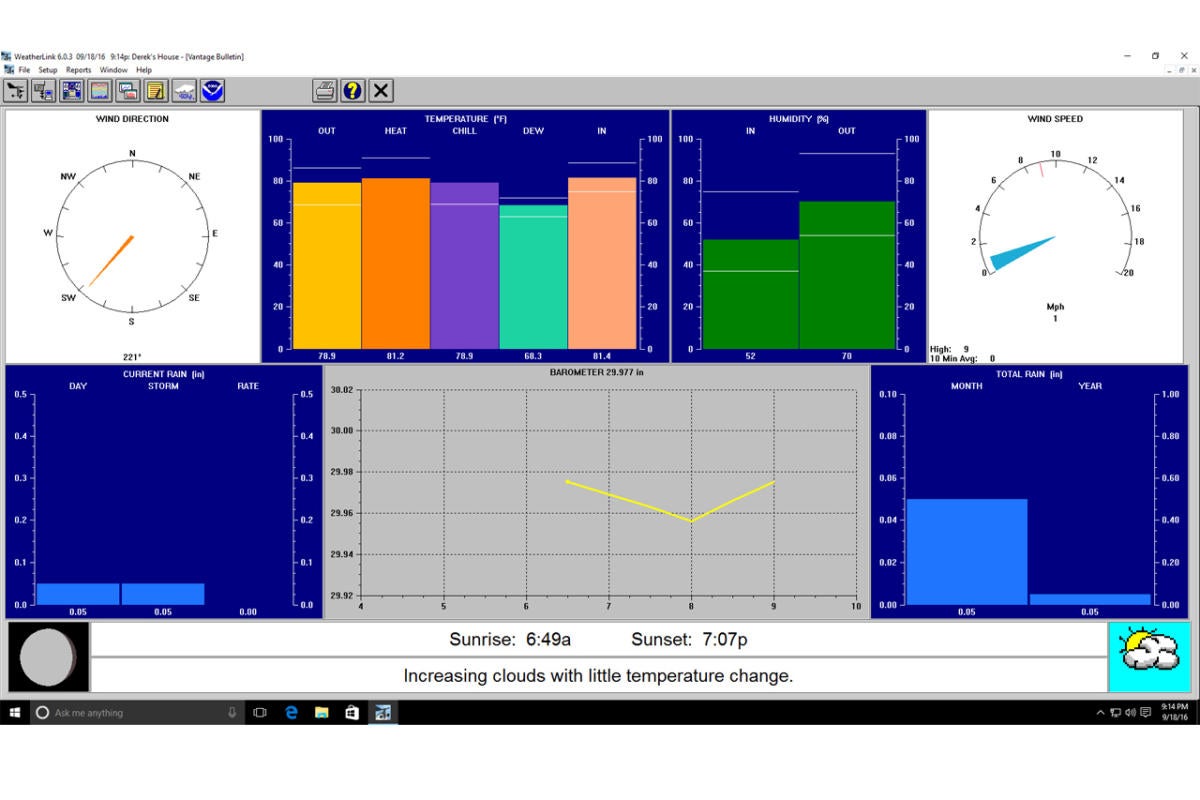 Each WeatherLink kit comes with a dongle the you plug into the back of Davis' console. The less-expensive versions ($165 each) establish connections between the console and your computer via USB or RS-232 serial port (there are Windows and MacOS versions of the software), but these require you to leave your computer running 24/7 if you want to create a running history of measurements. Both software versions have a no-frills user interface that looks like it was made for the very first version of Windows. Actually, I seem to remember an MS-DOS version that looked almost the same. Early Macintosh users might be thinking "Pfff! Who needs color?!" but hey, this isn't 1985.
Davis, I'm sure, would point out that you can buy more user-friendly software from a third party if you find its UI that objectionable. But they're going to collect at least $165 from you either way, because you can't run any software without that dongle. Bottom line: WeatherLink shouldn't be such an expensive add-on when every other high-end home weather station includes internet connectivity with the price of admission.
Final thoughts
Davis Instruments has had the home weather station market pretty much to themselves for many years. And its product hasn't changed much over the years because it hasn't needed to. Until now. Once you add in the cost of internet connectivity, the Vantage Vue makes no sense for the average consumer who's interested in tracking the weather. We've already covered several alternatives that are nearly as accurate as Davis' kit, but that cost a whole lot less—and in some cases—offer a whole lot more.
If you're a hardcore weather enthusiast who doesn't care about internet connectivity or the smart home, the Vantage Vue remains the best home weather station you can buy—and I've rated it accordingly. But I would guess that demographic is shrinking fast.
Best Prices Today: Davis Instruments Vantage Vue