When companies kick off a new live streaming effort, they often fumble the ball. Aereo did it. Sling did it. Heck, even HBO did it. But the debut of the NFL's Thursday Night Football on Twitter worked flawlessly, and it proved that the social network might just be onto something by dabbling in live streaming events. As a long-time fan of both football and the Twitter experience, Twitter's first TNF game was intoxicating.
Twitter's strength lies in its ability to foster conversations with people from around the world in real time. That's the promise, at least. In practice, it's difficult to find conversations tied to game day unless you've crafted a list of sports-crazed followers and followees. I have nearly 5,000 followers on Twitter, and whenever I spit out 140 pigskin-related characters, it's typically met by deafening silence. (Admittedly, my online pals tend to lean toward tech topics.) Hashtags could theoretically help you find like-minded football fans, but in reality, nobody really uses them. So I don't tweet about football much.
Until Thursday.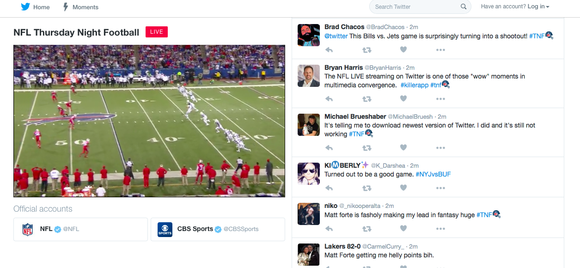 Twitter plopped a feed of every TNF-related tweet next to the game's high definition (and rock-solid) live stream. It changed everything.
Suddenly, there was no shortage of people chatting about the event we were all glued to in real time. My sportsball tweets—like this one lamenting drafting Keenan Allen and Brandon Marshall as my fantasy football wide receivers when Marshall went down with a knee injury—were receiving likes, and retweets, and comments. Suddenly, I actually felt engaged with fellow football fans on Twitter. This is something I'd never felt before despite having more than 21,000 tweets to my name.
And I wasn't the only one.
Every sport needs to get on board with this. Absolutely the future of media #TNF

— Alex Cocilova (@TheBrowncoat88) September 16, 2016
This is cool. Hope pats/Texans is like this next Thursday #TNF

— Scott Wilkins (@swilki15) September 16, 2016
Twitters stream is really impressive. Need to do more events. #BillsMafia #GoBills #TNF

— college boy (@DillySanders) September 16, 2016
What's more, the free, open nature of the stream—not all NFL games are streamed, and the ones that are tend to require cable subscription authentication—brought new fans to the game…
I am watching my 1st NFL game in years thanks to @twitter LIVE feed 😀 #TNF Big Thank you from SE Asia Expat GO JETS! 🏈

— C.P. Marlo (@ChinaBoricua) September 16, 2016
Finally a cord-cutting NFL fan can watch some games! #TNF

— Bryce Herman (@bzherman) September 16, 2016
The stream also allowed others to watch the game when they'd normally have to skip it.
Have to say, nice to be able to watch #TNF on @twitter while still getting son to hoops practice. pic.twitter.com/TyhAHpSFe2

— Darren Urban (@Cardschatter) September 16, 2016
Not everybody enjoyed the format, but the experience truly drew me in. I wouldn't be surprised if the number of #TNF-tagged tweets I sent out last night alone surpassed the total number of NFL-related tweets I've ever made.
Shanking the kick
That said, the experience wasn't quite perfect. About halfway through the night, I remembered that I was drowning my normal followers in #TNF tweets (after I lost a few). Fortunately, I realized that the live tweet feed also included tweets that began with a username, which Twitter hides from the feeds of your regular followers. From there on out, I prefaced my #TNF tweets with the @twitter handle to stop annoying (and losing) my online pals.
@twitter treating celebrations as personal fouls or taunting cements the NFL's reputation as "No Fun League." Ugh, what a buzzkill. #tnf

— Brad Chacos (@BradChacos) September 16, 2016
The Twitter stream also featured a limited number of commercials—forcing the same commercials to repeat, which became very irritating, very quickly.
Two things are gonna happen. First, we're gonna go to commercial break. Second, we're gonna show that Jack Reacher commercial again. #TNF

— Scott Wasson (@scottwasson) September 16, 2016
To be fair, that's a common problem in sports streams, which—Super Bowl aside—never show the ads you'd see in a traditional TV broadcast. And as repetitive as that Jack Reacher commercial was, it beat the static, muzak-playing ESPN splash screen displayed during Monday Night Football streams.
The Twitter stream's greatest strength was also its more glaring weakness, however. The sheer volume of the live tweet feed felt somewhat overwhelming at times. It truly was a firehose.
More crucially, while the lack of abusive garbage proves that the feed had some level of curation, I think it could stand to use a little bit more. For example, this humble New Englander was able to sneak some blatant pro-Patriots trolling in front of the masses. (Note that I was tweeting from my laptop while watching the game on a TV connected to a PC, hence the error message in this screenshot.)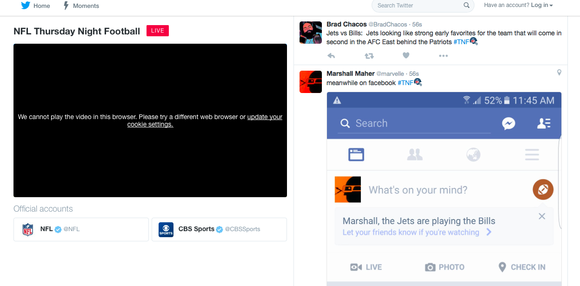 More worryingly, I also saw large pictures of scantily clad women attached to tweets with an #NFL hashtag. Having staffers cutting out tweets like those would improve the Twitter TNF experience. Curation could also add to the experience and make it more "Twittery," perhaps by including polls, or surfacing popular tweets and tweets from NFL players and analysts. As it was, the feed itself felt sort of chatroom-esque at times, though the continued interactions of people responding to tweets was where the real magic was found.
Those are minor gripes, though.
All in all, Twitter's debut Thursday Night Football stream was a tantalizing experience. I'm looking forward to next week's game, and wish that Twitter had the rights to stream every Thursday night matchup, rather than just 10 of the 17 games. I'm sure the company does too—and not just because it has the potential increase engagement with existing Twitter users. Going by the tweets alongside last night's stream, this endeavor appears to be bringing fresh faces into the social network. I wouldn't expect the experience to lure many traditional TV watchers, but it potentially has major appeal for cord cutters and foreigners.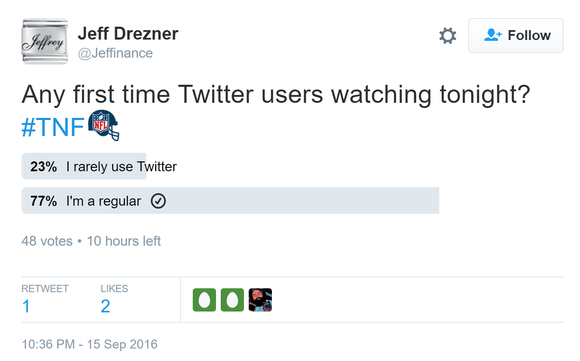 With cord cutting looking like a bigger bargain than ever, Twitter's NFL gamble might just pay off. Check out TechHive's guide to watching the NFL without cable if you've shunned the TV industry but still want to watch football games each and every week.