When I reviewed Amazon's Fire TV Stick and Fire TV set-top box, I arrived at similar conclusions with both: Unbeatable prices, clever software, but too much emphasis on Amazon video.
With Fire TV devices, Amazon splashes its own Prime and Instant videos across the home screen and often gives itself top billing in search results. Other services, such as Hulu and HBO, get second-class treatment—you need to open each app individually. As a result, using the Fire TV can feel like Amazon is putting its own business goals—selling a la carte video rentals and pushing Prime subscriptions—ahead of its users' needs.
That's starting to change with the latest software update for Fire TV. Netflix and HBO Go now have the power to recommend videos directly from the home screen, just like Amazon does, and other apps are scheduled to follow. The update also boosts Fire TV's universal search feature with lots of new video sources, including Netflix.
This isn't just a major shift in direction for the Fire TV. The update also provides a glimpse at what streaming-TV should become, with less emphasis on individual apps and more on surfacing movies, TV episodes, and other video content.
How to get Netflix, HBO recommendations on Fire TV
To start seeing recommendations from other apps on your home screen, you must be running Fire OS version 5.2.1.1 (551203220). If you don't have the latest version, head to Settings > System > About and select System Update.
Even with that update, you might not see home-screen recommendations right away. The home screen will only populate if you have the latest versions of Netflix and HBO Go, and you've watched enough videos from those apps. I hadn't accessed either one in a while, and had to play through a handful of TV shows and movies to make the recommendation rows appear on my system.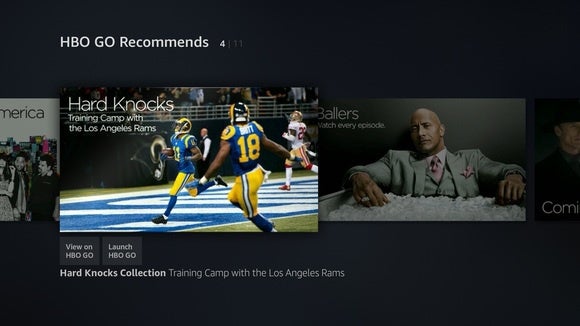 In my experience so far, the two apps handle recommendations in different ways. Netflix prioritized things I was watching, along with a handful of other general suggestions. HBO Go didn't seem to have any personalization, and instead touted specific shows and sections of the app (such as "New Episodes" and "Essential HBO"). My understanding, though, is that both apps will continue to become more personalized over time.
As for content sources, Amazon is only supporting Netflix and HBO Go (the free service for cable subscribers) at the moment; support for HBO Now (the $15-per-month standalone service) is coming soon. Additional apps will be added to the home screen sometime in the future.
Expanded search
In addition to the home-screen recommendations, Amazon is also adding more sources to Fire TV's universal search. Search now works with more than 75 apps and channels, including Netflix, Crackle, Encore, HBO Go, Hulu, Showtime, Starz, Vevo, HGTV, Food Network, Travel Channel, Popcornflix, Tribeca Shortlist, and FX Now.
You don't need to install these apps for them to appear in search results, but you might have to do some digging to spot them. Amazon's search interface tends to highlight one particular video service—in many cases, Amazon's own—while hiding others behind a "More Ways to Watch" button. I'd really like to see Amazon redesign video listings to highlight more playback options at once, as the Roku and Apple TV boxes do.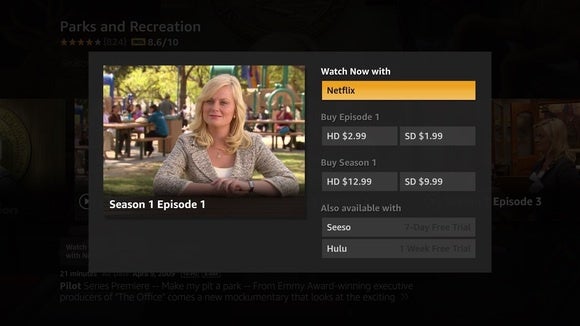 Room for Improvement
Amazon hasn't completely given up the spotlight on its Fire TV devices. Prime video still dominates the "Your Videos," "Movies," and "TV Shows" sections of the interface, with genre-specific listings that aren't open to third-party apps. The "Recent" section of the home screen also lets you jump to specific Amazon videos you've been watching, but that capability isn't available to other apps, which can only show static app icons.
Still, the latest update brings Amazon closer than ever to what I think is the streaming video interface of the future. Instead of presenting a static list of apps, streaming devices should offer a single menu for browsing across multiple apps at once. Different streaming devices are tackling this problem in their own ways, but the best solutions will be fueled by algorithms that understand your viewing habits.
To that end, let's give Netflix credit where it's due: The company has traditionally avoided being part of system-level recommendations on streaming devices. In general, streaming services have been skittish about giving up too much control over the user experience. The latest Fire TV update may be a sign that Netflix—and perhaps the entire video industry—is starting to see the light.
Sign up for Jared's Cord Cutter Weekly newsletter to get this column and other cord-cutting news, insights, and deals delivered to your inbox.