How do you improve on a design as classic as the round wall clock? With LEDs. Lots and lots of LEDs.
I'm being facetious. Glance Clock founder and CEO Anton Zriaschev has conjured up a delightful timepiece that blends elements of analog and digital design and promises to make you more productive by helping you avoid distractions and—surprisingly enough—the compulsion to keep an eye on the clock so you don't miss important events and appointments.
TechHive only covers the occasional crowdfunding project (the Glance Clock's Indiegogo campaign starts today). To catch our interest, the project has to be particularly interesting, and the startup must be able to provide a working prototype. Zriaschev has only a handful of those, so he made the three-hour trek from the San Francisco Bay Area to my home (and TechHive's de facto test lab) to show me his invention. Zreaschev told me his inspiration for the Glance Clock stemmed from MIT Media Lab scientist David Rose's concept of "enchanted objects," things we use every day that are transformed by embedded connectivity.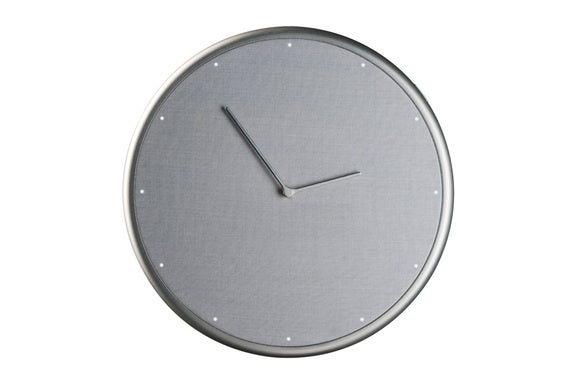 Indeed, the Glance Clock looks like nothing more than a modern but otherwise ordinary analog wall clock, with mechanical hour and minute hands and LED dots shining through its translucent fabric face to indicate the hours. Things get sort of magical when you establish a Bluetooth connection between the clock and your smartphone (future versions will have a Wi-Fi adapter in addition to Bluetooth). Put the Glance Clock in the room you spend the most time in and it will alert you not only to upcoming appointments, but incoming phone calls and emails, weather alerts, milestones in your fitness regimen (tying into your fitness tracker), and even the imminent arrival of your Uber driver.
How does it do all that in addition to telling the time? That's where the LEDs come in. In addition to the 12 LEDs around the edge of the clock for displaying the hours, there's a four-line grid with 48 full-color LEDs per line and another 256 LEDs for displaying contextual information in a scroll. The clock also has a speaker that can be used for audible alerts. A few minutes before your Uber shows up, for instance, you'll hear a honking horn and the make and model of the Uber driver's car will scroll across the face of the clock, so you know what to look for when you get to the street.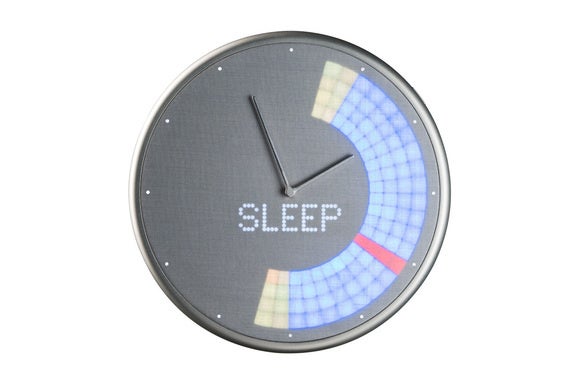 Set a wake-up alarm, and the Glance Clock sounds an alarm tone and presents the day's weather forecast with abstract patterns representing rain, fog, sunshine, and snow. Impending thunderstorms are presented with the rumble of a thunderclap. You can also program the clock to scroll through your day's important appointments. The Glance Clock will tap into your phone's caller ID and allow you to associate colors with important callers. The clock face will change color and scroll the caller's name, so you can decide whether to pick up or let the call go to voicemail without ever needing to touch your phone.
Zreaschev told me the Glance Clock can support more than one person's schedule, and the Glance Clock app can control more than one clock. He also said the clock will tie into Amazon's Alexa digital voice assistant, and that you'll be able to create IFTTT recipes and Stringify scripts to link the clock to virtually any other system in your home. An open API will help other developers link their products and services to the device. The clock will run for three to six months on its rechargeable battery, depending on the number of alerts and calls it displays, or users can leave its three-meter cable plugged into a wall outlet.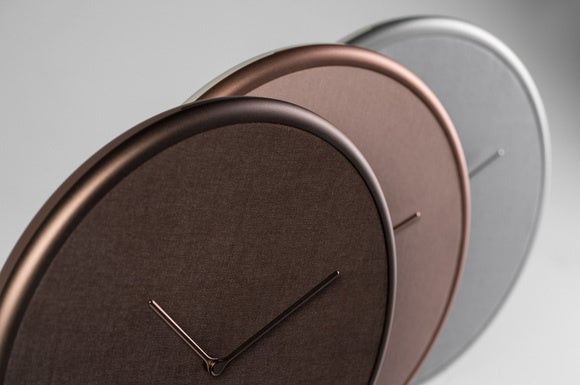 A sensor will recognize which users are in your home at any given time, so that other users aren't bothered by alerts aimed at someone who isn't there and so that the battery isn't wasted on alerts played to an empty house.
A limited number of Indiegogo backers will be able to pre-order the Glance Clock for $99 during its campaign. The clock will retail for $199 when it becomes generally available in the first quarter of 2017. The company has already lined up a manufacturer and is seeking to raise $50,000 during its one-month Indiegogo "flexible funding" campaign to bring the clock to market. It reached the halfway point within 30 minutes of start of its campaign.