At a Glance
Expert's Rating
Pros
Dims smoothly and quietly
Long life (and a long warranty)
Energy Star rated
Cons
Not the least-expensive dimmable LED
Our Verdict
If you agree with our assertion that smart light switches are a better solution than smart light bulbs, you should give Cree's new A19 soft-white dimmable LED a long look.
Far too many LED bulbs choke when it comes it comes to being paired with a dimmer switch. The problem can be particularly acute when you pair an LED with a smart dimmer. The bulbs I've tested—including those advertised as being dimmer compatible—typically sputter, buzz, hum, or fail to work altogether when I install them in a fixture controlled by one of my in-wall Z-Wave dimmers. I was beginning to wonder if I'd need to replace my smart lighting controls with dumb switches as I change over from incandescent to LED lighting when Cree told me they were about to ship a whole line of new LED bulbs that work perfectly with dimmers.
I should qualify that statement to say that Cree has so far provided only a multi-pack of its A19, 60-watt-equivalent bulbs. The company has promised to send a few representative samples of the rest of its new soup-to-nuts line, which Cree's VP of marketing, consumer products Al Safarikas characterizes as "from A to PAR."
A complete line-up
Unlike many light-bulb manufacturers that produce LED bulbs in just a few form factors, Cree has come to market with a comprehensive lineup that includes the common A19 bulb reviewed here, a three-way A19 bulb (30-, 60-, 100-watt equivalent), BR30 and BR40 (BR stands for "bulged reflector"), PAR30 and PAR38 (PAR is an acronym for "parabolic aluminized reflector"), and 25- and 40-watt equivalent soft-white candelabra bulbs. Cree is also shipping a series of downlight retrofit kits for screw-base incandescent ceiling cans. (Their advice for retrofitting fluorescent cans with ballasts? Remove and replace the whole can.)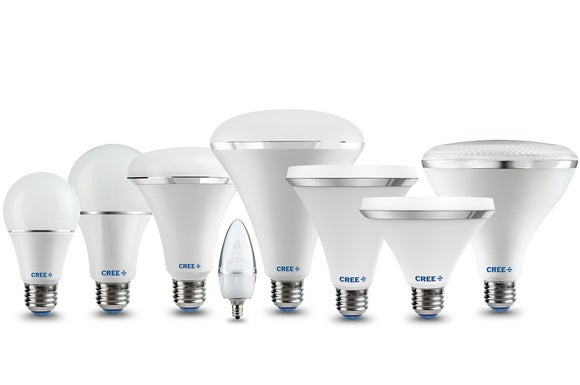 In a product briefing a couple of weeks back, Safarikas boasted of Cree's 10-year, satisfaction-guaranteed warranty for its entire new line. "Light bulbs are no longer throw-away items," he said. "They can go in your home and improve your home for decades to come. So we're taking a page out of the more-expensive bulb-makers' playbook [with this 10-year warranty].
Cree also offers a line of smart bulbs that are equipped with ZigBee radios (we reviewed its Connected Soft White bulb in early 2015). As such, those bulbs are designed to be controlled via a central controller (e.g., a Wink or SmartThings hub, or a more sophisticated control panel from a manufacturer such as Vivint). You can control them with a smartphone, tablet, or a personal computer, but those devices send commands to the hub and the hub sends them to the light bulb. This new line of bulbs must be controlled by the fixture they're installed in or the switch on the wall that they're wired to. This significantly reduces the cost of the bulbs, but that savings is absorbed by the cost of the smart switch.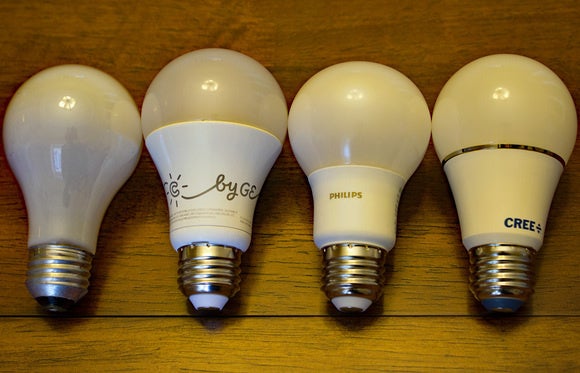 Smart bulb, or smart switch?
I've tested a number of smart bulbs, but I've lived with smart switches for nearly 10 years. Smart switches are the way to go. Here's why: First and foremost, no matter how intelligent a smart bulb might be, it becomes dumb the instant you install it in a fixture that's controlled by a switch on the wall. If that switch is in the off position, the bulb isn't receiving any power and therefore can't be controlled by anything.
Secondly, many smart bulbs—especially Bluetooth bulbs—offer local control only. You can't control them over the Internet (though this is less true of Wi-Fi bulbs and ZigBee bulbs that are controlled by hubs.) And finally, if the light in question is a chandelier with multiple bulbs, you'll want all the bulbs to turn on or off or dim at the same time. That's difficult, if not impossible, to do with smart bulbs and an app.
The review
Okay, let's get down to brass tacks and discuss the A19 soft-white LED bulb that Cree sent for this review. Of the three white-LED bulbs I looked at, Cree's product bore the closest resemblance to an ordinary A19 60-watt equivalent, incandescent bulb. The C by GE Life came in second, followed by the slightly smaller, non-dimmable Philips A19 60-watt equivalent. The shape of the bulb can impact which light fixtures you can put it in (some lamps have shades that clip to the bulb), and it can also impact the bulb's ability to project light in all directions.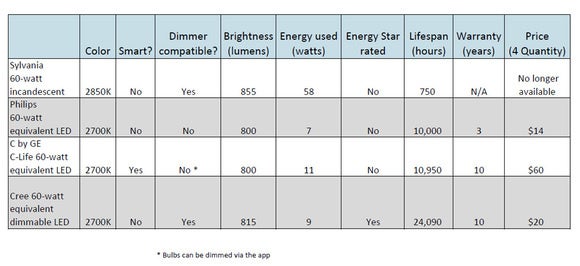 Cree classifies its bulb as soft white, with a color temperature of 2700K. Of the three bulbs I compared to the Sylvania, the Philips bulb came closest to matching the Sylvania's color, but the Cree was brighter than the other two, producing 815 lumens compared to 800 lumens for both the GE and the Philips bulbs. That brightness came at the cost of just two more watts than the Philips bulb, however, and the Cree consumed two watts less than the GE. According to the Kill A Watt model P4400 wattmeter I used, the Sylvania incandescent burned 58 watts, the Cree used 9 watts, the GE bulb consumed 11, and the Philips used the least amount of power—just 7 watts.
All three bulbs did a very good job of casting their light evenly and in all directions, and the Cree bulb dimmed smoothly and evenly without making any noise. Being a smart bulb, the C by GE Life can be dimmed via Bluetooth using its app, but it's completely incompatible with in-wall dimmers. The Philips bulb is dumb, like the Cree, but it can't be dimmed at all.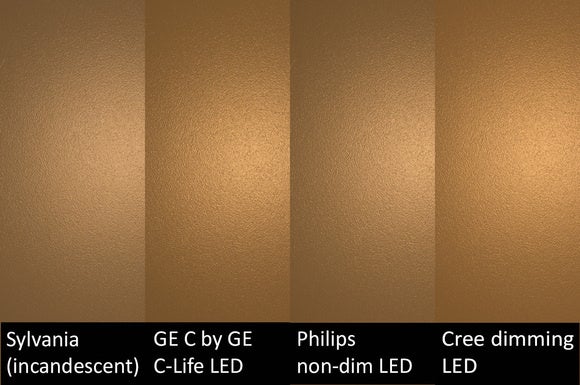 If you don't care about dimming your lights, Philips has the better deal—at least in the short run. You can buy four of those bulbs for about $14, where four of Cree's bulbs cost $20. But don't forget that Cree's bulbs are rated to last more than twice as long as Philips', and they have a 10-year warranty to back that up. Philips warrants its bulbs for only three years.