Smart lighting is a tantalizing idea, but many models require an up-front investment in "starter packs" that usually require an additional piece of hardware beyond the light bulbs themselves. These devices—known as a gateway, hub or bridge—often price smart bulbs out of the grasp of many potential users. TP-Link is joining a small list of smart light bulb companies offering products that are trying to change that.
TP-Link recently announced the LB100, LB110, and LB120 smart Wi-Fi LED bulbs. All three bulbs can be controlled by TP-Link's Kasa app for Android and iOS without the need for additional hardware. These bulbs can, however, be controlled by Amazon's Alexa personal digital assistant via voice commands if you are using a device like the Amazon Echo smart speaker.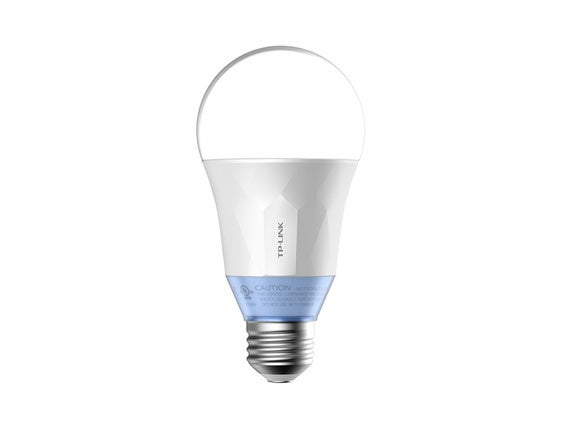 The impact on you at home: The new bulbs offer a variety of features you'd want in a smart bulb, including the ability to set brightness levels and create lighting schedules, timers, and countdowns. As these are basic white light smart bulbs you won't find some of the extra goodies you might find in more advanced products such as Philips Hue color-changing bulbs. Nevertheless, for someone who's just looking to get started in smart lighting TP-Link's new bulbs could be a good choice. Since they don't require a hub, you could just buy one or two bulbs to start, and then add others over time if you're satisfied with their performance.
Lumens and Watts
The LB100 offers 600 lumens worth of light, which TP-Link says is equivalent to a 50 Watt incandescent bulb—but the LB100 actually only draws 8W of power. The LB110 offers 800lm, which equals a 60W incandescent bulb but only draw 11W of power. The LB120 has a similar power rating, but includes "tunable white light" capability. This means you can change the bulb's light output from a traditional soft white appearance to a glaring "daylight" bulb. All three bulbs also draw a maximum of 0.55W of power when they are turned off.
The three bulbs are available now directly from TP-Link, as well as Amazon and Home Depot. The LB100 costs $20, the LB110 is $25, and the LB120 is $35—though the prices are running high on Amazon right now.