Nest Labs is now shipping the Nest Cam Outdoor home-security camera it announced in July. Effective today, existing Nest Cam (and Dropcam) users will get more new software features than had been previously disclosed. Meanwhile, if you're interested in putting a Nest Learning Thermostat in your home, you'll be happy to hear that the device is now available in three new colors: Black, white, and copper.
Mentioned in this article
Nest Cam Outdoor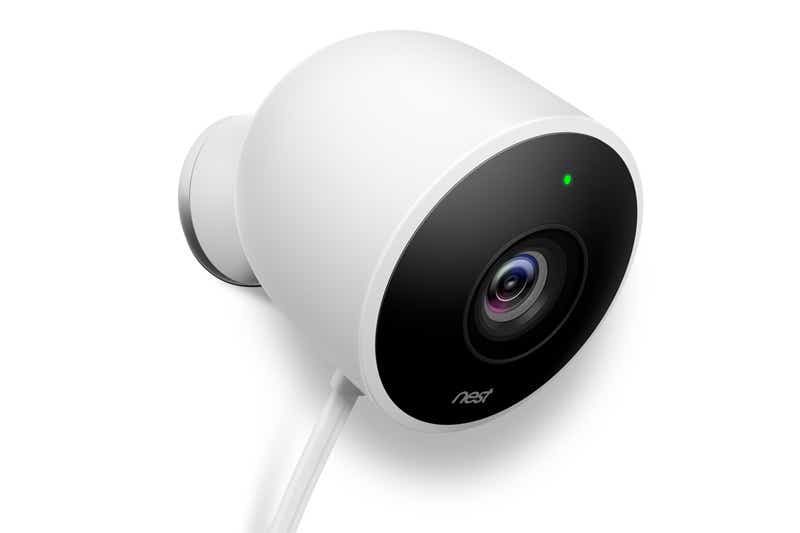 Price When Reviewed:
$199.00
The new thermostats are pretty, but the big news here is the Nest Cam/Dropcam software upgrades. In addition to the Spaces and "person alerts" features Nest revealed earlier, the company has added a new feature that lets you scrub through days of captured video in just a few moments, so you can quickly find the video events you're looking for: someone sneaking past your gate, for instance, or the delivery person leaving a package at your door.
"Each Nest Cam captures up to 2.6 million frames per day, because it's recording 24/7," explained Nest Cam product manager Mehul Nariyawala. "Last year, we started using computer vision algorithms to look for key moments with people or activity. Now we can zoom in on the action that triggered the alert. Our new Sightline feature lets you speed through days of video history, but it also pulls out those key moments. You can tap on the thumbnails to see the full video."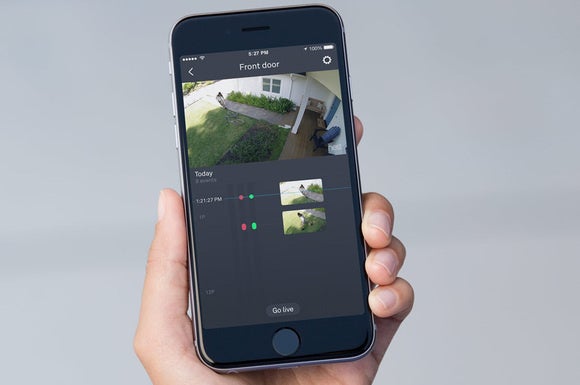 Nest Cam and Dropcam owners will need to subscribe to the Nest Aware service to enjoy the full benefits of Sightline. But starting today, non-subscribers will get a three-hour window into the timeline for free. You'll be able to monitor a live video feed from the camera, and you'll see the Sightline snapshots, but you won't be able to play the recorded video. Nest Aware costs $10 per month to store 10 days of video in the cloud (plus $5 per month for each additional camera). A second tier that stores 30 days of video in the cloud costs $30 per month plus $15 per month for each additional camera. Discounts are available with both tiers if you pay for annual subscriptions.
New colors for the Nest Thermostat
No one would call the Nest Thermostat ugly, but until now it's only been available in a stainless steel finish. Starting today, you can order one in three other colors electroplated onto that stainless steel: Black, white, and copper. Nest says the black finish consists of "pure silicon, carbon, and titanium" and is coated with an oil-resistant material that makes fingerprints bead up so they can be wiped off. The copper finish is "is forged with steel to endure many years and many hands" and is intended to complement kitchen décors.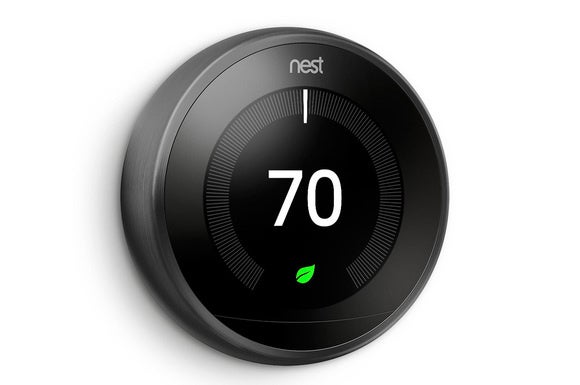 Why this matters: The security camera market is hyper-competitive right now, and there are a lot of very good models on the market. Slick, easy-to-use software is one of the best ways for a manufacturer to differentiate its product from the pack, and that's what Nest has done here. Nest also touts its Thread network protocol so that its cameras, thermostats, and smoke detectors can work with third-party smart-home devices. But it remains to be seen if Thread will come out on top in the standards battles that are stymieing the growth of the Internet of Things market.
The money's in the cloud
Many camera manufacturers, including Nest Labs, want to hook their customers into cloud-storage subscription plans to gain recurring revenue, but there are alternatives to the cloud. Take our current favorite surveillance camera, the Reolink RLC-410. It delivers higher-resolution video and it doesn't have a subscription plan at all. That's because the $89 camera records its video to storage on your home network: A PC or an NVR (network video recorder). The latter option is better, but it will add a one-time cost to your setup and might be more than you need. Reolink's 8-channel NVR costs about $300, and the company doesn't offer anything smaller. Then again, that's how much Nest charges for one year of cloud storage for just one camera with a 30-day lookback.
Nest says TechHive's Nest Cam Outdoor eval unit is on the way, so we'll have a more critical look at the camera—and Nest's new software—soon. As for the Nest Learning Thermostat's new colors? Nest already had the best-looking thermostat on the market. Offering it with more color choices without raising the price tag is smart.