HDMI is ubiquitous on televisions, video projectors, and other audiovisual peripherals, while smartphones and PCs are turning to USB-C to reduce I/O port counts and to eliminate a rat's nest of external cables. Connecting a USB-C device to an HDMI display has been something of a mess, until now.
On Friday, HDMI Licensing announced a new cable standard that connects USB-C and HDMI devices. HDMI Alt Mode supports the full range of HDMI 1.4b features, including up to 4K resolution, 3D video, ethernet over HDMI, HDCP 1.4/2.2 copy protection, Deep Color, Audio Return Channel, and the CEC (Consumer Electronic Control) protocol that automatically switches a display to the proper input source. One thing that's missing: Support for HDR (high dynamic range) video.
The idea, naturally enough, is to to develop an HDMI-to-USB Type-C cable that ties together the most common cabling protocols in both the PC and consumer electronics industries, eliminating the need for an adapter or special silicon. Source devices like PCs, tablets, and smartphones will be able to output HDMI video and multi-channel audio from a USB-C port, just as they can now with DisplayPort.
"The USB Type-C connector is gaining traction in the mobile and PC markets," said HDMI Licensing, LLC president Rob Tobias. "Consumers expect to easily connect these devices to displays with a USB Type-C to HDMI cable and utilize the capabilities and features of native HDMI. This specification will also result in more source devices incorporating HDMI," which already total about 6 billion, he said.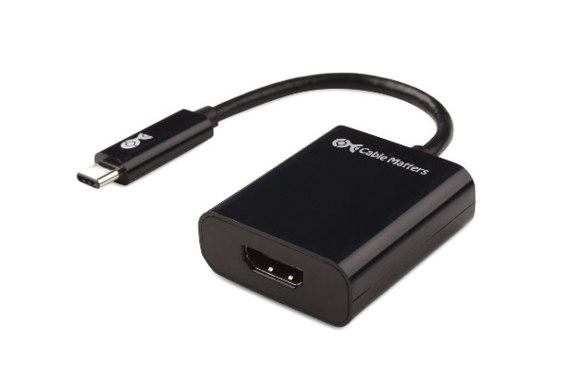 USB-IF president Jeff Ravencraft said his organization will work with HDMI Licensing to ensure that consumers can recognize when the new Alt Mode is present in the cable—meaning we'll see a more consumer-friendly name for the technology sometime in the future.
If there's any catch, it's that it will be up to manufacturers to decide which features they support on the new cables, according to a FAQ on the HDMI site. The good news is that we should see the first of the new cables soon; HDMI Licensing says that because of the demand for the new products, we should see the first cables at CES 2017 in January, with shipments beginning next year.
Why this matters: This is all about simplicity. Adapters and dongles are a pain. What isn't too certain, however, is if the specification will allow phones with a single USB-C port to connect to a USB-C hub while also displaying their output to an HDMI display. In any event, we should know next year.