Like lots of people who've cut cable TV, I couldn't have done it without Netflix.
For a fraction of a typical cable bill, Netflix provides more TV shows, movies, and comedy specials than I have time to watch. And while I sometimes turn to other streaming services (and my over-the-air antenna) for specific content, most evenings I'll just thumb through the Netflix app until I find something that grabs my attention.
Mentioned in this article
Roku Streaming Stick (2016)
Price When Reviewed:
$49.99
This is precisely how Netflix wants people to behave. The company has long been obsessed with recommendations, and has pursued a vision of serving each user with exactly the right video at the right time. The hope is that you'll default to Netflix when you're unsure what to watch.
But with so many new streaming services becoming available, Netflix's strategy is short-changing its subscribers: The company seems convinced that it shouldn't play nicely with system-level recommendations and viewing guides, such as the ones built into streaming boxes and game consoles. So when you're looking for something to watch from the main menu on Roku, Android TV, or Xbox One, Netflix's offerings are nowhere to be found. As such, it's harder to get a complete picture of what's on TV without diving into the Netflix app.
Being able to browse across multiple streaming services at the same time is hugely important to the future of cord cutting, because no one wants to sift through a dozen apps just to find something to watch. By withholding its content from system-wide viewing guides, Netflix is holding the entire cord-cutting market back.
No Netflix here
Roku set-top boxes and smart TVs provide a clear example of how Netflix's resistance is creating hassles for users.
Since last year, Roku devices have offered an innovative feature called Roku Feed, which alerts you when your favorite TV shows get new episodes, or when movies you're interested in become available on streaming services. By default, the dozens of apps that support Roku's universal search function also pipe content into Roku Feed. Netflix is the sole exception.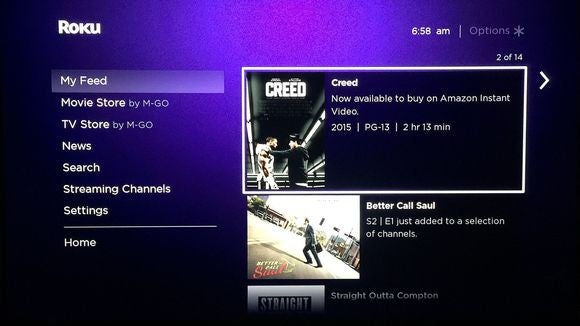 Roku's answer to this issue has always been boilerplate: "We continue to encourage partners to participate in Search and Roku Feed and are adding to the breadth available there all the time," the company says.
Still, Roku isn't the only example of Netflix's non-participation. Netflix also doesn't support the Recommendations bar on Android TV, which allows apps to tease videos directly on the home screen. And on Xbox One, Netflix doesn't support the TV-guide like "App Channel" view that lets you browse content from multiple apps at once.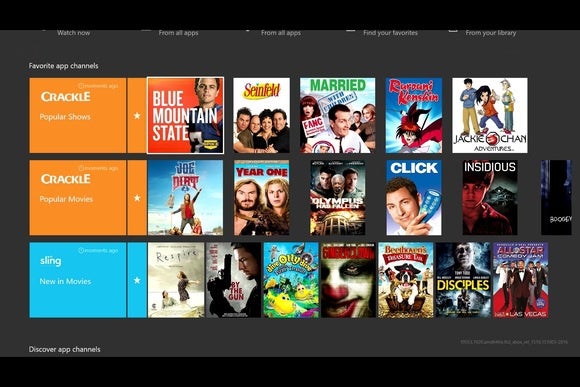 When I've asked Xbox and Android TV people about this, their responses have been diplomatic, but suggest that Netflix doesn't see how it would benefit from supporting platform-level recommendations.
"They are mature enough, and capable enough, where they have the resources to say, 'Okay, we'll take this slow, and we'll figure out what the right thing for Netflix is,'" Allen Chang, Google's lead product manager on Android TV, told me last year. "They're certainly unique in their proposition, their size, and everything else, whereas other partners will take cues, guidance, and recommendations that we provide for them."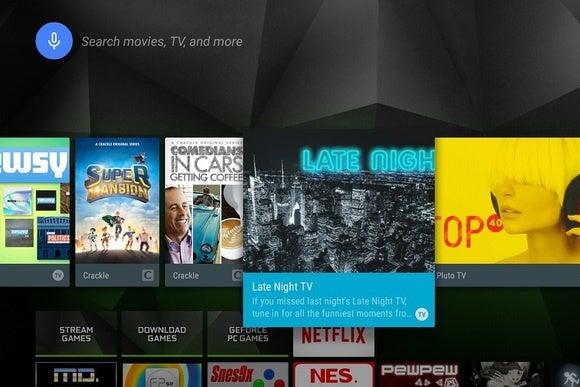 I got a similar response from Richard Irving, Microsoft's former program manager for Xbox One, when we spoke in November. "They certainly have never said to us, 'We're not supporting that feature because we're Netflix,' but anything they've chosen to support or not support is because there either is or isn't a compelling business case for them to do it," he said.
Netflix's motivations
So far, Netflix hasn't responded to my request for comment. But if I had to guess why Netflix isn't supporting these features, I'd offer both a charitable and an uncharitable explanation.
In Netflix's defense, the cross-app discovery features I mentioned above are rough around the edges. Roku Feed only became compelling recently, after the company made some big improvements to how you browse for movies and shows. The Xbox TV interface is kind of a mess, and I'm not totally convinced that even Google cares about Android TV, so why should Netflix? One might argue that Netflix doesn't want to support platform-specific recommendations and viewing guides if the company thinks the consumer's experience will be worse than opening the Netflix app.
Mentioned in this article
Amazon Fire TV (4K)
Price When Reviewed:
$100
At the same time, Netflix's non-participation is part of the reason these features don't feel complete to begin with, and Netflix doesn't have much incentive to change that. The Netflix app is already a destination; why do anything to rock the boat?
We might get a litmus test for Netflix's thinking before long: Since June, Apple has reportedly been talking to video providers about a digital TV guide for Apple TV set-top boxes, which would surface videos from across different apps. Apple TV's universal search is already top-notch; if Apple can duplicate that user-friendliness with its TV guide, it'll be interesting to see whether Netflix gets on board.
Either way, I suspect Netflix will reach a tipping point eventually. Streaming devices like Roku will get good enough at system-level recommendations, and they'll have enough participation from other video providers that Netflix will start to suffer from sitting on the sidelines.
Once that happens, sorting through content from dozens of streaming services will be much less daunting.
Sign up for Jared's Cord Cutter Weekly newsletter to get this column and other cord-cutting news, insights, and deals delivered to your inbox.