The latest Xbox One update includes plenty of features to please gamers, but gaming has never been the sole focus of Microsoft's console. While Microsoft has moved away from its goal of taking over your television, bringing its Cortana digital voice assistant to the platform shows the company, it hasn't given up on the idea of putting a smart hub in your living room. We'll show you how to activate Cortana on your Xbox One and let you know just how useful it can be.
Microsoft's digital assistant goes a long way toward turning your Xbox One into a big-screened Amazon Echo, as the robot inside your Xbox is always listening and willing to offer a helping hand. If you want to know the weather report, a sports score, or the latest action flicks you're just a "Hey, Cortana" away.
This is Cortana's Xbox debut, so you're bound to encounter some adolescent awkwardness. But Microsoft's putting its digital assistant inside its gaming console is the right move when it comes to expanding the console's repertoire beyond fun and games.
Grab the summer update
If you haven't seen it by now, the Xbox One update should be ready and waiting for you. Head to Settings > System > Console info & updates. Next, select the update available box and download the latest software.
After your system updates, you'll be asked if you want to turn on Cortana. You'll need to agree to let Cortana be always available and listening. This is pretty much the same as when your Xbox would always be at the ready for Xbox commands.
To issue commands you'll need to have a Kinect, an Xbox headset, or a compatible headset (Microsoft says "just about any headset with a 3.5mm audio jack" will work). This means unless you use it a ton for Kinect-specific games, you don't necessarily need to have it taking up space in your entertainment center.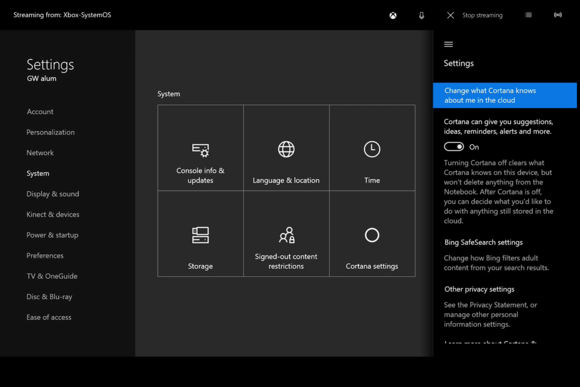 Hey Cortana
One advantage I noticed right away is that the switch to "Hey Cortana" makes the console more responsive for catching voice commands. For example, my system would often miss "Xbox on," making me sound like I had lost my mind as I repeated the phrase over and over to no avail.
The "Hey Cortana" lead-in lets the system recognize that it needs to pay attention, and afterwards is far more reliable in catching the commands. This makes the Xbox One far more useful for its new functions.
One thing to keep in mind is that if you have another PC nearby, you might get an echo effect when you launch into another, "Hey, Cortana" if you've also enabled the always-listening feature on your Windows 10 computer. You might consider disabling Cortana on your PC to eliminate the possibility.
Now the best thing is to experiment with questions.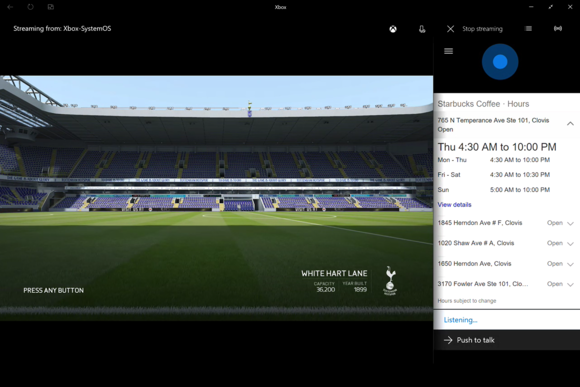 I tried several searches to get a more full picture of what Cortana was able to dig up. Microsoft's helper was surprisingly good at location-based searches, such as finding nearby coffee shops and grocery stores. It struggled with weather-related questions, on other other hand, sometimes offering a list of YouTube videos of random weather events instead of the local forecast.
Cortana performs best with questions that have direct answers.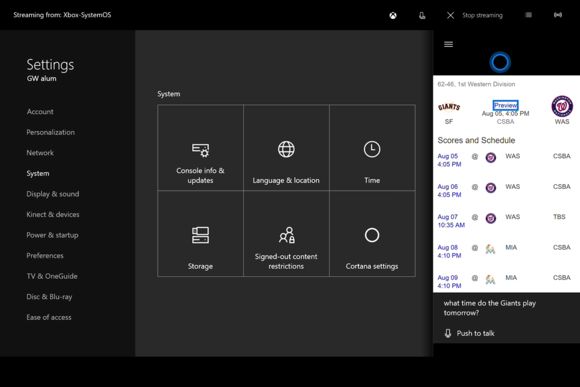 My best advice is to give it set aside some time and just start asking a bunch of questions. There's an unofficial list of the type of things you can ask (this includes commanding the console and gaming features), but you can expect the cloud-based Cortana to get smarter as you use it.
Like Apple's Siri, Cortana can do silly things, such as tell you a joke or sing you a song. Outside of being a cool party trick, this feature is more of a novelty than a truly useful feature.
Speaking of which, Cortana on Xbox One won't check your schedule, fetch emails, or give you commute suggestions like the Windows versions can. Ask a question like that and Cortana will tell you in no uncertain terms that those features are only for Windows PCs or phones. Bummer.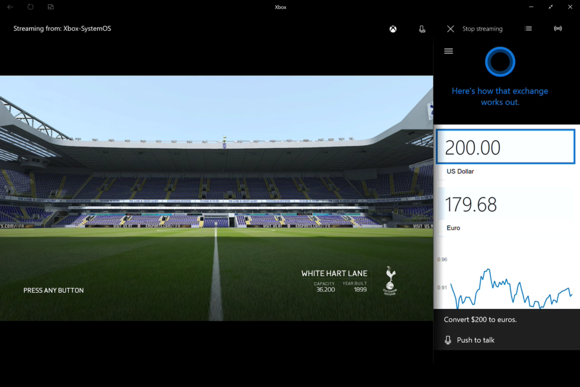 A glimpse into the future
So Cortana is a good start, offering some utility on the Xbox that makes it convenient to ask for information with needing to pull out your phone. If Microsoft can ramp up Cortana and get it right, you could have a full-blown Amazon Echo competitor in your entertainment system.
Xbox's Major Nelson says there are more Cortana features to come, so it's worth keeping a watch on how Microsoft iterates its digital assistant. The company has been willing to make bold revamps with its home entertainment system before, so expect Cortana to get some more smarts down the line.