At a Glance
Expert's Rating
Pros
Good sound and enough power to fill a large room
You can build out a multi-room system with other Play-Fi gear, even from other brands
Supports most of the major music-streaming services
Supports hi-res audio files (up to 24-bit, 192kHz)
Cons
Polk's app is compromised by a very poor user interface
Apple aficionados will be disappointed by the absence of support for Apple Music and AirPlay
The Omni S6 can sound unpleasantly boomy when placed against a wall
Our Verdict
The Omni S6 is a good-enough multi-room speaker that's held back by a poorly designed app.
As long as it's been since we last looked at a DTS Play-Fi speaker, one thing hasn't changed: The Play-Fi app still sucks. And that's too bad, because Polk's Omni S6 wireles speaker delivers good sound and a strong set of features at an attractive price.
The Omni S6 is part of Polk's Omni wireless multi-room system, which includes the battery-powered, indoor/outdoor Omni S2R speaker we reviewed earlier, the Omni A1 digital amplifier, the Omni SB1 sound bar and subwoofer, and the Omni P2 wireless adapter that you can connect to your existing A/V receiver. Being Play-Fi components, they can be used together or in combination with any other wireless component in the DTS Play-Fi ecosystem.
Lots of multi-room, multi-speaker features
The Omni S6 houses two 4.0-inch full-range drivers and two 3/4-inch tweeters powered by four-channel amplifier. A dual-band Wi-Fi adapter connects the speaker to your wireless router and to other Play-Fi devices (DTS recommends a maximum of 16 Play-Fi devices on your network). There's an 1/8-inch aux input for legacy devices, and you can add Bluetooth connectivity via a $30 USB adapter.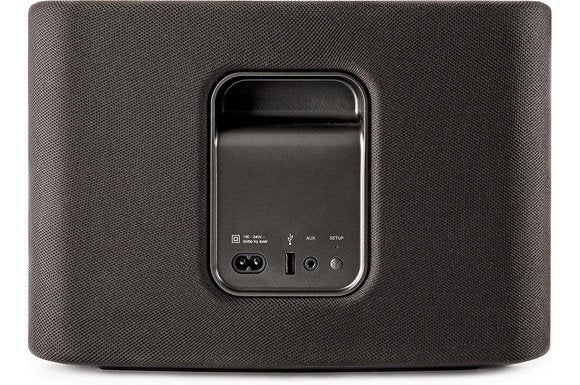 As you'd expect from a modern multi-room audio system, you can stream the same music to multiple Play-Fi speakers (party mode), or you can stream different music to each speaker. Volume levels can controlled as a group or individually. And you can link a pair of Omni S6 speakers together and configure one as the left channel of a stereo pair and other as the right channel.
Unlike some of its competitors—Sonos—Play-Fi speakers like the Omni S6 can handle high-resolution music files with up to 24-bit resolution and 192kHz sampling rates. Handle, but not stream, that is: Play-Fi will down-sample such tracks in real time to 16-bit resolution and a sampling rate of 48kHz before streaming (Play-Fi supports FLAC, ALAC, WAV, AAC, and MP3 files). If you can manage to find and enable Critical Listening mode in the Play-Fi app—a task that's much harder than it should be—you can stream a 24/96 track to a single Play-Fi component without experiencing any down-sampling or transcoding.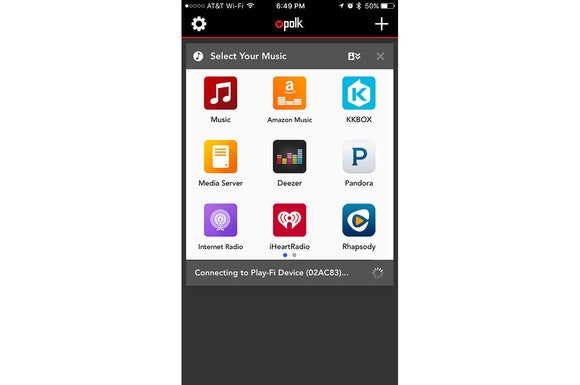 The DTS Play-Fi app is no cure for Sonos envy
Using the Omni S6 requires a DTS Play-Fi compatible app. You can download Polk's Omni App or you can use DTS' own Play-Fi app. Apart from different graphics, there are no functional differences between the two. There are versions for Android, Kindle Fire, iOS, and Windows, but there is no MacOS version.
I won't mince words here: The apps stink. I never once loved using them. The user interface is Play-Fi's Achilles heel. When you first open the app, for example, you're shown all the available music sources. There's plenty of room on the hardware display to fit all of the supported music services' icons, but the app inexplicably splits them across two screens, leaving the bottom third of the display blank and forcing you to swipe back and forth to see all of them. That's just silly.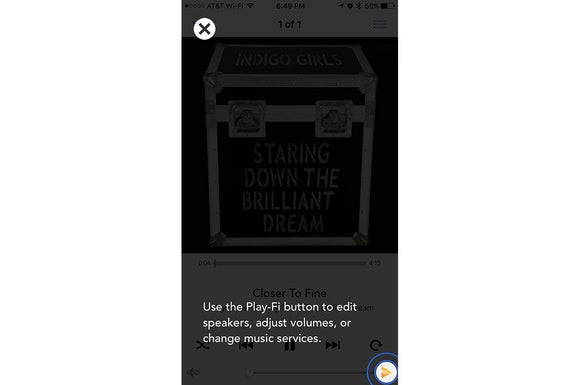 When you access any of the music services, it's unclear now to get back to the main screen. For example, there's no main menu or consistent way to get back to a "home" view. In theory, you do so by clicking on the tiny DTS Play-Fi logo in the lower-right corner. Good luck with that. It sometimes brings you back to the home screen, other times it will show you just your connected speakers. Why? Still other times, you click the logo and it takes you back to your previous screen, finding yourself caught in a frustrating loop.
While you attempt to get yourself out of your own personal Ground Hog Day, you'll eventually discover that clicking on a really small music-note button (another element that materializes in some places but not others) slides out your music sources. But now they are in a horizontal, single row. I could go on and on, but I won't.. The good news is that it's just software—it can be fixed. If DTS intends to take on Sonos in the multi-room audio market, it should throw out this version its app and start from scratch.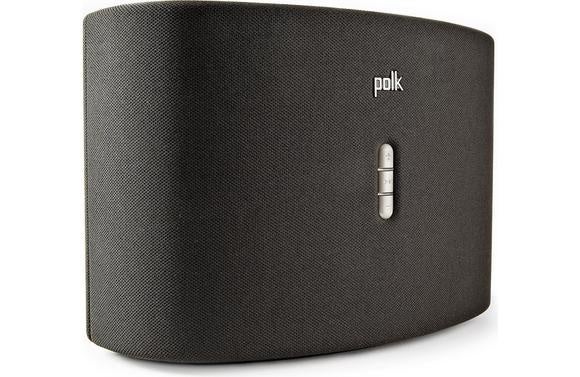 Music sources
Unlike a Sonos system, you can stream music to Play-Fi speakers from any Windows application (Foobar2000 anyone?). But you're dependent on the Play-Fi app if you're using a mobile device. On the bright side, devices in the Play-Fi ecosystem can also connect to any DLNA server on your network, and the app can stream music from more than 10 online services, including Amazon Music, Spotify (Spotify Connect, for premium subscribers), Tidal, Rhapsody, Sirius XM, Pandora, and internet radio (Sonos, to its credit, supports many, many more services—including Apple Music).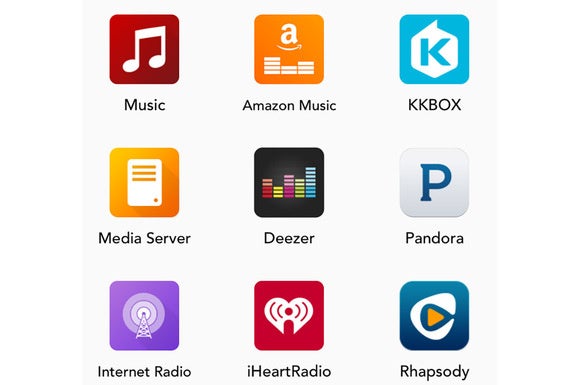 Sonic redemption
While I was disappointed by the app, the Omni S6 itself redeemed things a bit. I think most people will be very happy with this speaker's sound. It offers a rich, thick, warm, and euphonic sound with just the right amount of elevated midbass to give a pleasurable punch to most music. Audiophiles, however, will find the sound a bit colored.
Polk's voicing served the Omni well at low volumes. During my time with it, I always had a sense of bass and low-end support to any program material I was playing. If you intend to using the Omni S6 for background music and at low volume, you'll be pleased.
The Omni S6 felt right at home no matter what genre of music I threw at it. Adele's distinctive vocals were warm and sultry. The synthesizer on U2's "Where the Streets Have No Name" had presence. Orchestral works were engaging. This speaker can go toe-to-toe with competition from the likes of Bose and Sonos, and it costs less than their comparable models.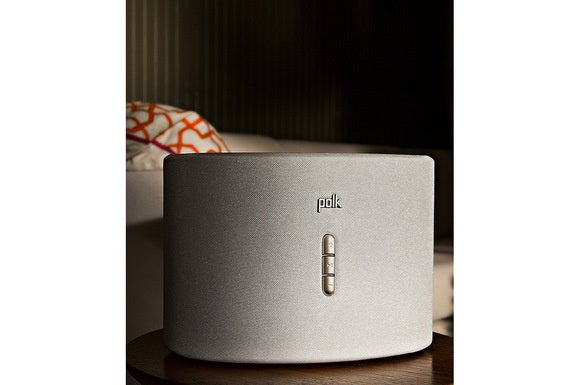 A speaker of this size is going to have some trade offs. Don't be alarmed. It's simply a matter of physics. Among the most noticeable to me were percussion instruments. The drums in Adele's "Rumor Has it" and Alice Smith's "New Religion" (from the album, For Lovers, Dreamers & Me) sounded a bit boomy and flat. There was more "thud" than "snap." The top end wasn't light and airy, and the mid-range exhibieds the typical boxiness and congested coloration typical of speakers in this category.
Note that the Omni S6's strengths and weaknesses will be heightened or lessened depending on where you set it up. Like most speakers, the Omni S6 will sound differently depending on room placement. I found it sounded best when pulled away from room boundaries (like a wall). Putting the Omni S6 directly against a wall adversely impacted its bass response and made it too boomy for my tastes.
The Omni S6 easily filled my 20-foot x 34-foot dining room and living room area. I could fill that space with music at extremely high volume (much louder than I'd ever play) without the speaker breaking up into unpleasant distortion.
Bottom line: A system with unrealized potential
Polk's Omni S6 is a feature-rich wireless speaker that delivers good sound. Its ability to stream high-resolution music files and the DTS Play-Fi ecosystem that enables you to mix and match this speaker with a diverse range of other components—be they from Polk or other manufacturers—are huge strengths. Unfortunately, all that potential is held back by a cumbersome app. If DTS can address the app's usability issues, it will be a whole new ballgame for Play-Fi.