As I've written before, one of the biggest stumbling blocks for streaming video is that it's too hard to keep track of TV shows across different services. If a cable-box DVR can organize shows regardless of channel, cord cutters shouldn't have to individually check Hulu, Amazon Prime, HBO Now, and other apps for new episodes of specific shows.
Since last year, Roku has been working on a solution that runs on its streaming set-top boxes, sticks, and smart TVs. Dubbed Roku Feed—or "My Feed," as it appears in the main menu—this feature lets you follow your favorite TV shows and get notified when a streaming service adds new episodes. It also lets you track movies, actors, and directors, and it can tell you when prices drop for purchases and rentals.
Mentioned in this article
Roku 4
Price When Reviewed:
$130
Roku Feed didn't generate much fanfare when it launched in 2015, and I've previously been critical of the feature for not being useful enough. But since then, Roku has made it easier to browse for TV shows and movies, and it's brought lots of new streaming services on board. If you own a Roku device and haven't bothered with Roku Feed lately, it's worth another look.
How Roku Feed works
Roku Feed resides just underneath the main Home screen, under the heading "My Feed." Scroll down to it, and you should see three categories of videos to browse:
"Movies" provides a list of films that are already available for purchase, rental, or subscription streaming.
"TV Shows" provides a list of popular programs.
"Movies Coming Soon" shows films that are still in theaters, or that haven't arrived on streaming services yet.
To add videos in Roku Feed, just click on a movie or TV show from one of these menus, then select "Follow on Roku." An entry for this item will then appear in My Feed, and you'll get notified of any new episodes (for TV shows), along with price drops or arrivals on new streaming services.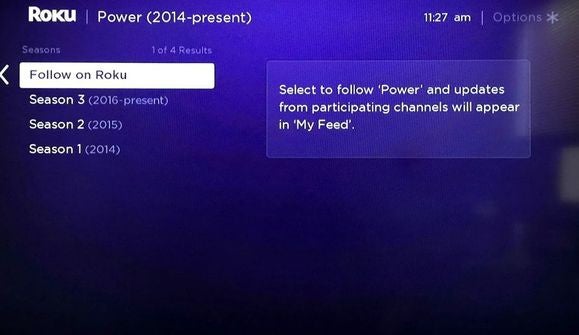 You can also use Roku's search function to add specific TV shows and movies to the feed. This works for actors and directors as well, so you can keep track of their latest work.
Which streaming services does Roku Feed support?
Roku once told me that if an app supported universal search, it would also support Roku Feed. Unfortunately, Netflix continues to withhold data from Roku Feed. That's presumably because it doesn't want you spending too much time outside their own apps. (Roku's comment: "We continue to encourage partners to participate in Search and Roku Feed and are adding to the breadth available there all the time.")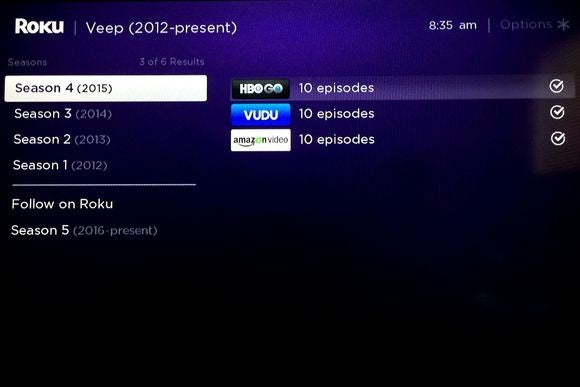 To make things a bit more confusing, Roku Feed only delivers updates from apps you've already installed. I understand the logic—you don't want notifications from services you're not paying for—but there should be some way for users to find out if there's a crucial app they're missing.
That said, I count at least 40 services that support Roku Feed currently, which is around double the number from last fall. (At the bottom of this story, you'll find a chart with sources that support Roku Feed and search, but keep in mind it's a partial list.)
Note: An earlier version of this story stated that other services were not supporting Roku Feed as well. It turns out this was due to a glitch in the way Roku tells users which apps are supported. Netflix is the only service whose content appears in search, but not in Roku Feed. The chart below has been updated accordingly.
What's next for Roku Feed?
Mentioned in this article
Roku Streaming Stick (2016)
Price When Reviewed:
$49.99
In the near future, I'd like to see Roku and content partners clean up the quality of Roku Feed results. In some cases, Roku fails to list the latest episode of a show, or doesn't get rental prices right. The lack of Netflix support is also still a major pain point; without it, you might not realize that some recent films, such as The Big Short, are available without having to buy or rent.
Beyond those wishes, here are some big-picture ideas on where Roku Feed should go next:
New sorting options: One of my previous criticisms of Roku Feed still stands. Right now, Roku Feed sorts itself in order of recent updates and new additions, but the list becomes unwieldy if you're following more than a dozen items. It'd be nice if users could sort their feeds in other ways, such as by genre or alphabetical order.
Unwatched list: Although Roku Feed knows when new TV episodes arrive, it's oblivious about whether you go on to watch them. A future iteration should keep track of which episodes you've seen, and turn "unwatched episodes" into a sorting option (see above).
Live TV: With the rise of streaming channel bundles such as Sling TV and PlayStation Vue, Roku Feed could be a prime location to advertise live events, including TV shows you're following, sports broadcasts for your favorite teams, or even breaking news topics.
Ultimately, the more reasons Roku gives users to check their feeds, the more attractive the feature will become to content providers, and the more it'll start to feel like a vital part of the interface. It's no surprise, then, that Roku continues to build on Roku Feed as it tries to stay ahead of streaming device rivals like Apple, Amazon, and Google.
Sign up for Jared's Cord Cutter Weekly newsletter to get this column and other cord-cutting news, insights, and deals delivered to your inbox.