At a Glance
Expert's Rating
Pros
Comfortable, flexible neckband with various earphone tip sizes
17 hours of talk time or 15 hours of music playback
Magnetic neckband keeps earphones from dangling
Cons
Not everyone likes the look or feel of a neckband
Neckband magnets are weak
Our Verdict
These affordable Bluetooth headphones let you switch seamlessly between phone calls and music.
Some people are incredibly busy and take calls at all hours of the day and night. Those who are self-aware enough to not want to look a dweeb with a Bluetooth earpiece hanging out of one ear now have other options, such as Jabra's new Halo Smart headset. These Bluetooth headphones ($80 and available at Amazon) let you seamlessly switch from calls to music without swapping out one pair of earbuds for another. Bonus: If Apple ditches the iPhone's headphone jack, you'll be ahead of the curve with an affordable Bluetooth pair on standby.
I confess that I'm not the biggest fan of in-ear headphones. The tip fit is always slightly off, most Bluetooth models don't sound the best, and models that wire the left and right channels together—and the ones that have a band behind the neck—often get tangled in my long, thick hair. I'm a wireless earphone skeptic, but I'm always on the hunt for a great product.
I'm not sure Jabra's Halo Smart earphones are the ones for me, but they have some great features that make the $80 price point more than reasonable.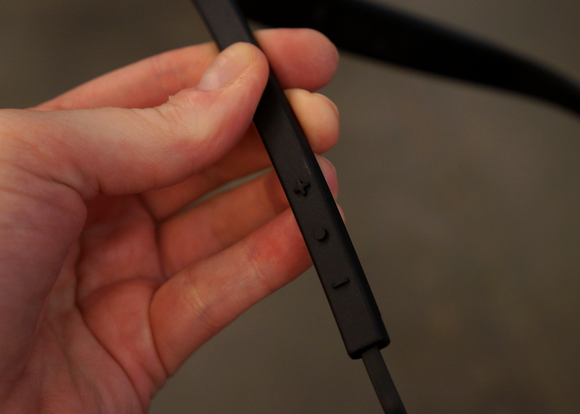 Take control
Setting up the Halo Smart headset is easy enough: Drape the headphones around your neck, insert the earbuds, then power on the device. The neckband will vibrate and a voice will instruct you to turn your phone's Bluetooth on and then pair the headphones. Done.
The headset has four controls, three on the right and one on the left. Of the three buttons on the right, the top and bottom control the volume. The middle button is multi-functional: Press and hold to turn the headset on and off, tap to pause or resume playback, or press to answer an incoming call. The lone button on the left side of the neckband is a voice button. You can use it to mute yourself when on a call, or tap it to summon Cortana, Siri, or Google Now when you're not on a call. I didn't use this button much, but it comes in handy if you're in a loud space and trying to listen in on a conference call. Being a headset, there's a microphone so you can speak up when you need to.
When I wear the Apple-provided earbud that came with my iPhone, I'm constantly fussing with the volume controls. When trains screen into the station, I have to pause what I'm listening to or turn the sound way, way up. Podcasts need to be louder than songs. That's not the case with the Halo Smart: They provide enough passive noise cancellation that I rarely had to adjust the volume (although the sound was so good I missed a few subway loudspeaker announcements). The headphones are more bass-heavy than others I've tried, which is great for blasting "Lemonade." Your mileage may vary.
Comfort is key
The wireless headset comes with four gel tips of varying shapes and sizes in the box, and one of them fit my ears perfectly. (You can always buy third-party tips for your earphones, but it's obviously preferable to have them fit immediately so you don't need to spend more.)
The Halo Smart has a lightweight, flexible neckband, so you can adjust it to fit just right. The neckband isn't my favorite style—I think it looks super dorky—but Jabra's Adam Robertson told me the design was chosen to accommodate a battery that can provide 17 hours of talk time or 15 hours of music playback on a single charge. In my personal experience, using the earphones primarily for music and podcasts while commuting and at the office, I only had to charge up once a week. (Jabra includes a USB cable in the box.)
You can install the Jabra Assist app on your phone if you want more control over your headphones, but there's not a whole lot it can do: You can able/disable vibration and message read-out, but not a whole lot more. These headphones are designed for listening to music and taking phone calls. There aren't a lot of bells and whistles, but there don't need to be.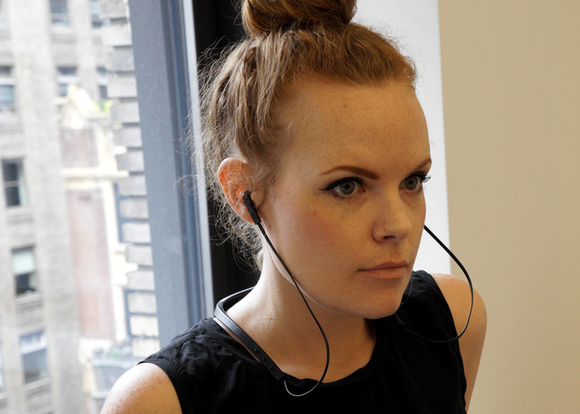 The Halo Smart's extra features are subtle, but they feel essential once you've tried them. The earbuds are magnetizedm so if you remove them from your ears, they'll snap together and pause whatever you're listening to. You can also magnetically snap them to the headset itself, though the magnets don't have a strong enough pull to do the work for you. If you're wearing the neckband with the earphones snapped to the sides, detaching them and putting them in your ears will answer a phone call, which was pretty cool, though I fumbled with it a bit during testing.
Bottom line
These headphones are designed primarily for high-powered, always-on-the-phone folks, not music and fitness lovers like myself. But if you do need a pair of affordable earphones to get you from commute tunes to phone calls and back, with good sound and controls that let you leave your phone in your bag, Jabra's Halo Smart is a solid option.