At a Glance
Expert's Rating
Pros
Webcam enables you to see the weather as well as track it
Entirely solar powered
Well-designed app
Cons
Temperature readings spike when unit is in direct sunlight
Weak Wi-Fi connectivity
Webcam doesn't capture high-quality images
Our Verdict
This unique concept adds a webcam to a home weather station, but you'll need to buy a second kit to get all of the sensors you'll need to monitor the weather.
Price When Reviewed
$299.99 when reviewed; price as of Feb 2022: $319.99
Best Prices Today: BloomSky
BloomSky is one of those gadgets that make you wonder why no one ever thought to invent it before. It adds an outdoor camera to a Wi-Fi weather station, all of which operates on solar power, so that you can see the weather as well as measure it.
In addition to measuring and reporting the temperature, humidity, and barometric pressure, the BloomSky's integrated camera snaps a picture of the daytime sky every five minutes. You can monitor your data from the web or with BloomSky's native app, IFTTT compatibility allows you to use the collected data to trigger other smart-home devices, and you can even ask Alexa to read out its measurements (but you can't manually trigger its onboard camera to take a picture).
BloomSky is an imperfect weather tool, however; its temperature sensor suffers from anomalously high readings when the unit is in direct sunlight, and its weak Wi-Fi range limits where you can place it. And if you want to measure rainfall, wind speed, and wind direction, you'll need to purchase the $140 Storm add-on.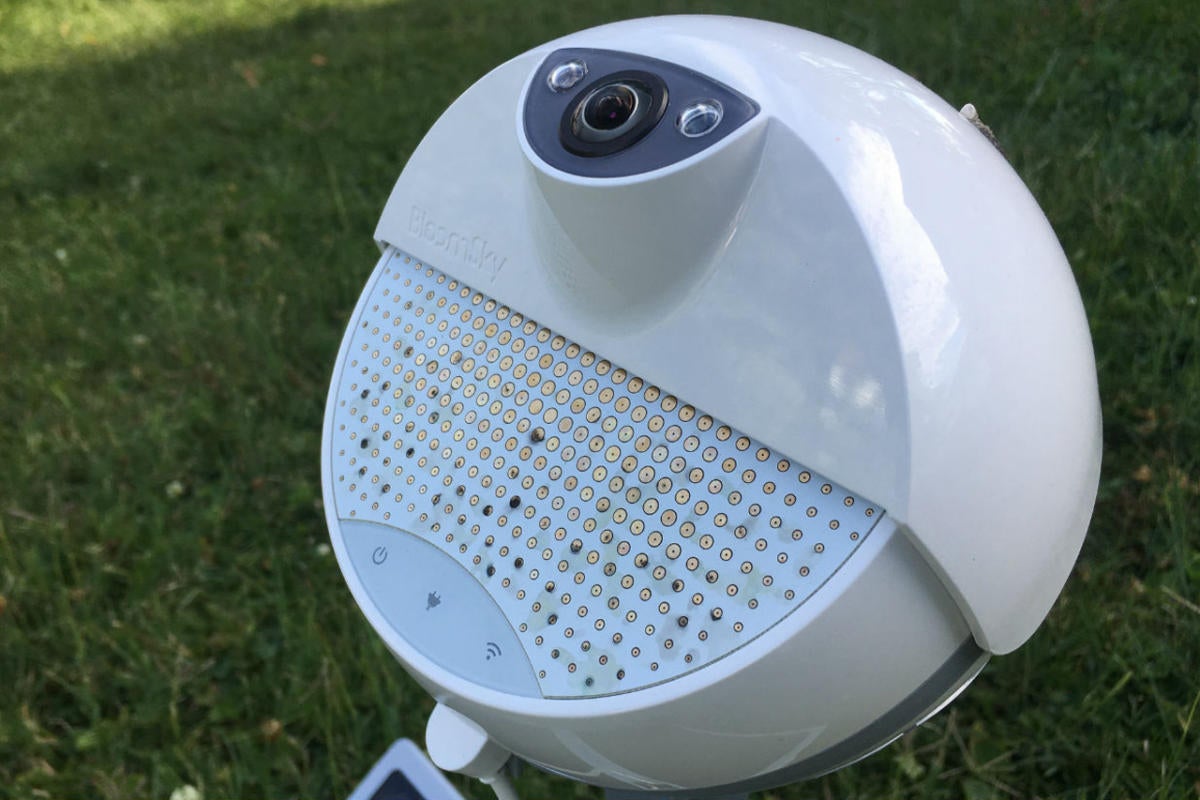 Setup and installation
We tested the original BloomSky kit. The newer BloomSky 2 is the same design, but it adds Bluetooth connectivity to the mix. When refurbished units are available, you can buy one on the company's website for $200, and BloomSky sometimes runs community outreach programs aimed at getting more stations into a certain region. When I wrote this review, for example, customers in nine northeastern states could apply to purchase the device for $99 plus the cost of shipping.
Most of the station comes pre-assembled, so I only needed to put the two-piece ground stake together, pop it into the bottom of the webcam, and then download the app to connect it to my Wi-Fi network. You can mount the BloomSky to a roof, fence, railing, or other structure, but I didn't find it necessary. The ground stake offered a better picture—it's as though you're laying in the grass looking up at the sky.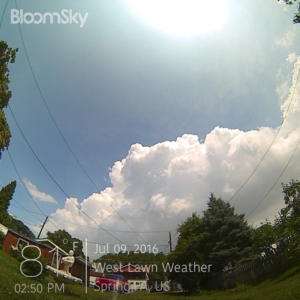 The BloomSky isn't outfitted with the best Wi-Fi antenna, so be sure to place the unit within 30 feet of your router—you might even consider adding an outdoor Wi-Fi access point for it. I fortunately had a good spot in the backyard that was close to the room where my router is installed. While you're outside, you'll also want to set up the solar panel—facing south, to capture the most sunlight—and plug its six-foot cord into the BloomSky.
My camera was transmitting to BloomSky's cloud-based servers within about 10 minutes. This was the quickest and most painless setup by far of any of the home weather stations I've tested.
My experience
The BloomSky has given me relatively little trouble during testing. I did need to spend some time adjusting the camera, which ships facing upward. You'll only see the sky this way, and with no point of reference, can be disorienting to watch the time-lapses BloomSky automatically creates. You'll want to adjust the camera to a 45-degree angle so that the ground occupies about a third of your image.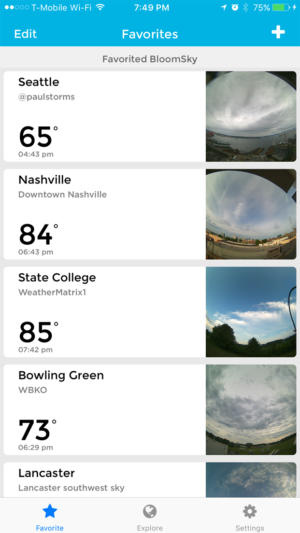 The camera's image quality is average at best—certainly nothing to write home about. I'm assuming this is due to the need for an extremely low-power camera, since the whole unit runs off of nothing but solar. Still, I'd like a bit more clarity and true-to-life color reproduction, which is something this camera struggles with.
Sensors collect data on temperature, humidity, and pressure continuously, although the camera only operates from 30 minutes before sunrise until 30 minutes after sunset to save battery life. The solar power generated is more than ample to power the device, even during extended periods of cloudy weather.
BloomSky says you may be able to operate the station on as little as seven hours of direct sunlight each week. That might be true: My BloomSky's battery remained at close to a full charge during the week I tested it, even with two days of considerable cloudiness. Unless you're living in the Arctic, you have nothing to worry about.
While the humidity and pressure sensors operated pretty much on par with other stations I've tested, the temperature sensor was a problem area. In direct sunlight, I saw anomalies of 6- to 7 degrees above the temperature as reported by a nearby National Weather Service station, which I suspect has to do with heat buildup in the BloomSky's enclosure.
As you can see from the picture of the back of the unit below, the sensors are not well protected from any direct sunlight. The louvers (what meteorologists refer to as "radiation shielding") are insufficient to protect the sensors from direct sunlight. What's more, air is not allowed flow completely around the sensors, which allows heat to build up and distort the temperature readings.
The easiest way for BloomSky to resolve this problem would be to redesign the shielding and add an aspiration fan. The solar panel should generate enough power for this, as the fan doesn't need to be powerful.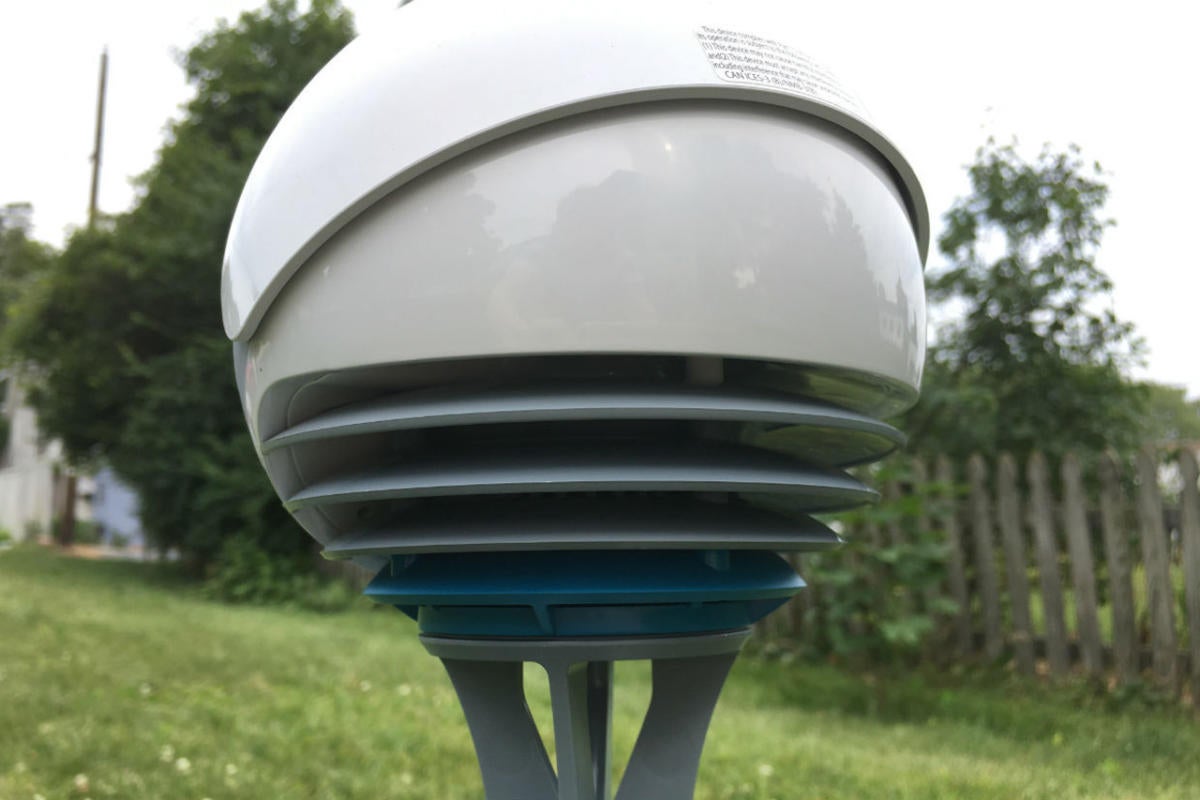 The rain sensor works well. While it doesn't report instantaneously (BloomSky says this is to limit false alarms), I did receive a rain alert within five minutes of a rain shower passing through my area, with a new picture taken as soon as rain was detected. That's a much faster response time than Netatmo's Rain gauge, which alerts you to rainfall only after more than 0.01 inches has fallen. In light rain, that device can take 30 minutes or longer to report.
The $140 Storm add-on includes all the variables that the BloomSky cam needs to make it a full-fledged weather station: rainfall, wind speed, wind direction, and also UV. Considering the Bloomsky's issues with temperature accuracy, I would recommend using the BloomSky only in addition to another weather station, such as the My AcuRite or Davis Vantage Vue.
The mobile app and BloomSky on the web
You can view BloomSky data either through the company's mobile app or on its website, although the app is more fully featured. That's where you'll find both the most current image your BloomSky has taken, and roughly an hour or so after sunset, a time-lapse of the past day's images (and four days of archived videos). You can also favorite other BloomSkys around the world, and there's even a feature to broadcast short status updates to your followers.
I like these social sharing features, which tie directly into Facebook and Twitter, as well as the capability to save images to your phone. Having no option to create time lapses other than once a day, however, is a bit of a bummer. If a big storm comes through, it would be great to be able to share a brief timelapse on social media right away, instead of needing to until after sunset and then share the entire day's timelapse.
BloomSky also offers a web version of its map on its website, but with limited functionality that gives you a way to share your camera with those who don't have the app. Again, I'd like to see more—perhaps some kind of web widget to place on your own blog or something similar.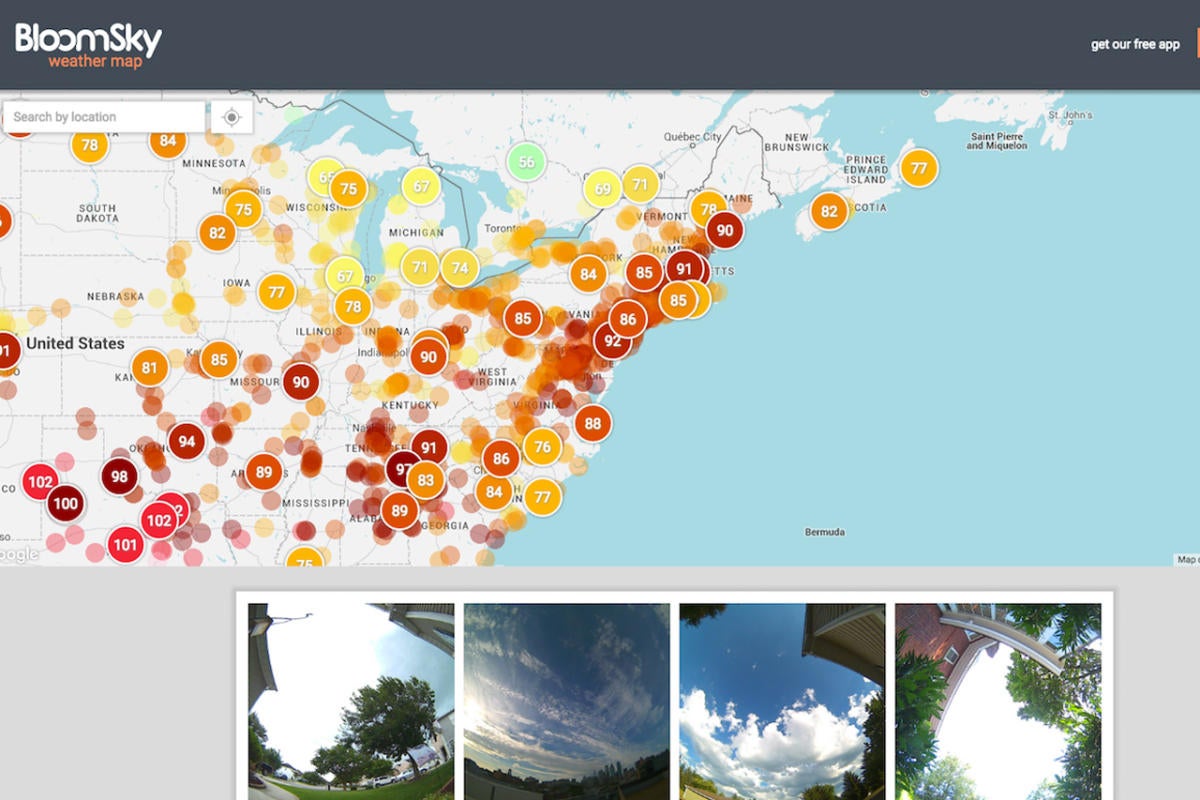 Smart-home capabilities
What I really liked about BloomSky in terms of the connected home is support for IFTTT. This means you'll be able to use BloomSky to operate other smart home gadgets. For example, you could use BloomSky's rain sensor to turn your Rachio smart sprinkler turn off when it rains.
I used IFTTT with Google Drive to save every BloomSky timelapse video each day, and another applet that I turn off and on when I want to save every image during a weather event that I want to review later. Keep in mind that BloomSky can only be used as a trigger—you can't have another smart device trigger an action on BloomSky.
You can also connect to Alexa, which allows you to hear BloomSky's weather data. After testing it I can't honestly tell you it's all that useful. You can't use Alexa to tell BloomSky to take a picture or anything like that.
Final thoughts
BloomSky is an interesting enough gadget, but I don't consider it to be a must-have device for either weather buffs or smart-home enthusiasts. Although it has one feature the other weather stations I've looked at doesn't have—a weather camera—you'll need to add the $140 Storm to your shopping basket to get a complete weather station. Even then, the BloomSky's skewed temperature reporting remains a major concern. Here's hoping the manufacturer can resolve that shortcoming.
Best Prices Today: BloomSky