When you want to watch streaming-video services like Netflix, Hulu, or Amazon Prime Video on your television, you have three main options.
You could just stick with the smart functions built into most modern TVs, but this often means dealing with sluggish software and a limited app selection. You could also spend more to get streaming set-top box, such as Roku or Apple TV, which perform much better and deliver more features, but these cost upwards of $100.
Your third choice is to take the middle ground between performance and price and pick up a media-streaming stick such as Amazon's Fire TV Stick, a Roku Streaming Stick, or Google's Chromecast. Each of these options costs $50 or less and are likely to provide more functionality and better performance than the typical smart TV.
Which streaming stick is the best? For most people, the answer is easy.
Best streaming stick: Roku Streaming Stick
Roku Streaming Stick (2016)
Price When Reviewed:
$49.99
In 2016, Roku released a new version of its Streaming Stick (model 3600R). The price is unchanged from the 2014 version, at $50, but the hardware is significantly more powerful—Roku says it's eight times faster—and has some new features, including private audio listening through a companion smartphone app.
Roku's biggest advantage over other media streamers is that it supports the most apps, and the faster processor means very little waiting as you move from one app to the next. Smartphone-based private listening is a nice touch as well, as it allows you to watch TV in silence without burning through the battery on the main remote control.
I've also become a fan of Roku Feed, a feature that lets you follow movies and TV shows, and get updates when prices fall or new episodes arrive. Roku Feed would be even it better if it included more streaming services (the most obvious one being Netflix), it's the closest any streaming device has gotten to a universal watch list.
On the downside, the Roku Streaming Stick's remote doesn't support voice search like Amazon's Fire TV Stick, or the pricier Roku 3 ($100) and Roku 4 ($140) set-top boxes. You can still search through Roku's mobile app, but that's more trouble than it's worth unless you're already using the app for navigation. Unless you want 4K resolution, I'd still recommend splurging for the Roku 3 if you plan to stream as your primary source of TV entertainment, but it's a very close call given the price difference and Streaming Stick's new remote design, which is comfier overall.
In any case, the Roku Streaming Stick is hard to beat as a secondary TV device or for travel.
Runner up: Google Chromecast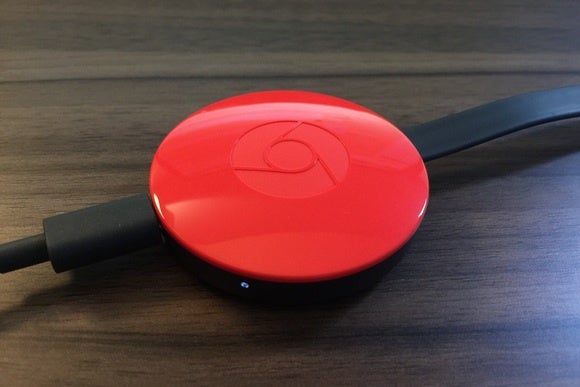 Right now, Google's $35 Chromecast is a wiser streaming stick purchase than Amazon's $40 Fire TV Stick ($50 with voice remote), and not just because of the price. You can read our full review here.
Chromecast's blessing—and its curse—is that it has no remote control or on-screen interface. Instead, you use a phone, tablet, or laptop to select videos in apps like Netflix and Hulu. Hit the Cast button in those apps, and Chromecast starts streaming the video directly from the internet.
Because the stick itself isn't burdened by a full menu system, using it never feels slow; the process of selecting a video only gets smoother and faster as you upgrade to newer phones and tablets. Case in point: I still use my original Chromecast from 2013, and I haven't felt the need to upgrade to the 2015 version, whose main improvement is support for a newer Wi-Fi standard. For a secondary TV, that ability to set it and forget it makes a lot of sense. (A couple of caveats: Chromecast doesn't support captive portal for hotel Wi-Fi networks, and it doesn't provide native support for Amazon Prime video.)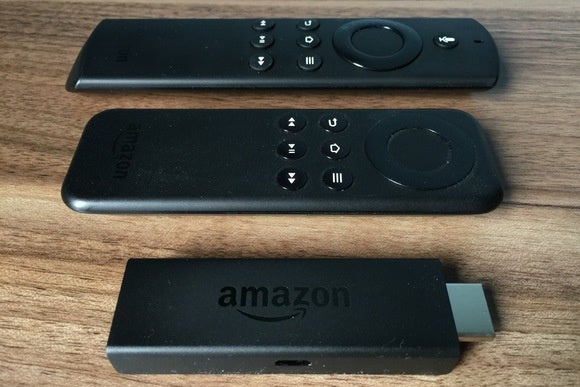 Amazon Fire TV Stick
That's not to say the Amazon Fire TV Stick has no merits. You can read our full review here.It remains the easiest way to access Amazon Prime videos because so much of that content splays out on the home screen, and it's the only streaming stick with an optional voice remote (a $10 add-on). There are also some enthusiast applications, such as Kodi and HDHomeRun View, that other streamers don't support natively. Unfortunately, the Fire TV Stick is too prone to sluggish transitions and lengthy loading times, so switching apps and digging deep into the interface can become tiresome. While Chromecast feels future-proof, the Fire TV Stick is bound to be a liability as streaming apps become more advanced.
Keep in mind that the Fire TV Stick is nearly two years old now. I suspect we'll have a new version to reevaluate this year. Until then, most users should consider the Roku Streaming Stick or Chromecast.
How we tested
I spent several weeks testing both the Roku Streaming Stick and the Amazon Fire TV Stick, comparing performance and features against one another, and against their higher-powered siblings. I have previously reviewed Google's second-generation Chromecast.
In addition, I regularly use all of the major streaming platforms (Roku, Fire TV, Google Cast, Apple TV, and Android TV) to get a feel for how their software works, and I maintain a chart that compares availability of major streaming apps. Beyond just a short-term evaluation, I am drawing on years of experience to weigh the strengths and weaknesses of each platform.
What to look for when shopping
While I try to make firm recommendations, the reality is that no streaming device is one-size-fits-all. The streaming services you use, the frequency with which you use them, the importance of voice search, and your tendency to keep a phone or tablet handy near the couch should all help inform your purchase decision.
Here are the main factors you should consider, which I'll discuss further in each product review:
Performance: While raw processor speed doesn't matter much once a video is playing, a sluggish device can frustrate while you're browsing for things to watch. You can't gauge speed from what device makers advertise on the box, but streaming sticks generally don't perform as well as set-top boxes. The form factor just can't provide adequate cooling for the fastest chipsets.
App availability: The fastest streaming device in the world won't do you much good if it doesn't support the streaming services you use. Our streaming app showdown chart will help guide you through that thicket.
Remote control: Not all streaming remotes are created equal. Some support voice search, while others have shortcut buttons for popular apps. Some remotes feel cheap, while others feel sturdy. Chromecast doesn't have a remote at all. Don't underestimate the importance of a remote that you'd be happy to hold in your hands every night.
Universal search: Nowadays, every streaming platform includes a way to search for content across different apps. Unfortunately, each one also has blind spots and quirks in terms of what they're able to display.
Navigation: Beyond just launching individual apps, some streaming devices try to provide a more holistic picture of what's available with recommendations or watchlists. These features can help you decide what to watch without jumping into a dozen different apps.
Inputs/outputs: Unlike streaming set-top boxes, streaming sticks generally don't support hard-wired ethernet, optical audio (useful for connecting to an A/V receiver), or onboard media storage.
Video resolution: Currently, all streaming sticks support 1080p video. For 4K, you'll need a more powerful set-top box.
Phone controls: Do you prefer to navigate with a touch screen instead of a traditional remote? Some streaming sticks are better at this than others.
Private listening: For those who want to watch TV without disturbing anyone else, some streaming devices allow private listening via the remote control, a smartphone, or Bluetooth headphones.
Streaming stick reviews
Below, you'll find individual reviews for the Roku Streaming Stick, Amazon Fire TV Stick, and Chromecast. If you have any questions, reach out in the comments or ask me on Twitter.
Roku Streaming Stick (2016)
Price When Reviewed:
$49.99
Read our full
Roku Streaming Stick (2016) review