At a Glance
Expert's Rating
Pros
Smooth performance and a broad selection of apps
Roku Feed is a clever way to follow movies and TV shows
Remote control is very comfortable in your hand
Cons
No option for a voice remote
Search results are sometimes inaccurate
Some apps look outdated next to other streaming platforms
Our Verdict
Apart from not supporting 4K resolution or a voice-control remote control, Roku's latest streaming stick delivers the best price/performance ratio of any media-streaming device on the market.
Roku's been busy on the hardware front lately. After launching three new streaming-TV boxes last year, the company is back with a new low-cost option in the $50 Roku Streaming Stick.
Like the version that Roku released in 2014, the new Streaming Stick (model 3600R) is a thumb-sized device that plugs directly into your TV's HDMI slot. You can then use it to stream internet video services such as Netflix, Hulu, and Amazon Prime.
This year's upgrade packs a major speed boost, allowing the Streaming Stick to rival some of Roku's recent set-top boxes. And while its remote lacks voice search—now table stakes on most other streamers—the Streaming Stick compensates with useful smartphone-based controls and an unparalleled app selection.
If you're looking for a cheap way to bring internet smarts to your TV—or you're tired of the speed and app limitations of your existing smart TV—the new Roku Streaming Stick is an easy recommendation.
A lightweight device for lightweight apps
Mentioned in this article
Roku Streaming Stick (2016)
Price When Reviewed:
$49.99
App support is the single most important factor to consider in any streaming device, and as you can see in our streaming app showdown, Roku's selection remains unparalleled. With the exception of Apple services like iTunes and Apple Music, Roku supports all of the major streaming services, along with hundreds of lesser-known sources and hidden gems. (Roku's religious channels are a big draw, and you don't have to look hard to find troves of classic films available for free.)
Part of the reason Roku's platform has taken off is because the barriers to making an app are low. There are few barriers to entering the Roku Channel Store, and Roku's templates make it easy to get a basic app up and running.
As I've written in previous reviews, this is both a benefit and a burden. While Roku's app selection excels at quantity, the quality of its apps are sometimes lacking. In HBO Go, for instance, you don't get the lovely, image-driven interface found on the latest Apple TV. And in PlayStation Vue, there's no channel guide and no ability to watch and browse at the same time.
These bare-bones apps are major liabilities for Roku's more-expensive devices. But on a cheap device like the Roku Streaming Stick, they turn out to be strengths. You don't need much computing power to glide through Roku's cookie-cutter app templates, so the Streaming Stick doesn't feel like a compromise. (By comparison, the more ambitious apps on Amazon's $40 Fire TV Stick can take forever to launch or grind to a halt.) It even handles 60-frames-per-second video for sports programming from apps like PlayStation Vue and MLB.tv—it looks as smooth as a cable feed.
No-frills remote (with an assist from your phone)
One aspect of the Roku Streaming Stick that does feel compromised is the remote control. Unlike the pricier Roku 3 and Roku 4, the Streaming Stick doesn't include a headphone jack for private listening. It also lacks voice recognition, so you can't search universally across streaming services such as Netflix and Hulu. (Instead of the search button, there's an "Instant Replay" button that repeats the last seven seconds of video.)
Having said that, the Roku Streaming Stick remote is in some ways better than the remote that comes with Roku's set-top boxes. It's slimmer, and the rubberized buttons have just the right firmness. Also, Roku has moved the "OK" button from below the directional pad to the center of it. This might be the most comfortable streaming remote I've ever used.
Users aren't completely without voice search and private listening, though: Both are available through Roku's mobile app for iOS and Android, which also allows you to beam your personal photo and video library to the big screen. In my experience, however, the mobile app's audio quality is inferior for private listening, as it sounds far more compressed than Roku's remotes. And unless you commit to navigating primarily by phone, chances are you're not going to break it out just for the occasional voice search. In most cases, you might as well just to a text search from Roku's home screen.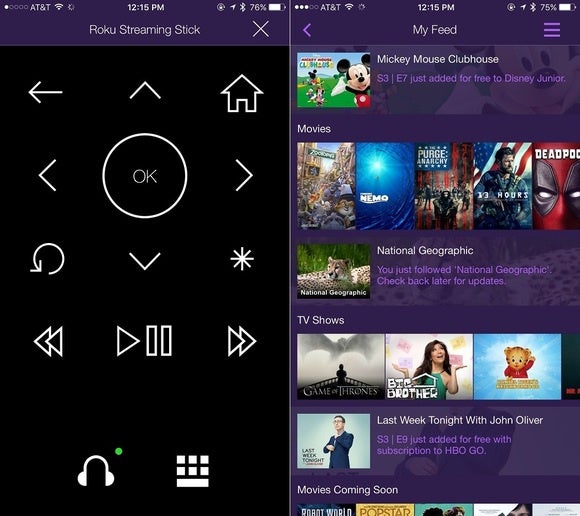 Beyond the app grid
Speaking of universal search, Roku's offering is more thorough than other platforms. In addition to looking across the big services like Netflix and Amazon, Roku also recently started indexing more obscure apps like SnagFilms and Shout! Factory TV. Still, it does have a couple of lingering problems: Information is sometimes inaccurate on rental pricing and availability, and there's no way to search by genre like you can on some other streaming devices, including the fourth-generation Apple TV.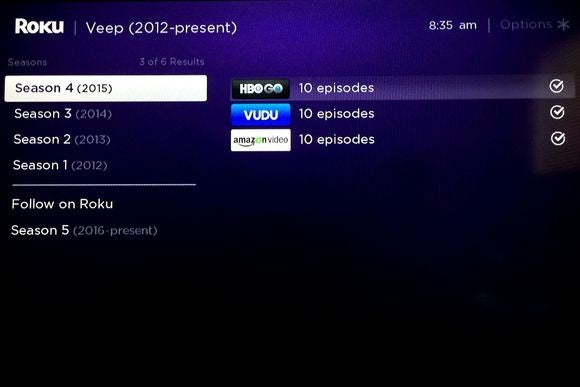 Roku also recently made some big improvements to its My Feed feature, which lets you keep a list of favorite movies and TV shows and receive notifications you when prices fall or new episodes arrive. The Feed now includes more sources, and it lets you browse for TV shows to add instead of having to search for them directly. The result is very close to the universal watch list I've long dreamed of for streaming video devices. (It's a shame, though, that Netflix still isn't allowing its content to appear.)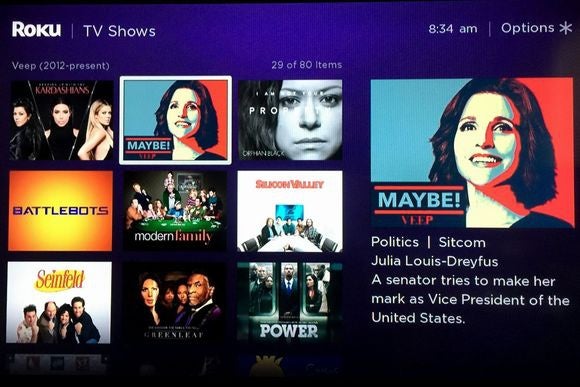 Stick or box?
As noted in our streaming-stick comparison, the Roku Streaming Stick is a cut above Amazon's Fire TV Stick ($40, or $50 with voice remote) and Google's Chromecast ($35). It feels faster than the former, it has a dedicated remote unlike the latter, and it has a better app selection than both. Roku Feed is a forward-thinking feature that the competition would be wise to emulate.
But should you buy a streaming stick in the first place, or spend more on a set-top box? Right now, Roku doesn't make a compelling case to spend more. The Roku 3's only clear advantages are voice search and private listening, but its remote control is otherwise worse than that of the Streaming Stick–and it's twice the price. The Roku 4 is even pricier at $140, and its main benefits (4K video and a slight speed boost) will be hard for the average user to discern. You might want a set-top box for ethernet and USB media playback; but if that's the case, the $70 Roku 2 is a cheaper option. (The only drawback: Its IR-based remote requires line-of-sight, unlike the radio-based remote with the Streaming Stick.)
Typically, my advice is to err on the side of spending a little more, especially for a device you plan to use every day. And if that's your choice, there are other options beyond the Roku ecosystem. The fourth-generation Apple TV ($150 and up) has the most powerful voice search and a clever swipe-based remote control, while the Amazon Fire TV ($100) is a fast and fairly cost-efficient way to stream 4K video. The Nvidia Shield Android TV ($200) is slowly becoming a powerful choice for tech enthusiasts, with 4K HDR video support and Plex Media Server capabilities.
And yet, the new Roku Streaming Stick succeeds on so many fronts that it makes a strong case for spending less.