The Fourth of July, Independence Day, celebrates our country's rebellion from tyrannical rule, and our establishment of a system of government by the people, for the people, and of the people. Though we often take it for granted, our country—for all its flaws—bestows more rights and freedoms on its citizens than anywhere else in the world. Here are 12 movies that remind us what we're celebrating.
Each of these patriotic films demonstrates the ideals and the spirit that made this country great, from the impulse to chip in and help out, to our legal systems, inventions, and freedom of the press. We have the power to think, fight, dream, and laugh without the urge to look over our shoulder too see who might be watching. These movies remind us that we can look up in the sky, breathe the summer air, maybe see some fireworks, and think, "It's good to be free."
Note: Look to the left and you'll find a new table-of-contents feature that gives you a complete list of the movies covered in this week's column. Click on the movie you're interested in to jump directly to Jeff's review.
Available on Netflix
Young Mr. Lincoln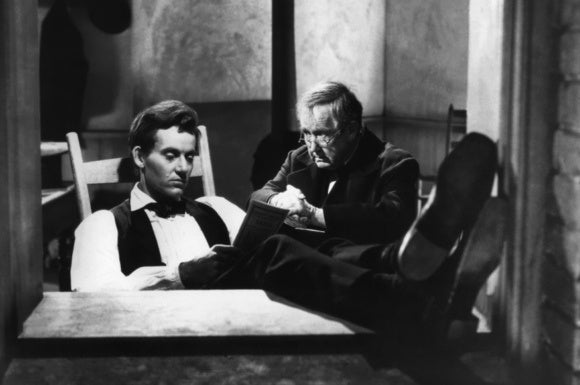 ★★★★★
For my money, Young Mr. Lincoln (1939) is the best July Fourth movie ever made. There was no more American filmmaker than John Ford, and his complete filmic output (with a few Irish exceptions) coalesce into a great American epic poem. His portrait of Abe Lincoln (Henry Fonda) as a young, idealistic lawyer in Illinois is full of life, beauty, warmth, schmaltz, romance, humor, and suspense. At the Fourth of July celebrations, Lincoln enjoys a pie contest (ever the diplomat, he can't decide which pie he likes better and keeps on sampling) and a tug-o-war match.
But at the celebrations, there is a murder, and two brothers are accused; both brothers claim responsibility, fearing that the other will go to prison. With effortless calm and unfailing reason, Lincoln gets in on the case and tries to crack the seemingly uncrackable mystery. Meanwhile, he also meets Mary Todd (Marjorie Weaver) and stumbles upon some of the things that would become his trademarks later in life. Ford regulars Donald Meek and Ward Bond co-star. At the time, Ford's two other 1939 releases, Stagecoach and Drums Along the Mohawk (talk about a great year), overshadowed this one, but it is now an unalloyed masterpiece.
The Sandlot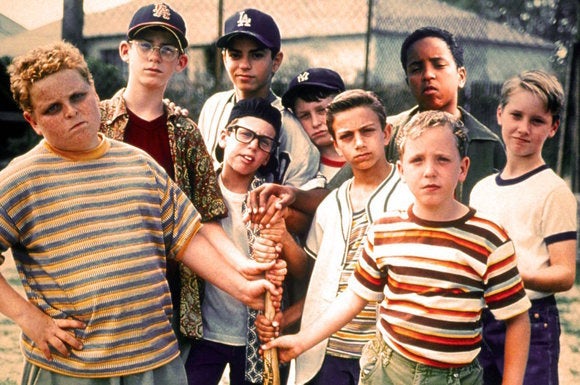 ★★★★☆
This family friendly movie has one of the best, most chest-thumping, moist-eyed Fourth of July scenes ever filmed. The Sandlot (1993) tells the story of the summer of 1962, when smart kid Scotty Smalls (Tom Guiry) moves to town, has no friends, and has no idea how to play baseball. The skilled, older "Benny" (Mike Vitar) lets him join their sandlot team anyway; these nine kids simply play ball, all day, without ever keeping score. But if anything gets hit over the fence, it's gone forever, thanks to a mean, monster-sized junkyard dog. Of course, Scotty manages to hit his stepfather's autographed Babe Ruth ball into dog territory.
Director David M. Evans includes plenty of mood-setting scenes that don't necessarily advance the plot, but bring home the feel of summer, friendship, and a good game of baseball. The Independence Day scene comes when the neighborhood holds a block party full of food and fun, but the kids dash off to their sandlot ballfield, using the holiday fireworks as nighttime illumination for some extra innings. Karen Allen, Denis Leary, and James Earl Jones play grownups, and a young Marley Shelton plays the teen dream pool lifeguard Wendy Peffercorn.
To Kill a Mockingbird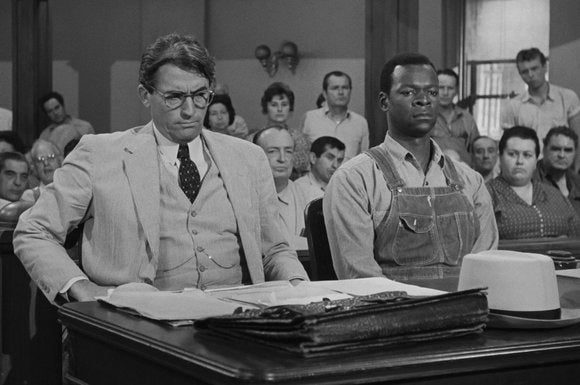 ★★★★★
Last year, when Harper Lee's novel Go Set a Watchman was published, many went into a downward spiral over the fact that their beloved Atticus Finch was no longer as noble and as honest as he once seemed. But I would like to go back a little bit, to a time when Lee had only one published novel, and the movie made from it, To Kill a Mockingbird (1962), showed us an American hero. The onscreen Finch, played by an Oscar-winner Gregory Peck, was kind and generous, a believer in human rights, and a fighter for said rights (yet one that utilized reason rather than violence).
Normally a movie based on an "important" novel would be stiff and lifeless, but producer Alan J. Pakula, director Robert Mulligan, screenwriter Horton Foote, and cinematographer Russell Harlan somehow evoked a warm, small-town feel and a sense of childhood wonder—through the character of "Scout" (Mary Badham)—especially toward the mysterious Boo Radley (Robert Duvall). But of course, the meat of the movie is the trial in which Atticus defends a black man, Tom Robinson (Brock Peters), accused of the rape of a white woman, risking his own reputation and safety to do the right thing. The movie may seem a little innocent today, but it's still a powerful entertainment, and its appeals for compassion and understanding still need to be heard more than fifty years later.
The Right Stuff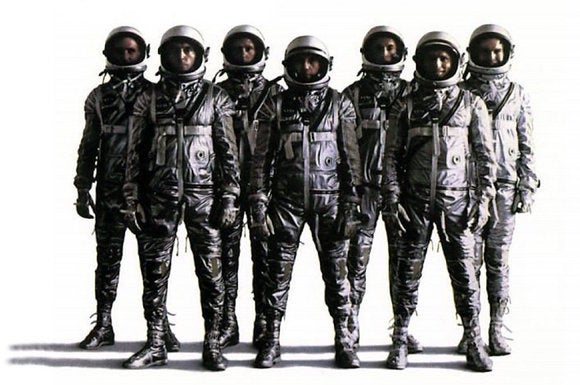 ★★★★★
Philip Kaufman's The Right Stuff (1983) could be called one of the last great movies of the 1970s, but coming just a bit too late; Eighties viewers admired its technical artistry—it received four Oscars for Editing, Sound, Sound Effects Editing, and Music Score—but it was an expensive flop. Based on Tom Wolfe's book, it traces the history of various American scientific breakthroughs, man conquering the laws of nature. It begins as Chuck Yeager (Sam Shepard) breaks the sound barrier and continues on to the first manned space mission, which included John Glenn (Ed Harris) and Alan Shepard (Scott Glenn); that's a lot of Glenns and Shepards.
The likable cast also includes Dennis Quaid, Fred Ward, Barbara Hershey, Kim Stanley, Veronica Cartwright, and Lance Henriksen. Kaufman's direction is vivacious and moving, coaxing viewers through a compulsively watchable 190 minutes, through his use of humor and warm camaraderie. Though these guys are heroes, they all possess a certain kind of appealing scrappiness, a disregard for anything proper. In this way, Kaufman makes a movie that is, magically, both patriotic and subversive. It's still perfect July Fourth viewing, complete with its own batch of atmosphere-shattering fireworks.
The Longest Day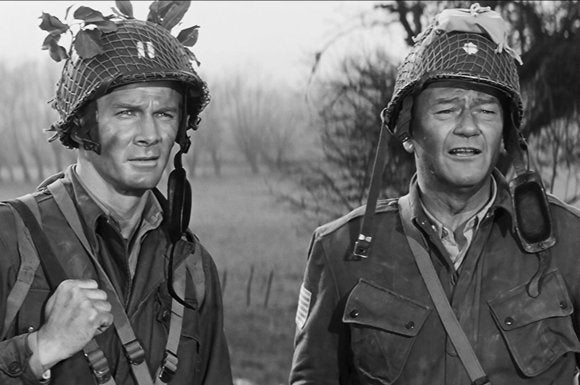 ★★★★☆
Shepherded into existence by producer Darryl F. Zanuck, The Longest Day (1962) may or may not be the longest film, but at 178 minutes, it's pretty long. But it's also—Saving Private Ryan notwithstanding—the finest cinematic depiction of the June 6, 1944 Invasion of Normandy, otherwise known as "D-Day." One of the biggest movie stars in the world, John Wayne gets the lone top billing, playing Lt. Col. Benjamin Vandervoort, who gives his men a special—and ultimately ill-fated—"clicker" signal. (Wayne was the face of American patriotism, despite the fact that he never served in the military.)
Otherwise, it's a team effort: Robert Mitchum, Henry Fonda, Richard Burton, and Robert Ryan are also at the top of the chain of command, and many others, such as Sean Connery, Roddy McDowall, Robert Wagner, Rod Steiger, and Sal Mineo show up as troops. The movie may seem daunting and rather top-heavy, but despite the many cooks that made this stew, it moves beautifully, taking time for people as well as battles. It's guaranteed to put lumps in the throats of WWII buffs and any other patriots out there. It was adapted from Cornelius Ryan's book, and it was a massive hit, outgrossing every other movie that year except Lawrence of Arabia. It received five Oscar nominations, including Best Picture, and won two, for its glorious black-and-white cinematography and its visual effects.
Movies available on other services
George Washington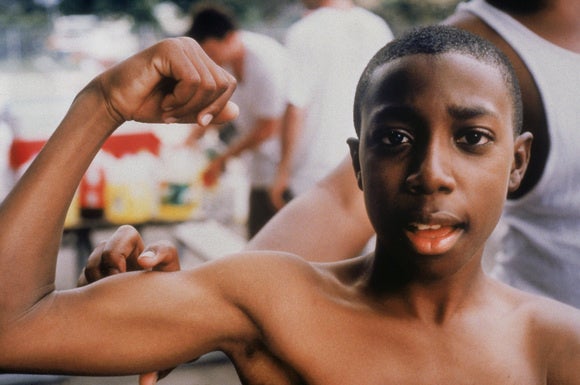 ★★★★☆
This is not a biopic about the first President of the United States, nor is it about his adventures with a cherry tree or the Delaware. Rather, it's one of the most auspicious of American debuts in the last couple of decades, a poem that finds beauty and hope among despair and poverty. Available on Hulu, David Gordon Green's George Washington (2000) was shot for a low budget on "short ends" (i.e. cheap, discarded bits of film that bigger productions threw away because they had come dangerously close to the end of a reel), but still maintains a dreamy, wide-open, widescreen look that bigger films could only dare to hope for. (It was the first film for talented cinematographer Tim Orr, who went on to shoot Our Brand is Crisis and Z for Zachariah.) It's a contemplation of empty spaces and weed-choked ruins as well as the discarded things that try to fill them.
It follows several kids—some black, some white, some big, some small—living through a summer in a rural part of North Carolina. Our George (Donald Holden) is a thirteen year-old with a head condition; his skull never hardened after birth, so he is forced to wear a plastic helmet and can never get his head wet. More focused on atmosphere than plot, the movie follows a sad little breakup, a found dog, an accidental death, and, finally, George heroically saving a life. From there, George contemplates becoming president someday, and hangs out at the Fourth of July parade ("you were the best part," he tells Uncle Sam). Actor Paul Schneider (Lars and the Real Girl) also made his big-screen debut here.
In the Line of Fire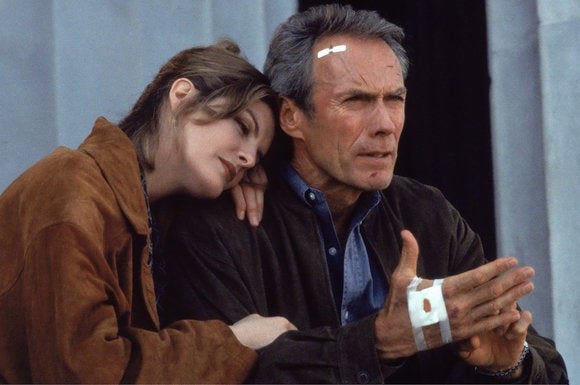 ★★★★☆
In the 1990s, and now an acclaimed Oscar-winning director, Clint Eastwood took one of his rare acting-for-hire roles in Wolfgang Petersen's summertime thriller In the Line of Fire (1993), a tribute to the men and women serving their country in the Secret Service. In this film, available on Amazon Prime Video, Eastwood plays veteran agent Frank Horrigan, who is haunted by his failure to prevent the death of President John F. Kennedy 30 years earlier. Now, working for the current president, he begins to receive threats from a potential assassin who seems to know all about Frank's past and who enjoys toying with him, leaving him various clues.
As the assassin, Mitch Leary, John Malkovich gives one of his most disturbingly agile performances, one that earned the actor his second Oscar nomination; he's one of the worthiest adversaries of Eastwood's entire career. The same goes for Rene Russo as Eastwood's love interest; they have one of the best funny/sexy love scenes in movie history, complete with a hilariously grumbled punchline from Clint. Fred Thompson, that real-life Senator/actor, co-stars as the White House Chief of Staff, and Dylan McDermott plays Frank's partner. The movie received two more Oscar nominations, for Jeff Maguire's original screenplay, and for Anne V. Coates's tight editing.
Dick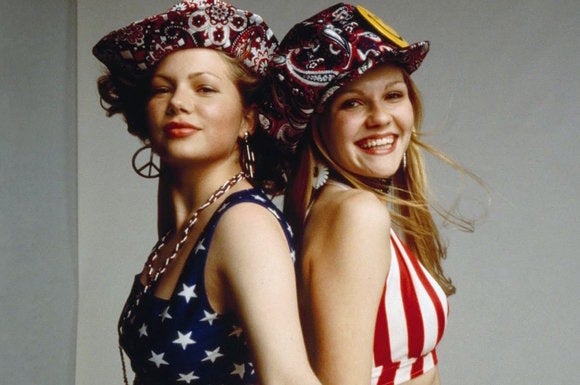 ★★★★☆
Available on Crackle, this bit of humorously revisionist history seems like it's going to be dumb—especially given its double-entendre title—but it's unexpectedly clever and funny. Dick (1999) takes place in Washington D.C. in the early 1970s, where not-too-bright teen best friends Betsy (Kirsten Dunst) and Arlene (Michelle Williams) live. Sneaking out on a quest to meet their idol Bobby Sherman, they inadvertently become involved in the Watergate break-in. After taking a subsequent school tour of the White House, a suspicious President Nixon (Dan Hedaya) hires them as official dog-walkers to keep an eye on them.
Meanwhile, each time the girls turn up, they unwittingly become part of history, eventually meeting Washington Post reporters Bob Woodward (Will Ferrell) and Carl Bernstein (Bruce McCulloch) and acting as the infamous informer known as "Deep Throat." This Woodward and Bernstein are a little more bumbling and slapsticky than Robert Redford and Dustin Hoffman, and the movie does have its dives into lowbrow comedy, but its skill and playfulness win the day. Saul Rubinek also stars as Henry Kissinger, and Harry Shearer plays G. Gordon Liddy.
Tucker: The Man and His Dream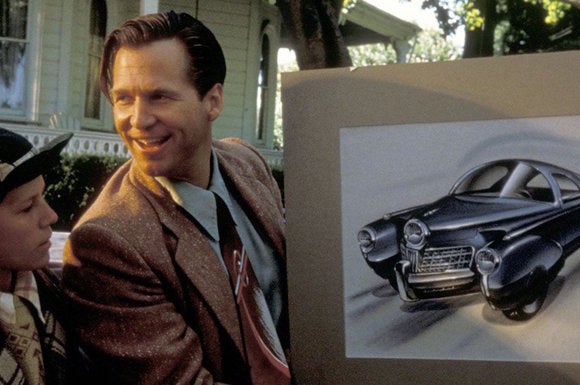 ★★★★☆
Though filmmaker Francis Ford Coppola is generally not remembered for anything he made after the 1970s, his Tucker: The Man and His Dream (1988), available on TubiTV, is one of the best movies about the American Dream. Though it's constructed with more fairy-tale than fact, its bright, cheery attitude is enough overcome the movie's not-quite-resounding conclusion. Jeff Bridges plays a smiling, chipper Preston Tucker, a dreamer with boundless energy (the movie poster depicts him standing triumphantly in front of the American flag), who, in the 1940s, comes up with a fantastic new idea for a car; its most distinguished feature was its third, centered headlight.
But of course, Tucker must tangle with the "Big Three" American auto makers, which will do absolutely anything to maintain their own profits and eliminate any threats. Bridges is the key to this (Marlon Brando had once been considered for the part), bringing continuous optimism and hope to the tale. Christian Slater has an early role as Tucker's eldest son, with Joan Allen as his wife, Elias Koteas, Frederic Forrest, Don Novello, and Dean Stockwell as an ominous Howard Hughes. Martin Landau received the first of three career Oscar nominations for his role as financier Abe Karatz. The movie also received nominations for set design and costume design. Sadly, like the car itself, it was a flop. Today, visitors to Coppola's winery in Sonoma County can get a look at one of the actual Tucker cars in person.
The General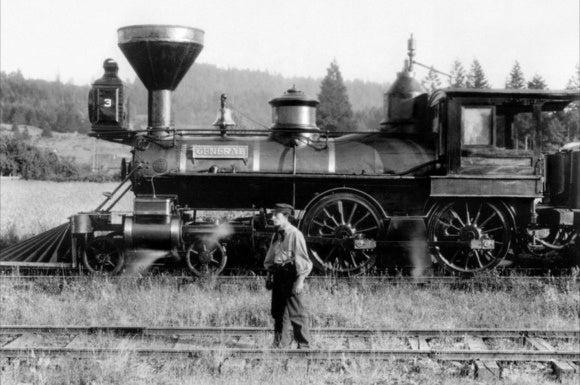 ★★★★★
Achieving independence came with growing pains, and the Civil War was one of those; there have been dozens of Civil War movies (The Birth of a Nation, Gone with the Wind, and Glory chief among them), but Buster Keaton's The General (1927) is my favorite, as well as one of the undisputed best films of all time. You can find it on Fandor. Never mind that poor Buster's character, engineer Johnnie Gray, is on the losing side of the war, this is one of the funniest ways to experience that time and place. Inspired by the photography of Matthew Brady, the film is beautiful as well as intricately designed. Buster's sad-sack character tries to join the military but is rebuffed (without his knowledge), given that his engineering skills will be put to better use as a civilian; his girlfriend dumps him because of his "failure," and hence, he has captured our hearts.
The movie essentially consists of two long chases, as Buster tracks his stolen train into enemy territory, rescues his girl, Annabelle Lee (Marion Mack), and powers his recovered train back home, with the Northerners hot on his trail. His deadpan performance is superb, and although he was known as "The Great Stone Face," he lets out little flickers of emotion; one of his weirdest/loveliest moments comes when Annabelle is helping stoke the engine, and she tosses out a piece of wood because it has a hole in it. Buster looks at her, pretends to strangle her, stops, kisses her, and gets back to work. His stunts are also amazing, from the way he clears the tracks of debris to the spectacular blowing up of a supply bridge.
Captain America: The First Avenger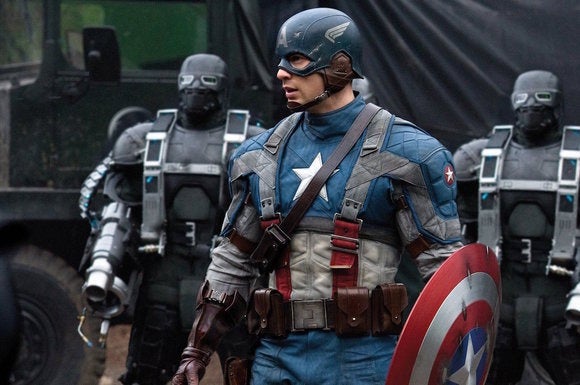 ★★★☆☆
It's tough to go wrong with everyone's favorite star-spangled superhero. Played by Chris Evans, he has now appeared in five films, two Avengers films and three of his own, but this origin story set during WWII is the most appropriate for holiday viewing. Scrawny Steve Rogers wants nothing more than to serve his country, but he's too frail and is rejected. A scientist (Stanley Tucci) offers to perform a "super-soldier" experiment on him, and he's given new muscles and super speed. He starts by becoming a kind of troop-supporting entertainer, until he learns that his best pal Bucky (Sebastian Stan) has gone missing and uses his powers to find him, and, eventually, to stop the Red Skull (Hugo Weaving).
Director Joe Johnston was previously a visual effects man, winning an Oscar for Raiders of the Lost Ark; that movie's design and energy seem to have been a huge influence on Captain America: The First Avenger (2011). Everything looks great and the action is clean and slick. The biggest flaw is that the main character doesn't have much of an arc (that would come later). But let's not forget that gorgeous Hayley Atwell plays Cap's love interest Peggy Carter, and that Tommy Lee Jones brings the movie some salty crunchiness as Colonel Chester Phillips. It's available for rent ($2.99 and up, depending on resolution) on Vudu.
Mr. Smith Goes to Washington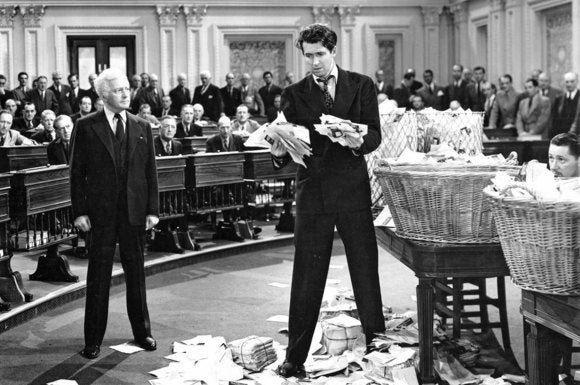 ★★★★★
Many of these films have focused on things that have built America, from serving our country to journalism and law, and now Frank Capra finishes things off with another of our most crucial inventions: the filibuster. In Mr. Smith Goes to Washington (1939), James Stewart plays the good-hearted Jefferson Smith, who is in charge of the Boy Rangers. When a senator dies, Smith is chosen to replace him; the plan is that he's such a greenhorn that he will be easy for the corrupt veterans to dominate him.
Smith comes up with a bill for a boys' camp that threatens an illegal dam-building scheme; the other senators try to ruin Smith, but Smith responds with the now-famous filibuster. Capra is wonderful at dishing out the high drama, full of corn. It's ridiculous, but, based on honest ideals and strong emotions, it's highly effective, and the movie leaves you with a burning desire to believe once again, whole-heartedly, in the American Dream. The movie received a whopping 11 Oscar nominations (the same year as Gone with the Wind), including Best Picture and Best Director, Best Actor for Stewart, and Best Supporting Actor for both Claude Rains and Harry Carey. Sadly, it won only one: for Lewis R. Foster's original story. No matter. It's still a classic. It's available for rental on Vudu, starting at $2.99.