There's no shortage of small speakers on the market, but what makes KISS AV's system compelling is their profile: These speakers are thin enough that they can be mounted on the wall on either side of your flat-screen TV. What's more, they're light enough—just two pounds each—to not need screws to hang on the wall; all you need is a few 3M Command strips.
KISS AV founder Jim Murray told me his brand's acronym stands for Keeping It Super Simple when he demoed the speaker system for me at the CE Week show in New York City earlier this week. Murray is raising cash on Kickstarter to bring the speakers to market. About the size of a large hardcover book and just three inches thick, the secret behind these speakers is the airflow design. It's a patented system called Sonic Vortex that was originally intended for use in high-end luxury speaker systems to deliver more bass and better sound clarity.
To deliver performance similar to a large speaker cabinet in a small form factor, Murray designed a port that spirals around a sealed enclosure inside a relatively shallow cabinet. Fins inside this spiral port guide and accelerate the air until it emerges from multiple small openings circling the active driver.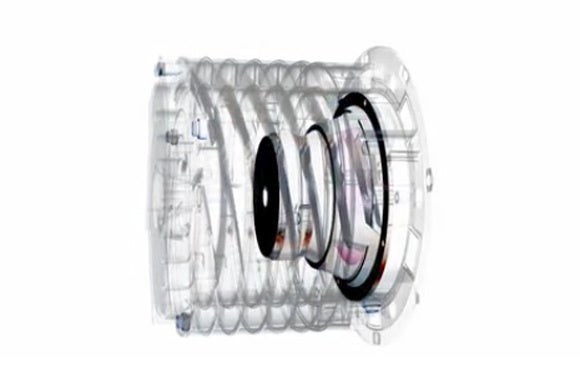 The speaker hosting the amplifier has Toslink and coax digital audio inputs, stereo RCA inputs, and a connector for the other speaker. The speaker also has a Bluetooth radio for wireless music streaming.
The KISS AV system is compatible with many TV remotes, meaning it will see and know when your TV is being turned on and off, and will also turn off the speakers. The basic system includes just the two speakers for $199; a $399 pledge will add a wireless subwoofer. Murray expects to deliver the speakers in October.
From what I heard at the demo, you'll want the sub: while the speakers produce great sound (and from a surprisingly wide angle and distance given their size), the subwoofer really adds to wow factor, even in a booth on a noisy show floor.
Why this matters: The conventional approach to achieving great sound in a home theater can not only cost a lot of money, it can also be difficult to strike just the right balance. Murray's KISS concept looks and sounds extremely promising, but he'll have to navigate the pitfalls of crowdfunding before he can deliver.