The National Football League made a deal with Twitter in April, and now it's lining up arrangements with Google leading up to the 2016-2017 season. The league and Google-owned YouTube just announced a renewal of their strategic partnership, which will bring more football to the popular video site. The biggest new addition will be nearly 100 classic NFL games available in full on YouTube.
The plan is to choose three historic games for each of the 32 teams in the league for a total of 96 games. The games will be available on the NFL's YouTube channel alongside its other videos. The NFL didn't say exactly when the games would land on YouTube, only that they would be available before the start of the season, which kicks off Thursday, September 8.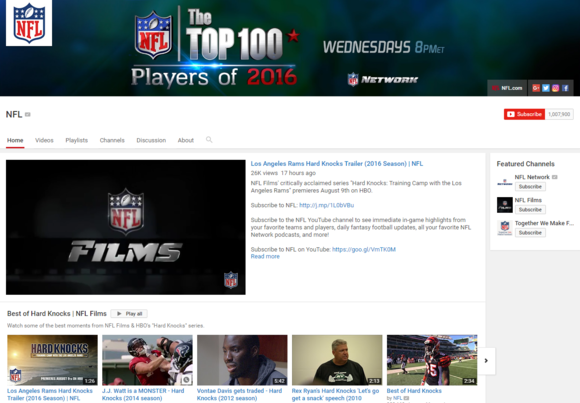 The new deal will also bring more NFL content to Google search. Specifically, game highlights uploaded to YouTube while games are in progress will show up in searches. Reports of in-progress game highlights coming to Google search first surfaced in early 2015 just before the Super Bowl.
The game highlights will show up in a dedicated box on the search results page whenever you search for an NFL team. The box will also contain the information already shown during an NFL team search, such as game broadcast information, kick-off time, and the current score.
The impact on you at home: The NFL is the most popular professional sports league in the U.S. and a hit online, with nearly one billion views on the NFL's YouTube channel since it launched in January 2015, the league says. But the NFL's presence on YouTube has thus far only been used to show game previews, highlights, recaps, news, and fantasy football content. Full games, have never arrived on YouTube in any official form—until now.