At a Glance
Expert's Rating
Pros
Custom-like fit seals out ambient noise
Very good audio performance across the frequency range
Detachable cables
Cons
No in-line mic or DAP transport controls
Cable is short if you're using a source other than a portable DAP
Only two color choices: Red or black
Our Verdict
Fender's FXA6 Pro in-ear monitors rival the fit and performance of custom models that cost several times more.
Fender Musical Instruments—yeah, the guys that build the Stratocaster guitar that Jimi Hendrix figuratively and literally lit on fire—have expanded into the in-ear-monitor business. Fender didn't merely license its famous brand to some random manufacturer that will churn out dreck, but they didn't start from whole cloth, either. Fender acquired boutique manufacturer Aurisonics last January, retained the original team, and tasked it with coming up with a new product line based on Aurisonics' popular Bravo series of in-ear monitors. The crew delivered with five new models ranging in price from $100 to $500, including the next-to-the-top-of-the-line Fender FXA6 Pro ($400) in-ear monitors reviewed here.
Choosing headphones, especially the type that you're going to jam into your ear canals, is an intensely personal proposition. At the top of the market, you can purchase custom-fabricated in-ear monitors that are based on molds of your ear canals that you hire an audiologist to produce. I went that route several years ago with a pair of custom-made JH Audio JH13s, but the audiologist charged $150 and the earphones rang up at $1100. Having silicone goop squirted into my ear wasn't the most enjoyable experience either.
Prior to the acquisition, Aurisonics spent several years acquiring scans of people's ears in order to come up with a more universal design for the shell that contains the headphones' drivers (Fender claims the shell fits 95 percent of ears). But the company discovered this shell couldn't be manufactured using the typical injection-molding process because the ear tube was too small and fragile. The solution? Use 3D printers to "print" the shells and then polish them. This is performed—by hand—at Fender's facility in Nashville, Tennessee, making this line of in-ear monitors one of the few mass-market consumer electronics devices to be designed and manufactured in the United States. (The $100 Fender DXA1 is the only one of the five models that's not produced this way.)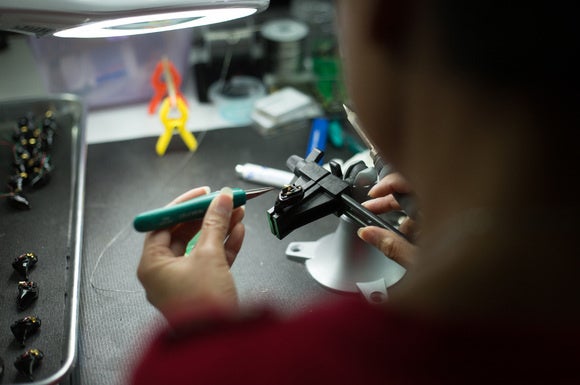 Shared features
The entire line shares some features: Each pair uses a detachable, braided MMCXi cable; delivers passive noise reduction of 22dB; and presents low impedance (16 ohms with the DXA1, the $200 FXA2, the $400 FXA6, and the $500 FXA7; 32 ohms with the $300 FXA5), so they can be driven by most any smartphone or digital audio player. Fender throws in a carrying case, an 1/8-inch-to-1/4-inch adapter, and a cleaning brush in the box. If you're looking for earphones that you can use with your smartphone, be aware that none of these Fenders come with inline mics or transport controls in the cable for a digital audio player.
Each model comes with a variety of tips that attach to the ear tube that you stick in your ear canal. Jim Ninesling, VP of Fender Amplifiers and Pro Audio, told me in a briefing earlier in May that the tips are made from a thermoplastic elastomer that conforms to the shape of your ear canal as the material warms up. "It makes the earphone comfortable, it blocks noise, and it keeps the tip in your ear," Ninesling said. "You can wash them in warm soapy water and they won't lose their elasticity. They will wear out eventually, but you'll be able to buy replacements."
The Fender FXA6 Pro specifically
Between the shape of the shell and the tackiness of the ear tip, the FXA6 Pro produced a tight-enough seal in my ear canal to block out nearly as much ambient noise as my custom-made in-ear monitors. Fender is not blowing smoke on that score—I was very impressed. It took a bit of fiddling to get the tips seated just right in my ears, and there was a bit of popping as they formed to my ear canal, but they felt very comfortable once they were settled in, and they remained comfortable for long listening sessions, too. Would I toss my JH13 for the Fenders? No way. The more-expensive monitors produced a better seal and they sounded better, too (more on that in a bit). But the FXA6 Pro are good enough that I'd have to think long and hard about spending that much money to buy another set of very-high-end in-ear monitors like the JH13.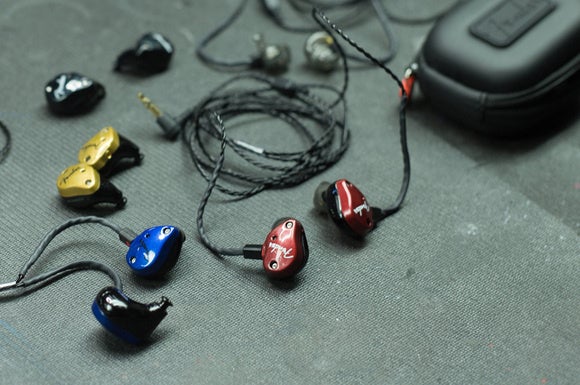 Most headphones are designed with dynamic drivers that are good at producing warm rich sound across the frequency spectrum. Dynamic drivers are also prized for delivering strong bass response. In-ear monitors typically use balanced armatures, a technology that originated in the hearing-aid industry, because the designer can carefully control which frequencies they'll produce (they're particularly adept at reproducing higher frequencies).
The Fender FXA6 Pro uses a hybrid design consisting of a balanced armature for the high end and a 9.25mm dynamic driver for bass response. It's a winning combination, to be sure. I connected the Fenders to a Sound Blaster X7 USB DAC and amplifier and played some of my favorite tracks with Foobar2000. First up was "Annachie Gordon," from the Irish Northumberland folksingers The Unthanks (The Unthanks: A Retrospective). This album was encoded in 16/44.1 FLAC from the studio. Becky Unthank's keening voice, and Niopha Keegan's backing vocals, sounded absolutely splendid through the Fenders. This is a mostly acoustic recording, and the monitors did a great job of presenting each instrument—from the acoustic guitar to the chimes—distinct and separate from each other. They sounded brighter than the JH13, which is somewhat ironic since the pricier monitors use balanced armatures exclusively, but not unpleasantly so.
I had a similar experience with Eric Whitacre's "Equus," from his Water Night album, which was encoded in 24/96 FLAC. Being an orchestral piece, "Equus" has a whole lot more going on, and this work in particular presents challenging dynamics for any audio system as it transitions from its pensive opening with just the woodwinds and building slowly as the strings join in until the composition explodes as the brass and percussion come into the mix. It was easy to single out each instrument's contribution—from the oboe to the violins and percussion—without shortchanging any of them.
If you can squeeze $400 out of your budget, the Fender FXA6 Pro are very special earphones. The way they fit and the way they sound rival competitors costing several times more. I like them a lot.