When I cut the cable-TV cord in 2008, the decision came from necessity. My freelance writing career was just starting, and I couldn't scrape together enough work to justify an extra $50 per month for TV service.
Eight years later, I'm gainfully employed but still have no desire to become a cable subscriber. While Time Warner Cable has tried plenty of times to change my mind with cheap promo deals—some of which are awfully close to what I pay for streaming-video services—my reasons for being a cord cutter aren't just about money anymore.
Here are five reasons that I'm happier without traditional TV service, monthly savings aside:
Freedom from the physical cord
With cable, your TV setup is dictated to some extent by the location of the cable cord itself. Want to put your entertainment center on the opposite side of the room, or in a room where there's no cable hookup? You'll have to run that cable through the floor or through the walls yourself, or hope that the cable company's technician will do it for you. It's a hassle either way, and satellite TV service is even worse: You have to put a dish on your roof and suffer reception problems in poor weather.
With smart TVs and streaming video boxes such as Roku, Amazon Fire TV, and Apple TV, all you need is a power outlet and broadband service. With a Wi-Fi connection, you can put a television pretty much anywhere with little effort.
Freedom from ads
For years, the TV industry conditioned people to think advertisements were a vital part of the TV experience. Sure, you could skip ads with a DVR, but doing so added new hardware costs, and required extra work to schedule recordings and bypass commercials.
Thanks to streaming services such as Netflix and Amazon Prime, ad-free video is becoming the norm. Hulu added a commercial-free option last year, and new services such as NBC's SeeSo and Turner's FilmStruck are launching without ads as well. By default, a cord cutter can spend an entire day on the couch without ever confronting an advertisement.
Less living-room clutter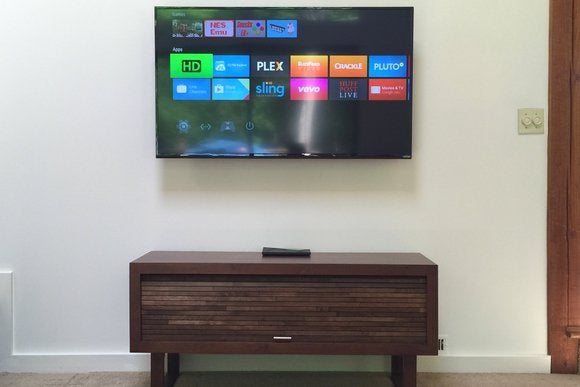 Set-top boxes—especially the DVR models—are eyesores, but because they typically rely on infrared, you need line-of-sight from the equally clunky cable remote to operate them. That means you can't hide the cable box in an entertainment center without some kind of cutout. And since few cable boxes have embraced streaming services, you probably need a smart TV or a secondary set-top box (with its own remote) just to watch Netflix and Hulu (you can stream Netflix on some Dish Network set-top boxes).
Cutting the cable-TV cord means simplifying your setup. Modern media streamers are much smaller than a cable box, and they communicate over Wi-Fi or Bluetooth, so you can hide them out of sight. TV power and volume controls are also becoming more common on media streamers (including the latest Apple TV and Nvidia Shield Android TV), so you can stash your TV's main remote. And with Google's Chromecast dongle, which is operated by phone, tablet, or laptop, you don't need a dedicated remote control at all.
Respite from the always-on TV
For a while after cutting the cord, I missed being able to start watching something just by turning the TV on. I've even sought out and praised streaming services that replace the "leanback" experience of cable.
But over time, I've also started appreciating the friction that cord-cutting introduces. Nowadays, I don't turn on the TV unless I'm planning to give it my full attention. The TV doesn't stay on in the background for no reason, and the house seems a little more peaceful as a result. And there's always over-the-air antennas if you want to watch live broadcast TV.
Peace of mind
Aside from just being cheaper, streaming services don't employ the underhanded pricing tactics that are so common with cable and satellite TV. With Netflix and Amazon Prime, I know exactly how much I'm paying, and any price changes—which have been rare and minor—occur with ample notice.
Cable and satellite companies, by comparison, make a sport of obscuring how much you'll really pay. Advertised pricing doesn't include hidden fees and rental costs, and sales representatives are averse to revealing non-promotional rates. The business model is built around luring you in on the cheap, then quietly jacking up your rates over time.
This is, on some level, about money. But it's also about principle. While I can't completely escape the cable company—Time Warner Cable still employs the same tactics for Internet service alone—I can at least give more business to the companies that are honest.