At a Glance
Expert's Rating
Pros
Supports high-resolution audio
Can be incorporated into a multi-room audio system
Very good performance with music and movies/television
Cons
The Raumfeld app is inferior to the Sonos app
No support for Dolby Digital or DTS
Only one HDMI 1.4 port
Subwoofer pairs with the sound bar, it's not part of the wireless network
Our Verdict
The inclusion of a beefy subwoofer, and the ability to incorporate the combo into a multi-room audio system that supports high-resolution audio, helps justify this sound bar's price tag.
The Raumfeld WiFi Soundbar delivers the best price/performance ratio of all the Berlin Acoustics multi-room audio components we tested. Where most manufacturers either make you step up to a higher-end model to get a subwoofer, or have you buy one in addition to the sound bar, Berlin Acoustics includes one in the package. I'll discuss the sound bar first, and then go into the merits of the sub.
Six 2.8-inch drivers (cellulose cones) are housed in a 39-inch-wide MDF cabinet and powered by a six-channel 150-watt (RMS) amplifier. That width is a good fit for most mid-sized TVs—it didn't look too small beneath my 55-inch Panasonic Viera. The 3.9-inch height of the cabinet, on the other hand, will be problematic if your TV sits on furniture. The speaker comes mounted on a base that isolates it from the surface it's placed on, but that bumps its final height to 4.4 inches. You'll likely need to elevate the TV behind or the speaker will obscure the lower part of the screen.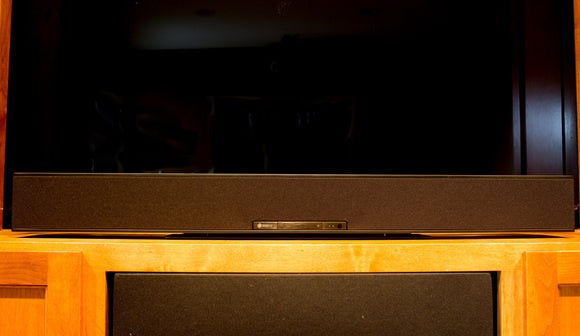 This won't be a problem if your TV is mounted to the wall, of course, and Berlin Acoustics thoughtfully provides the mounting hardware you'll need to hang the speaker. Be sure to mount the speaker to studs, though; the matte lacquer-finished cabinet weighs a hefty 18.9 pounds. The sound bar has volume-control buttons on its face, but a classy aluminum-clad remote control also comes with it.
The rear panel has an RJ-45 port for hardwired networking, a Toslink input for digital sources, a pair of RCA inputs for analog ones, and just one HDMI 1.4 port. That's fine if you're just using the sound bar with a smart TV, but if you also need to connect a Blu-ray player, a gaming console, and a cable- or satellite-TV set-top box, you're going to need an HDMI matrix switcher (you might be able to use the Toslink connection for one of those devices).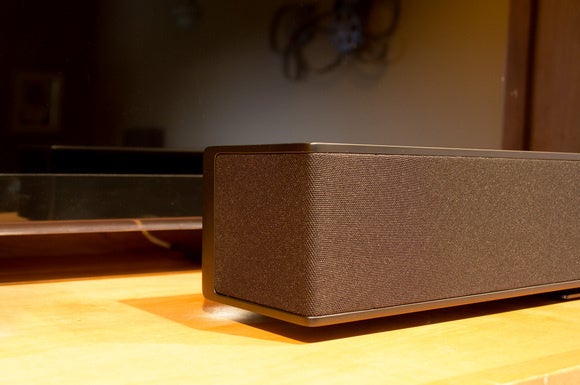 The sound bar does support ARC (Audio Return Channel) and CEC (Consumer Electronics Control). If you have a smart TV, or if you use your TV's tuner, ARC enables the TV to send its audio down the HDMI cable to the speaker. Manufacturers typically use a trade name to identify CEC support (on my Panasonic, for instance, it's called Viera Link), but it accomplishes the same purpose whatever the name: It enables you to use one remote control to control multiple devices, such as the TV, a Blu-ray player, an A/V receiver, or a sound bar.
Lastly, the Raumfeld WiFi Soundbar has an analog subwoofer output. Most people will rely on the more-convenient wireless connection, but it's a good option to have if you encounter sync issues with other speakers on the network or if you decide you just can't live with the included sub and decide to swap it out.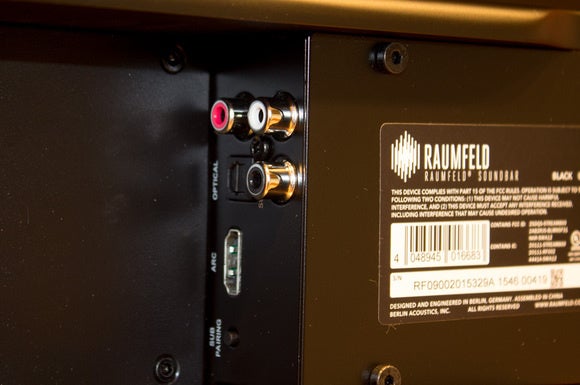 The included subwoofer
I really like the design of the subwoofer. Most subs are cubes that can be difficult to hide if you don't want them to draw attention to themselves. The Raumfeld Subwoofer is 37.9 inches wide and 12.99 inches deep, but only 4.7 inches high, so it should easily slide under the typical sofa where it will be out of sight. If you prefer, or if you don't like the way it sounds with its drivers facing the floor, you can stand it up and place it against the wall so that its drivers face the wall. In this scenario, the 12.99-inch depth becomes height. But the slabs of aluminum mounted to the left and right sides that elevate it off the floor are somewhat narrow, and I found it to be somewhat unstable when standing vertically on carpeting. A solution might be to buy a couple of ceramic-tile samples from a home-improvement store and place them under each foot.
Raumfeld WiFi Soundbar
Price When Reviewed:
$1599
The Raumfeld Subwoofer is different than most subs in that it has three mid-sized, coated-cellulose, high-excursion woofers—5.1 inches in diameter each—instead of one big one. If you have small children or rambunctious pets, you'll want to know that the drivers are not protected by a grill. They're driven by a one-channel 240-watt Class D amplifier. As I pointed out in my description of the sound bar, the two speakers can be connected wirelessly or with an RCA cable. They paired very quickly for me after I pushed a button on each.
The sub has a DSP (digital signal processor) onboard, and a knob for adjusting sensitivity to match the speakers it's paired with (sensitivity can be boosted from 0- to +20dB). A second knob sets the sub's crossover frequency at 20-, 30-, 40-, or 50Hz. You can flip a switch to change its phase from 0 to 180 degrees. There's no volume control, but you can set the sub's level to one of three presets: low, mid, or high. You shouldn't need to fiddle with those control unless you decide to pair the sub with different speakers.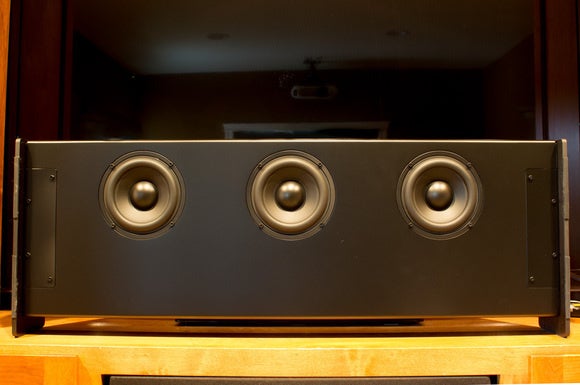 Audio performance
The combination of the Raumfeld WiFi Soundbar and the Raumfeld Subwoofer sound terrific with music, and it's pretty good with TV and movie soundtracks. But they have one very important shortcoming if you're putting them in your home theater. Most sound bars at least claim to be capable of delivering surround sound. Yamaha's higher-end Yamaha Sound Projectors are very effective in this regard, but most sound bars fall way short. Berlin Acoustics doesn't even try—the Raumfeld WiFi Soundbar is not capable of decoding any surround-sound codecs: not the lowest-common-denominator Dolby Digital or DTS, much less the higher-resolution Dolby True HD or DTS HD Master Audio codecs used in Blu-ray discs, or the new immersive-audio codecs that support height channels (Dolby Atmos, DTS:X, or Auro-3D).
This means when you listen to movie soundtracks, you'll hear them sans the audio processing that fools your ear into thinking sounds are emanating from places other than the speakers. You'll hear left/right stereo and low-frequency effects get routed to the subwoofer by nature of their frequency, but you won't hear distinct surround sound. Given that cheaper sound bars that can decode Dolby and DTS aren't all that effective in this regard anyway, you might not care. But the feature is so ubiquitous that its absence here is surprising.
Most TVs have terrible speakers, so it doesn't take much for any sound bar to sound better. The Raumfeld WiFi Soundbar delivered great performances with TV and movie soundtracks. Dialog was much easier to hear, and the balance between music, sound effects, and people talking was just right. The combo filled my 13×19-foot home theater with sound, and the sub pumped out copious, palpable bass in action scenes. One 2.8-inch full-range driver is mounted at each end of the cabinet, firing left and right respectively. Four more of these same drivers are mounted in front. This arrangement results in a generously wide sweet spot, making the system easy to listen to even off-axis.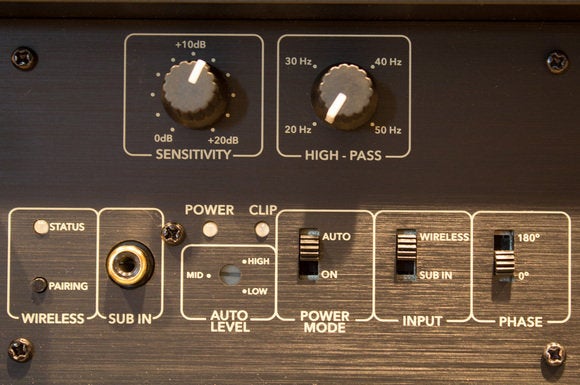 Even though this is essentially a two-way system (six full-range speakers in the sound bar and three woofers in the sub), and you probably wouldn't want it to be your primary audio system, the combination sounds even better playing music. You can read about the codecs the WiFi Soundbar supports—and the app you use to control it—in my introduction to the Raumfeld system. The speaker did a terrific job rendering the acoustic guitar on Bruce Cockburn's "Mango," from his album Breakfast in New Orleans, Dinner in Timbuktu. Cockburn's vocal harmonizing with Margo Timmins (Cowboy Junkies) came across beautifully, and the high-pitched splash cymbal at the very end of the song exhibited a nice, long, and natural decay.
To sum up, the Raumfeld WiFi Soundbar is a very good speaker system and a solid value considering that it comes with a beefy subwoofer. The lack of support for common surround-sound codecs is a little disconcerting for a device that's designed to be paired with a TV, but that might not bother you because most sound bars suck when it comes to delivering surround sound anyway. Sonos has a better overall ecosystem, but none of its speakers support high-resolution audio files, where the Raumfeld system does. That's why we're giving the WiFi Soundbar three stars—it's a borderline "buy" recommendation, versus a full-throated "this is the sound bar I would buy" recommendation.