At a Glance
Expert's Rating
Pros
Climate controlled heating or cooling for your bed
Well-constructed
Control with physical remote or smartphone app
Expensive
Cons
Bulky base unit too tall for many bed frames
Loud fan while running
No consolidated control over dual-zone system
Our Verdict
BedJet V2 is climate-controlled heating or cooling for any type or size bed that can be regulated with the included remote control or app for your smartphone.
Best Prices Today: V2 Climate Comfort System
Considering we spend a third of our lives in bed, comfortable sleep often comes down to choosing the right mattress. Our homes and apartments are climate controlled, so why shouldn't the place where we sleep?
That's the question posed by an enterprising group of inventors at a startup who raised nearly $1.4 million on Kickstarter last year to launch the second generation of a unique device intended to "hack" your body's natural biorhythms for a better night's sleep.
Some like it hot
Designed by engineers formerly responsible for climate control systems in NASA spacesuits, BedJet V2 ($399 to $949) is a heating and cooling unit that attaches to the foot of any bed and distributes air under the sheets as you sleep. The temperature is regulated by a bundled remote control or free smartphone app, adjustable between 72 and 104 degrees.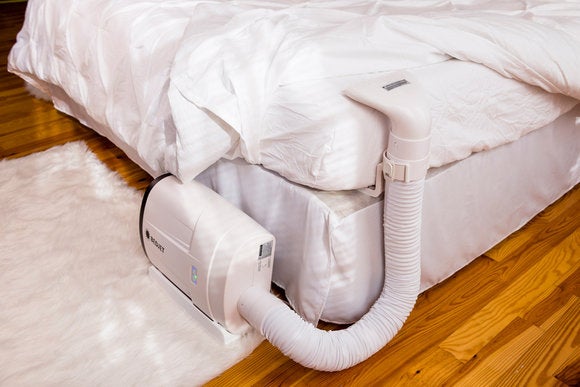 The base unit is bulkier than it looks in pictures, measuring 17 x 12 x 6.5 inches and weighing about eight pounds. It's meant to be stored under the bed, but requires a clearance of seven inches; my bed frame is lower, so I had to prop it vertically at the foot of the bed instead. (The company sells an optional $20 stand for this purpose.)
Also included is a four-inch wide flexible air hose with fabric liner, which attaches to the base unit and snakes upward into an adjustable plastic mount that slides underneath the mattress. An angled nozzle attaches to the hose, which controls the flow of air. Installation was a snap, taking less than 10 minutes.
BedJet sells the V2 as a "single zone" unit (meaning it covers one side of a queen- or king-sized bed or coverage for a twin bed) for $399 (also available on Amazon). The company also sells the V2 as a "dual zone" setup that covers two side of a king ($949) or queen ($929) bed.
I reviewed the dual zone setup, which includes two base units that allow each side of the bed to be adjusted independently. For many couples, this is the dream—for example, my wife is always cold and I tend to be on the warm-blooded side. Dual-zone requires first toggling a switch on the base units to low-power mode to avoid overloading electrical circuits. The only downside is that neither the remote nor smartphone app provide a convenient way to control both units from a single place.
Cool your jets
In actual use, BedJet is a mixed bag. With traditional sheets, most of the air being pumped under the covers hits your feet instead, flowing upward only when lying on your side. For most users, this is fine. After all, you'll be comfortable from head to toe as long as the feet are kept warm and dry.
The unit is fairly loud when running, which will certainly be an issue for light sleepers. In Turbo Heat mode (used to quickly warm the bed before sleep), the fan on a single unit increases the noise floor by 10 decibels, or less than half that amount in typical use. The manufacturer stresses BedJet should not be used as a substitute for air conditioning during summer months, since cooling requires a room temperature below 79 degrees.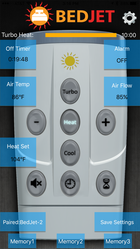 For best results, a replacement sheet called AirComforter offers a pair of hollow cavities that keeps warm or cold air contained to only one side of the bed. Made from 100 percent cotton, this accessory is bundled with dual-zone systems, or available separately for $159 for a king-sized bed (available on Amazon) or $139 for a queen-sized bed (available on Amazon). The company stands behind its product with a two-year limited warranty and 40-day "love it or return it" guarantee with no restocking fees.
While the included wireless remote control is functional, the new Bluetooth-connected BedJet smartphone app (available for iOS and Android) offers a better experience. Although mostly a copy of the physical buttons, the app displays real-time air temperature and flow, allows saving up to three custom settings, and makes it easier to program auto shutoff and wake timers.
Bottom line
If you can overlook the bulky hardware and fan noise, BedJet V2 is worth a look. It's not cheap, but those in search of a better night's sleep will consider it priceless.
Best Prices Today: V2 Climate Comfort System