Samsung took the wraps off its over-the-top Family Hub smart refrigerator at CES in January, and on Wednesday at its showroom in New York, the company announced that the fridge isn't just a prototype. It's now on sale at home appliance stores across the country, including the usual suspects like Lowe's and Home Depot.
This ridiculous appliance has an equally outlandish price tag—it starts at $5600 for a stainless steel model with standard depth. A black stainless steel model with counter depth is $6000. But Samsung built a ton of fancy features into this refrigerator that might make you want to shell out that dough when you need to upgrade. (A run-of-the-mill top-freezer fridge would cost you less than $1000, but all that would do is keep your food cold.)
Samsung found that people open their refrigerators 40 times a day on average. And folks aren't just foraging for food—they're using the fridge as a menu planner, a photo album, and to leave notes. So the Family Hub is an Internet-connected fridge that lets you share photos, check your calendar, stream music, and order groceries. Basically, Samsung wants to be at the center of not just your kitchen, but your life.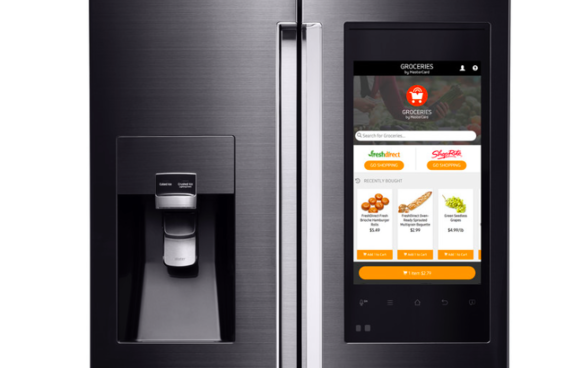 The fridge has three cameras that take snapshots of your food and send them to your phone so you know what items you're running low on while you're at the store. It's also integrated with MasterCard's new Groceries app, which is now available, so you can order groceries from the fridge's 21.5-inch high-definition LCD or from your iPhone. The fridge is also integrated with Instacart, Sticki, Tune In, AllRecipes, and Pandora, and it has the ability to mirror your Samsung smart TV to your fridge, become a whiteboard, give you the weather forecast, and more.
To be honest, I can't imagine myself managing my calendar from a screen on my fridge, but ordering groceries while I'm standing in front of an empty shelf where my produce should be? Yes, I want that.
Samsung will be promoting the heck out of this fridge with an adorable commercial featuring its loveable spokescouple, Kristen Bell and Dax Shephard, starting Monday night.