Netflix and other online video services might wish that people didn't know about PlayOn, but the DVR for streaming video is becoming harder to ignore.
Last year, PlayOn quietly released a major update for its Windows software to emphasize DVR features. With a $60 lifetime license (or monthly payments of $5), users can record videos from dozens of streaming services, automatically skip the commercials on ad-supported shows, and stream videos from the PC to phones, tablets, game consoles, and connected-TV devices.
PlayOn has now come up with a name for its headlining feature: "SVR," short for Streaming Video Recorder. It's also added a couple of helpful features, including ad-skipping in PlayOn's mobile apps and a recording scheduler, so users don't need to hog bandwidth during evening hours.
The hope is that people who hate losing Netflix shows to expired licensing deals, can't stand sitting through ads, or don't want to grapple with limited streaming bandwidth will finally take notice.
"Now that we've more or less completed the features, we feel like it's time to repackage it up and market it as what it is," said Jim Holland, director of marketing at MediaMall, which makes PlayOn. "It's truly a fully-functional SVR, very similar to the DVR that people are using on a cable box."
How PlayOn works
When you first setup PlayOn, it loads a lightweight media server program that runs in the background on your PC. This is how PlayOn monitors for recordings and streams videos to your other devices.
You then use PlayOn's desktop app to find shows and set up recordings. Streaming services and websites such as Netflix, Hulu, HBO Go, CBS, and Adult Swim appear as tiles in PlayOn's "Channels" menu, from which you can navigate a list of shows, seasons, and episodes. The software lets you record entire series, grab specific episodes, or "subscribe" to new episodes. (Holland says PlayOn has located the URLs for each channel's streams, so it can automatically detect and record new arrivals.)
For the actual recording, PlayOn employs some trickery, playing and capturing the video through an invisible Internet Explorer window. The videos themselves are stored as MP4 files in whatever directory you want; you don't even need the PlayOn app to access them. Just note that PlayOn embeds your name, email, and IP address at the beginning of each video to "keep people honest," Holland said.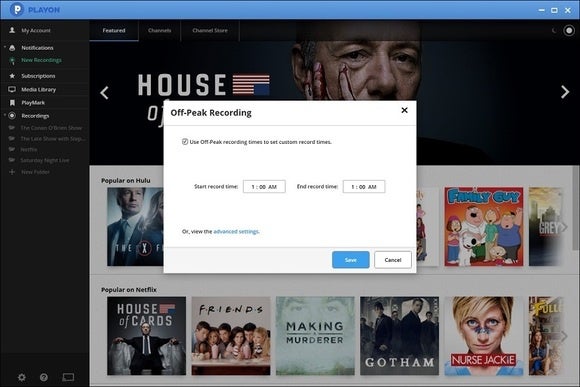 Watching directly in the PlayOn app has benefits, however: You can view all your recordings in organized lists, skip through advertisements, and send videos to your TV device of choice, using a long and varied list of methods (more on that later). PlayOn also offers iOS and Android apps, which can stream videos directly or act as a remote for casting to other TV devices.
As for ad-skipping, PlayOn doesn't actually remove ads from the video file. Its video player just knows when to skip over them. Unlike the ad-skip solutions on TiVo and Dish Hopper DVRs, which are programmed by humans, PlayOn uses an automated system. This means it should work with any ad-supported show, though MediaMall's Jim Holland wouldn't get into details on how the system works.
One downside to this whole setup: To record Netflix, PlayOn needs to install Microsoft Silverlight, a plugin that otherwise serves little purpose on the modern web, and sometimes becomes a source of security vulnerabilities.
Is PlayOn legit?
If you're wondering how streaming services feel about PlayOn, the answer is most likely "not great."
Last year, Netflix director of corporate communications Cliff Edwards told Tom's Guide that downloading videos was a "clear violation of the terms of service," and that Netflix's "licensing agreements don't allow companies [such as PlayOn] to facilitate these types of uses."
Still, violating a terms of service agreement isn't the same as breaking the law, and PlayOn has long maintained that users are just exercising the same rights they had with VCRs. The fact that PlayOn wasn't sued into oblivion after launching its first recording features four years ago seems to bear out that claim.
"The same statutes that protect the DVR and the VCR before it protect us," Holland said. The company also points to a 2013 Ninth Circuit Court of Appeals decision in favor of Dish, which ruled that ad-skipping is not a form of copyright infringement. (Major TV networks all settled their cases with Dish instead of taking the issue to the Supreme Court.)
A better question might be whether streaming services can stop PlayOn from working. So far that hasn't happened, and Holland isn't sure it's possible given that videos are technically playing in a browser on the user's computer. "I never want to say something's technically impossible," he says. "[But] I'm not sure how they would do it."
Right now, PlayOn does rely on obsolete software to function. It records videos through Internet Explorer, using plugins like Microsoft Silverlight and Adobe Flash, all of which could be phased out by their makers and by websites over time. But in an email, MediaMall CEO Jeff Lawrence gave an unfazed response about the bright future of using HTML5.
"We have already developed the ability to use embedded Chrome (or 'CEF') instead of IE, and will be selectively migrating certain channels to it as early as next week," Lawrence said.
What's next for PlayOn
Having built up a fully-functional streaming DVR while eluding legal troubles, PlayOn is now looking to expand its presence.
Right now, the process for getting PlayOn videos onto TV devices is a bit convoluted. There's no native interface for browsing your recordings on Fire TV or Xbox consoles, while PlayStation consoles require you to browse through Sony's media player app. Roku apparently wasn't comfortable hosting a full PlayOn app in its official channel store several years back, so users must download a private channel if they want to browse their videos through that set-top box. (A separate Roku Channel Store app allows for selecting videos on a PC and casting them to the TV.) It all makes PlayOn seem sort of illegitimate, even if it's not illegal.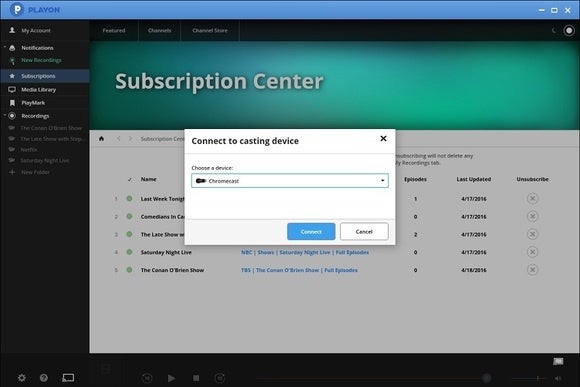 PlayOn might soon push for more legitimacy. Holland said the company has a Fire TV app awaiting approval, and hasn't ruled out native Xbox One and PlayStation 4 apps down the road. PlayOn might also try to get its full Roku app approved for the official Channel Store. Holland noted that screen-mirroring on devices like Chromecast have helped normalize the idea of sending web videos from a PC to the TV.
"It used to be that the content providers were much more protective about what you could get to the TV, and what you couldn't, and Chromecast changed the game on that," he said. "We've just seen much less anxiety about certain content getting to the TV screen than we used to see three or four years ago."
Later this year, PlayOn also wants to move beyond the PC. Holland wouldn't elaborate too much on those plans, but he noted that PlayOn's ties to the PC have been a major complaint. (I would also note that PlayOn doesn't currently work on Mac OS X.)
"We have a lot of consumers who would like to not have to have a PC—a Windows-based PC—in order to use PlayOn," Holland said. "I'd caution you from guessing at what that means the next step is, but it's a demand we need to meet."