At a Glance
Expert's Rating
Pros
Much better, hiccup-free installation than the original model
Amazing finger print reader
Plenty of flexibility for any type of usage needs
Cons
Strict 2.4GHz Wi-Fi system will be a major problem for many
App can lose connection at times
Our Verdict
U-tec's upgraded smart lock is easier to install and works like a dream, but its Wi-Fi implementation is problematic at best.
The first Ultraloq smart lock, released in 2019, was a promising product held back by an incredibly difficult installation process that literally required a hacksaw to complete. Its manufacturer, U-tec, has spent the intervening years smoothing out that installation process—hacksaw no longer required—and has launched an upgraded version, the U-Bolt Pro WiFi. This new model eliminates the need for a separate Wi-Fi bridge to connect it to your home network.
Physically, the U-Bolt Pro WiFi looks nearly identical to its predecessor, with just a few cosmetic changes. The all-black device still arranges its beefy numeric buttons in a ring around a fingerprint reader. Flip the entire front panel down and you can access a traditional physical keyhole as well. A micro-USB port is included for emergency use if its four AA batteries die. The lock's appearance is unique and unusual, and while it looks somewhat industrial and ominous, I've certainly seen worse smart locks.
U-tec has revamped its installation process and accompanying manual to streamline and simplify the process. The aforementioned need to cut the tailpiece to fit your door is gone, and the exterior escutcheon no longer has sharp teeth that hold it in place against the wood of the door. (An improved screw design now does that job.) I didn't encounter any of my prior troubles with overtightened screws preventing the deadbolt from moving and causing a jam, either. All told, it seems that U-tec has really improved its hardware, and I encountered no trouble getting the lock affixed to my door and running in less than 10 minutes.
U-tec's app experience has changed much less than its hardware, and I was able to quickly discover the lock and pair it to my phone via Bluetooth. My biggest hiccup arrived soon after that, however, as U-tec's Wi-Fi pairing system absolutely refused to connect to my mesh network. Not only can the device not connect to 5GHz networks, your mobile device can't be connected to a 5GHz network during the setup process. That presents a particular problem since neither my phone nor router allow the 5GHz band to be disabled. Some serious delving into the router's power settings can be used to get things connected, but for most users this is probably asking too much.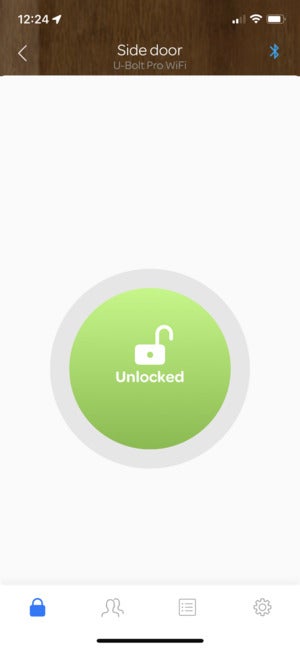 With or without Wi-Fi, the unit behaves identically to the prior version of the lock. It's easy to set up one or two fingerprints, a PIN code, and/or app access for up to 50 users, each of which can each be limited by time and date as well as by the total number of unlock operations. Operationally, the unit works really well: The mechanical buttons are easy to press accurately, and the fingerprint reader is as capable as ever.
Additional features are plentiful. Automatic locking is configurable anywhere between 10 seconds and 5 minutes and can be set to work with the included (but optional) wireless door sensor to avoid locking while the door is ajar. An auto-unlock geofencing system can be enabled if desired—I had better a better experience with this feature than I did with the 2019—lock. You can also use U-tec's oddball Magic Shake feature to unlock the door. Turning your phone on its side unlocks the door instead of pushing a button in the app. Alexa, Google Assistant, and IFTTT support have not changed since the 2019 version of the lock.
Integrating Wi-Fi directly into the lock instead of requiring an external bridge is a great idea—and most smart-lock manufacturers are moving in this direction—but without a solid implementation of Wi-Fi in the first place it doesn't mean all that much. The U-Bolt Pro WiFi's other improvements are solid and much appreciated, and the asking price remains the same as the older generation, at $249. That said, if you're going to put WiFi in the name of the product; well, that's where it really needs to deliver.