At a Glance
Expert's Rating
Pros
Excellent video quality
Panoramic field of view
No cloud subscription required to store video clips
Cons
Intermittent connectivity issues
Video files must be manually stitched together for panoramic view
Our Verdict
The Reolink Duo is an innovative dual-lens camera that provides panoramic coverage, but we experienced connectivity issues that undermined its marquee feature.
Getting broad surveillance coverage typically means trading some image quality for a wider field of view. Super wide-angle lenses tend to sacrifice detail and suffer from barrel distortion. The Reolink Duo attempts to skirt that problem by putting two lenses into one camera body and then stitching the two video feeds together. It's not perfect—connection issues with one of the cameras frequently hindered the Duo's marquee feature in my testing—but when it works, it works well.
The Duo comes in four different models: Power over ethernet (a PoE model, reviewed here), wire-powered Wi-Fi, battery-powered Wi-Fi, and battery-powered 4G. All four feature 2K resolution per lens and offer roughly the same features, with some minor differences in frames per second captured and local-storage capacity. Your choice will depend largely on how you plan to install the camera. The wired Wi-fi model is best for those who have access to an outdoor outlet, while the PoE and battery-powered models will reduce or eliminate the amount of wiring you need thread indoors.
This review is part of TechHive's coverage of the best home security cameras, where you'll find reviews of the competition's offerings, plus a buyer's guide to the features you should consider when shopping for this type of product.
If you're not familiar with PoE tech, it uses a single ethernet cable to carry both data and enough electrical current to power the device at the end of the connection. But you'll need a special type of ethernet switch for this to work—you can't just plug a cable into your router. We used a TP-Link JetStream 8-Port Gigabit Smart PoE+ switch, but any PoE switch should work. You plug the camera into the switch and then plug the switch into your router.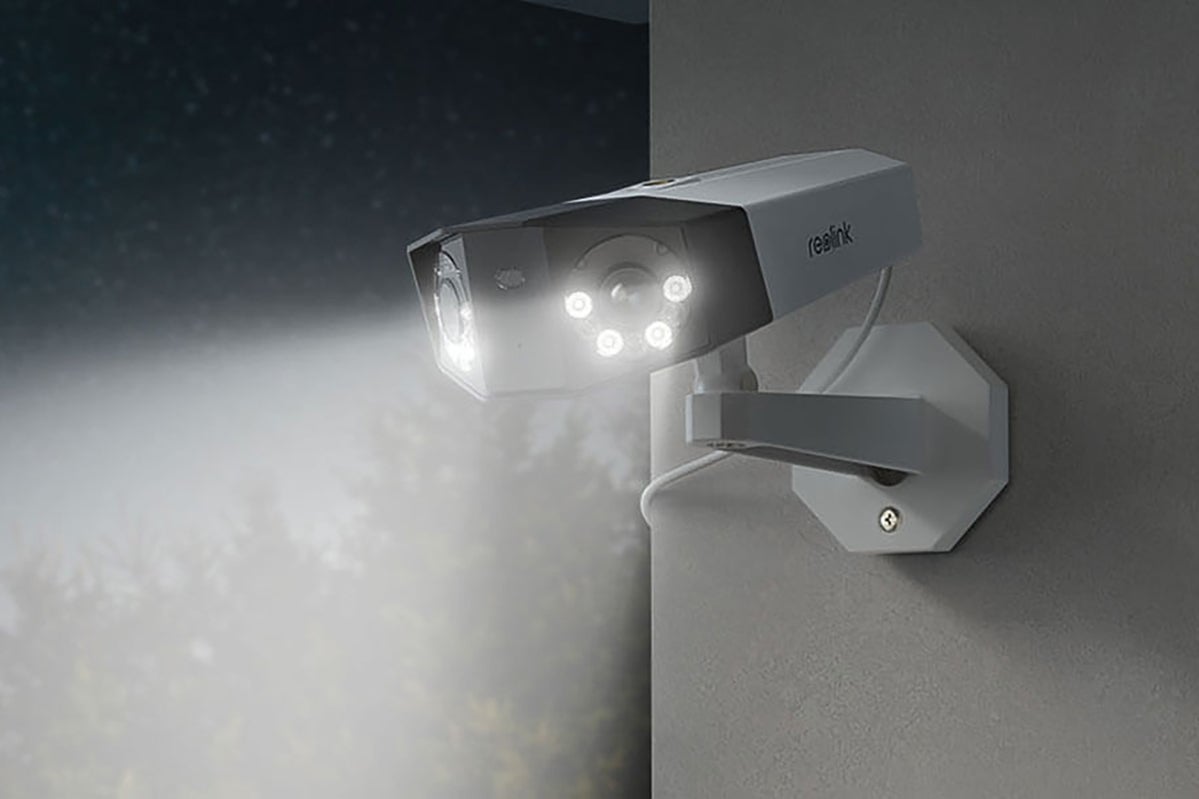 Once the camera is plugged in, you'll download the Reolink app to do the setup. Alternatively, you can use Reolink's desktop client, but the app process is much more straightforward. I needed only to scan the QR code on the camera body with my phone and set a security password to complete the process. From there, you'll mount and position the camera using the supplied bracket and hardware; the user manual provides easy-to-follow instructions for this.
The camera's dual 2K video streams provide crystal-clear image quality and an aggregate 150-degree field of view. In addition to standard daytime mode, the camera also offers black-and-white and color night vision, enabled by infrared LEDs and a motion-activated 560-lumens spotlight. You can configure each of these features separately using the app.
The Reolink app allows you to view each live feed individually or simultaneously. For the latter, it displays the two feeds stacked on top of each other by default, but stitches them into a panorama when you rotate your phone horizontally. This requires that you get a consistently solid connection for both streams, which I rarely did during my testing. One channel had intermittent connection issues, more often than not displaying a "loading stream" message where the live video should be. In the instances it did connect, the wide-angle effect worked perfectly—but those instances were frustratingly rare.
Suspecting the issue might be signal strength, I unmounted the camera and brought it indoors, closer to the router, but the issue persisted. This was the only real problem I had with the camera, but it's a significant one because you don't want to be waiting for a video stream to load when you get a notification that there might be an intruder on your property.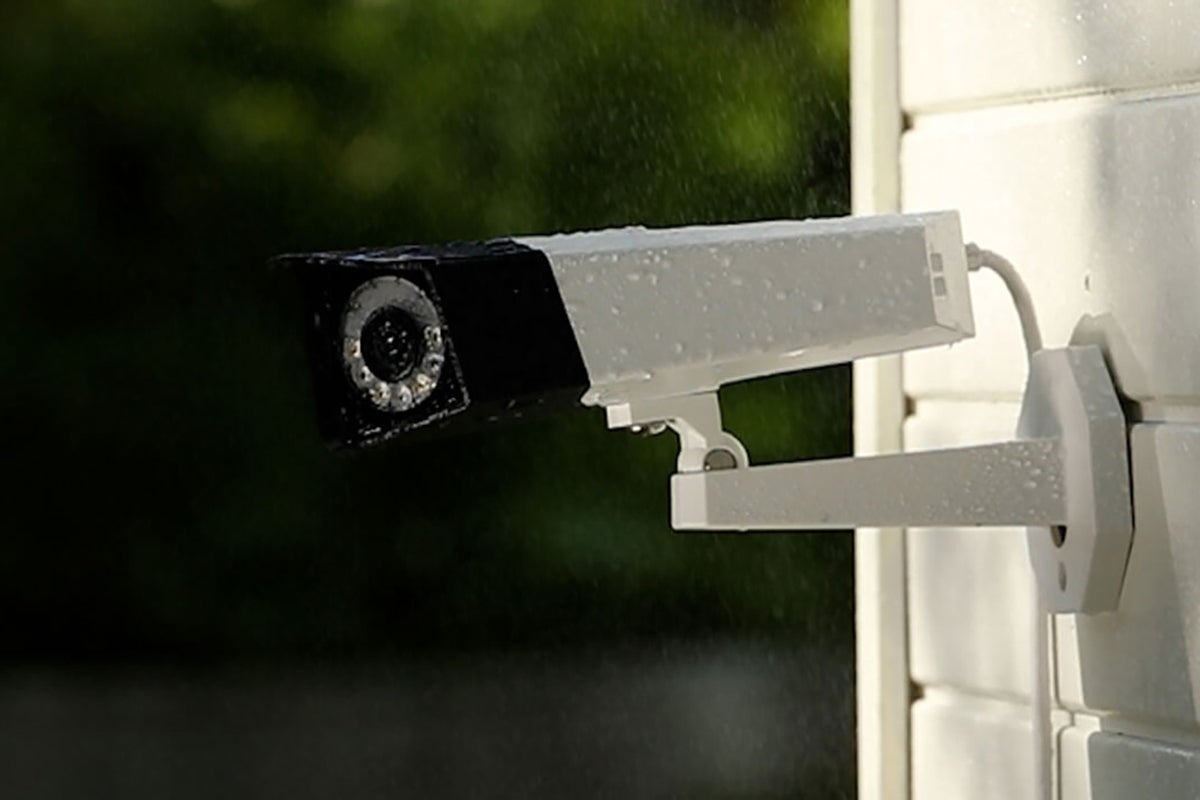 The Duo can recognize both humans and vehicles, and it allows you to set both a minimum and maximum size for objects that will trigger an alert. Best of all, these motion events are processed with onboard AI, meaning you don't need to pay for a cloud subscription to enable this feature. The camera also supports activity zones, so you can mask out areas you don't want to receive alerts about.
Because motion-detection settings are applied to both lenses, video from both feeds is recorded whenever activity is detected, regardless of which lens was triggered. Captured video is also saved as two separate files—one from each feed—so you'll need to manually stitch them together before you share them with anyone.
The Duo supports 24/7 continuous and scheduled recordings as well as motion events, and it offers three storage options: microSD card (up to 256GB), FTP upload, and Reolink NVR, a DVR-like device that's sold separately. Reolink does offer its own cloud storage but it appears the Duo PoE is not supported (although the wired Wi-Fi and 4G models are, according to the Reolink app).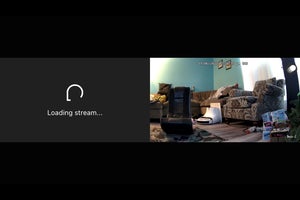 The app has a clean, intuitive interface that puts any setting you need to operate the camera within a couple of taps. Each live feed has a toolbar with controls for playback, audio, video recording, and taking screenshots. You can also activate the Duo's onboard siren and floodlight, as well as access saved video clips from either feed. Clips are easy to find and playback regardless of where the files are stored. A timeline shows you where activity was captured, so you can quickly scrub through to the important parts.
Verdict
On balance, the Reolink Duo is an innovative camera that can give you comprehensive surveillance coverage of your property and reliably alert you to any activity. But the intermittent connectivity issues I experienced can't be ignored, and they dampen what would otherwise be a hearty recommendation.