At a Glance
Expert's Rating
Pros
Self-emptying dustbin
AI obstacle avoidance
Creates customizable maps
Cons
Does not recognize when it's on carpet during mopping
Lacks scrubbing motion in mopping mode
Our Verdict
The Neabot NoMo Q11 is a sophisticated self-emptying robot vacuum/mop that dramatically simplifies floor cleaning.
Self-emptying robot vacuums are officially the next-gen trend. It seems every manufacturer is adding one to their stable of products, Neabot being one of the latest. The NoMo Q11 is one of the more impressive vacuum/mop hybrids we've seen, and its reasonable price puts it within reach of more budgets than premium models offered by top brands like iRobot. That said, the Q11 lacks some of the advanced features you'll find in those pricier vacuum/mop systems.
The Q11 has a retro-futuristic look that sets it apart from the samey aesthetic of most other robot vacuums. Were it finished in avocado green rather than white, the boot-shaped dock/dustbin would look right at home on a shag carpet in any mid-'70s living room. The robot itself, which sticks to a more standard circular design, has a bit of sculpting on its lid around a glowing blue LED strip that completes the nostalgic sci-fi look.
This review is part of TechHive's coverage of the best robot vacuums, where you'll find reviews of the competition's offerings, plus a buyer's guide to the features you should consider when shopping for this type of product.
Related product
Roborock S7+
The Q11 uses LIDAR (Light Detection and Ranging) to navigate and avoid obstacles as it vacuums and mops. However, its quartet of laser beams emanates from within the robot's body, rather than a topside turret, which is more typical. This significantly reduces the height of the robot, enabling it to more easily get in and out from under low-profile furniture. On the underside, there's a roller brush with both bristles and silicone strips for better pet-hair removal and a single spinning brush for clearing debris from wall edges and corners. A 250ml dustbin slots in at the back of the robot and a 300ml water tank can be attached to the bottom of the dustbin for mopping duty.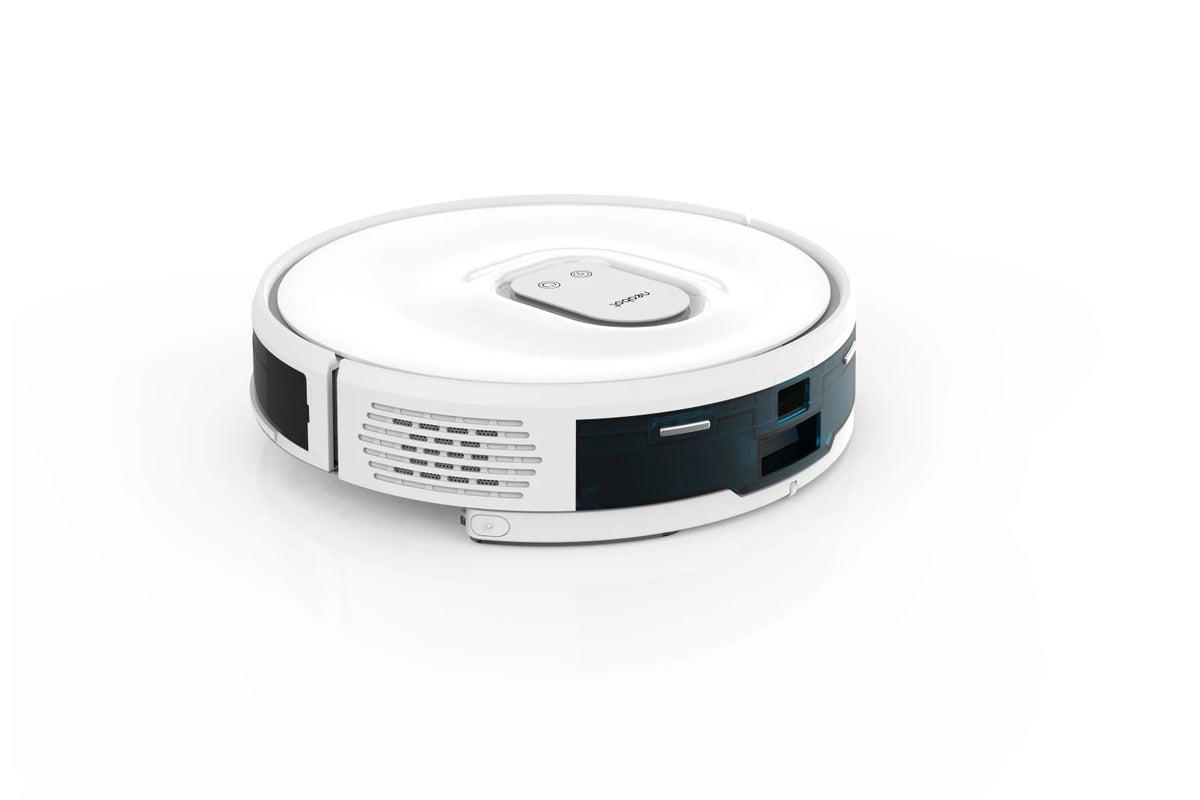 Setup is pretty standard for a robot vacuum. The dock needs to be flush against a wall with about a foot of clearance on either side and several feet in front for the robot to maneuver in and out of the dock. Then you insert the robot into the dock's opening to charge it. You can start and pause cleanings from a button on top of the robot or pair it with the Neabot app for greater control. The second option, which takes just a few minutes to connect the Q11 to your Wi-Fi, allows you to create and customize maps, control the amount of water used to mop, schedule jobs, and track cleaning data.
Mapping is the most compelling reason for using the app. Once the Q11 completely navigates an area, it attempts to divide it into logical color-coded cleaning zones. This was pretty accurate; it correctly divided my downstairs level into the living room, kitchen, bathroom, and entryway. Once you have a completed map, you can tell the Q11 to clean individual zones or rooms and set no-go boundaries to keep the robot out of particular areas.
The Q11 vacuums in an efficient back and forth pattern and has no problem getting under furniture and over floor thresholds. Its obstacle avoidance system is sophisticated enough to recognize objects as small as a pet toy well before it runs into it and adjust the robot's course so that it rarely bumps into anything. It even provides a visual cue by having the LED glow as it nears an obstacle.
With a max suction of 4000Pa, the Q11 had no problem cleaning my floors of dirt, pet hair, food crumbs, and other debris. Once the robot's dustbin is full, it returns to its dock which sucks the contents into a 2.5L disposable dust bag. Neabot says that's enough to hold about a month's worth of trash, though obviously, that will vary depending on the size of your home and how dirty your floors get. But you can be sure you won't have to change the dust bag very frequently.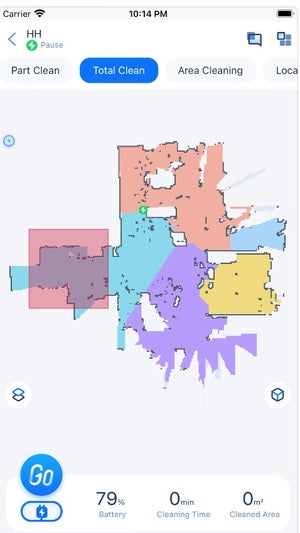 The Q11's mopping performance is on par with similar vacuum/mop hybrids. Because it drags a dampened microfiber cloth attached to the bottom of the water tank, it effectively removes surface dirt but lacks the scrubbing motion needed to bring up deeper grime (see the Roborock S7 for an example of a robot that can scrub tough stains). That makes it best used for maintenance cleaning with your stick mop in reserve for tougher jobs. Importantly, the Q11 does not recognize when it's on carpet versus hard flooring, so setting no-go boundaries around rugs is critical in open areas.
Overall, the NoMo Q11 is a polished product that offers easy operation and impressive cleaning results. If you're looking for an affordable entry point into fully automated floor cleaning, put it on your shortlist.