At a Glance
Expert's Rating
Pros
Gets plenty loud
Outfiited with a microSD card slot and a USB-A port for playing music from storage
Fun, pretty lights on the end caps
Cons
Audio detail leaves much to be desired
Playback in vertical orientation diminishes audio performance
Weatherized, but not submersible
Our Verdict
The Soul S-Storm Max is a fun Bluetooth speaker that can get plenty loud, but it performs well only with modern pop music.
Best Prices Today: Soul S-Storm Max
Since Soul Nation launched a decade ago with a line of Chris "Ludacris" Bridges-branded headphones, it's a been an unapologetically lifestyle brand that makes some pretty good audio products. The $90 Soul S-Storm Max Bluetooth 5.0 speaker fits squarely into that tradition.
The S-Storm MAX is a solid speaker with some interesting features that might interest more serious listeners, plus a couple that are just for fun.
This review is part of TechHive's coverage of the best Bluetooth speakers, where you'll find reviews of the competition's offerings, plus a buyer's guide to the features you should consider when shopping for this type of product.
In the box
The speaker is an 8 x 3-inch cylinder (WxD) that weighs 1.5 lbs. A USB-A-to-USB-C charging cable and a 3.5mm aux cable are provided in the box, and the manufacturer throws in a lanyard attached to the speaker with a serial number sticker wrapped around the string. Take a photo of that serial before you take the speaker out of the house; it's not going to survive for long. There's also a Soul-branded carabiner.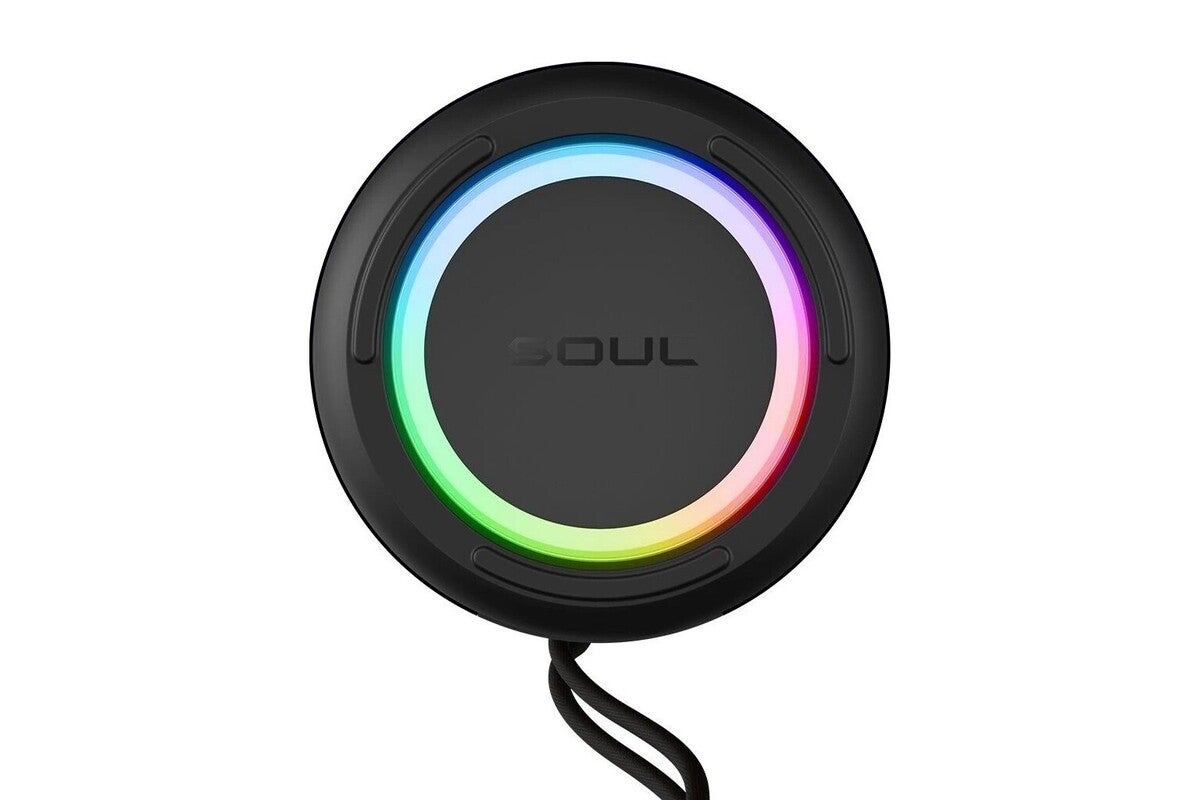 Features
Soul hypes the IP66 dust and waterproof rating. That means the speaker is impervious to harmful dust ingress and that it can survive getting sprayed with a jet of water, but it's not meant to be fully submerged. Don't take it on a pool float unless you're highly confident that you'll never drop it. You can read all about IP codes in this other story.
Each end of the cylinder features a LED mood light ring. The lights can be set to turn on and off to the beat of the music. They're also available to shine in red, violet, blue, teal, green or cool green. You can turn the lights off altogether or have them rotate through all the colors.
Soul promises excellent battery life: 15 hours of music playback on a charge. A full charge takes approximately four hours.
Audio performance
The speaker pumps out 20 watts, and there's a passive radiator at each end of the cylinder. If you want to buy two S-Storm Max speakers, you can sync them with Soul's TWS (true wireless stereo) mode for stereo sound.
The Bluetooth 5.0 connection supports the AVRCP, A2DP, and HFP profiles. There's a 3-ohm impedance and -90dbm sensitivity. The speaker delivers Bluetooth range of 33 feet.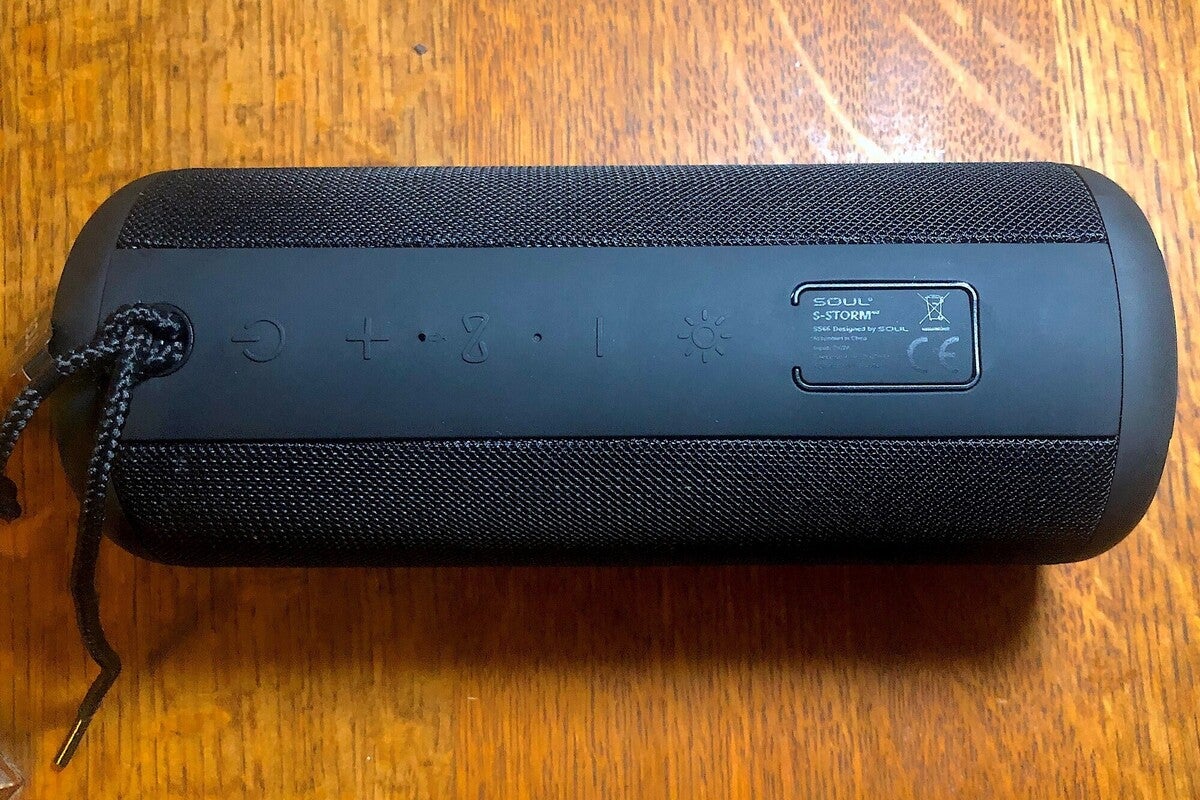 Controls
The speaker features onboard controls consisting of rubberized buttons for include power, volume, mood light mode, and phone call controls. The volume buttons can also be used to skip or repeat tracks, while the phone button is also used for the TWS stereo pairing.
A backup plan
Soul knows how much of a hassle it can be when your phone is running out of battery, so they've come up with three non-Bluetooth listening options. The 3.5mm audio cable allows you to plug in pretty much any portable MP3, cassette, or CD player you have in the back of a drawer or glove box.
It's the microSD and USB-A ports that separate the S-Storm MAX from the pack. You can plug a card or drive loaded with music files into either of them and the speaker will scan the drive and play the music it finds. Like the old iPod Shuffle, you don't have much control over what it plays, but it does let you skip to the next track.
Sound & listening tests
The Soul S-Storm MAX speaker definitely sounds better when turned horizontally on its side, since neither passive radiator is blocked. Once you set the speaker down this way, it's not going to randomly roll away but it will move if you bump it.
Since that means it's prone to roll right off a desk or table, many of Soul's images show the speaker securely set vertically on one radiator on a tabletop. That definitely reduces the audio performance, but it's not a deal-breaker if you're using this speaker.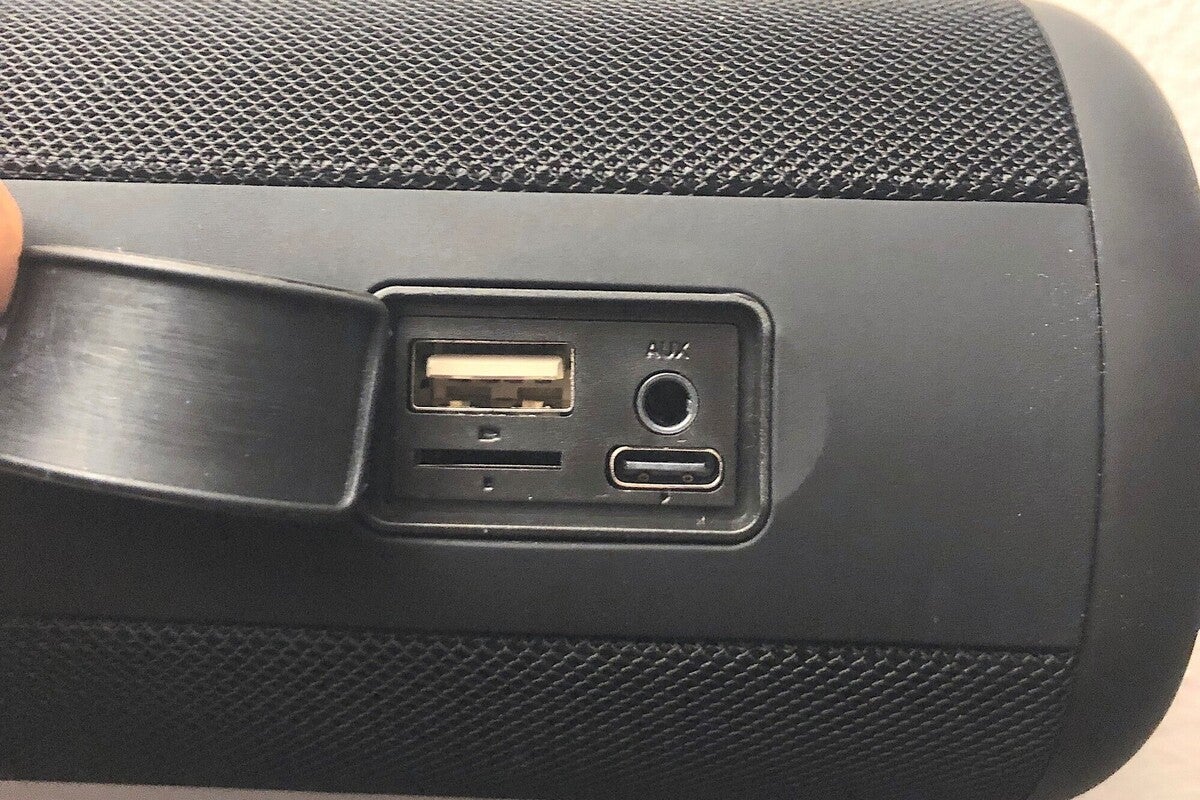 The major selling point with this speaker is how much volume it can pump out from a relatively small driver. The S-Storm Max will slip easily into a beach bag and generate plenty of sound without distortion once you crank it up outside.
Listening to The Cars' 1978 track "Just What I Needed" exposes some of the tradeoffs that go along with the speaker's loudness and portability. The exceptional detail in the bass guitar and rhythm guitar parts that make this track such a great high-res listening experience are gone here. Those parts fuzz out into a smear. That doesn't mean this speaker's going to ruin the party when you're listening outside, but users should temper their expectations about what a device like this can do.
Sparse 2021 tracks like Wet Leg's alt-rock "Chaise Longue" and Pooh Shiesty's hip hop "Back in Blood" sound great through this speaker. These are not dense recordings and the S-Storm Max is definitely up to the task here. A busier track, like The Weeknd's "Save Your Tears," proves more of a challenge, breaking up in the midrange when the instruments get layered.
In contrast, rock-based 2021 songs like Wolf Alice's "Smile" and Brandi Carlile's "Broken Horses" don't sound nearly as good through this speaker. Of course, this can dovetail into a difficult discussion about whether a traditional rock recording approach fits into contemporary music, but it's useful to know this speaker is better at playing contemporary pop than it is traditional rock songs.
Summing up
Soul has added some fun to the S-Storm MAX with the light show and a useful backup plan with its microSD card slot and USB port. It generates a lot of volume for its size and has respectable battery life. It's waterproofing could be better and its audio reproduction isn't aimed at discriminating listeners, but the speaker delivers for its intended audience.
Best Prices Today: Soul S-Storm Max