At a Glance
Expert's Rating
Pros
Compact and reasonably attractive
Good collection of onboard control options
Cons
Very loud in operation
Relatively low CADR (clean air delivery rate)
Barely functional app
Our Verdict
Filtrete's smart purifier doesn't overly impress, in large part due to noisy operation and an undercooked wireless experience.
Best Prices Today: Filtrete Smart Room Air Purifier (model FAP-SC02)
You probably know Filtrete as the 3M brand that makes those rectangular filters you invariably forget to change in your furnace or HVAC unit; which 3M says you should do every three months, by the way. 3M recently expanded the Filtrete brand into standalone air purifiers, including a pair of smart systems that debuted in 2020.
The lineup includes a pair of purifiers, both available in either white or black. The smaller model FAP-SC02 reviewed here (3M sent a white model) is designed to service up to 150 square feet. The larger model FAP-ST02 can handle up to 310 square feet. Apart from their size and coverage area, the two units are the same.
This review is part of TechHive's coverage of the best air purifiers, where you'll find reviews of the competition's offerings, plus a buyer's guide to the features you should consider when shopping for this type of product.
The unit looks good, featuring a modern design that measures 17 x 12 x 9 inches (HxWxD) and weighs a little more than 10 pounds. Air is drawn in through both sides of the device, filtered, and emitted through the top. The airflow feels plenty blusterous, but 3M specifies a single CADR (clean air delivery rate) of just 98. That's a very low number but probably acceptable if you're really using this in a 150-square-foot room.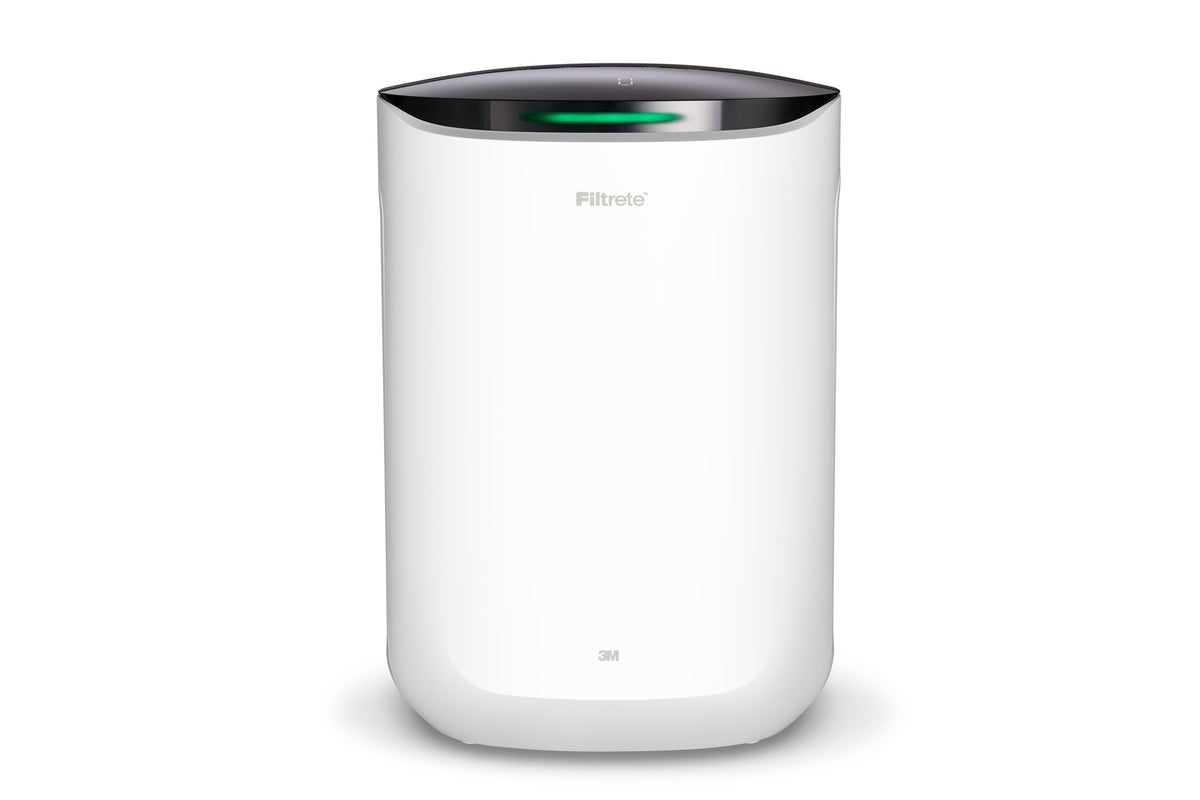 All controls are touch sensitive and mounted on the top of the unit, including a four-speed fan (plus an auto mode), three brightness levels for the controls (one of which turns everything off), a countdown timer (each tab toggles through 2, 4, 8, 12, and 24 hours), and an onboard filter life meter. Two indicators measure air quality: a numerical index and a color-coded LED (with five levels). 3M doesn't say specifically what these figures are measuring, but it's safe to assume it's PM2.5 levels.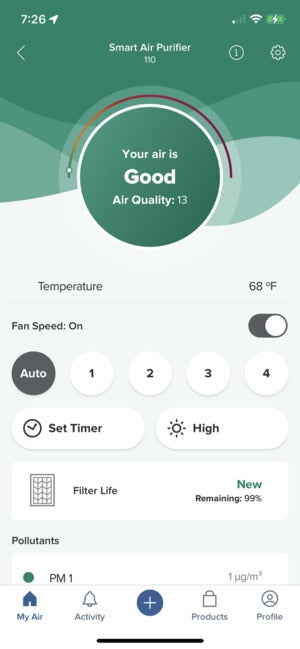 One plus with the unit is that it uses standard-size F2 (or Lowe's A2 Filtrete) filters, so when it's time to replace one—the company says a filter will last about 6 months—it should be relatively easy to pick one up rather than ordering directly from the manufacturer. Filters run about $22, which is quite affordable.
On the downside, the unit is loud. Even on its lowest power setting, the unit makes a droning hum that is audible from at least one room away. At higher settings, the noise is much louder—and outsized to what you would expect given the size of the appliance.
Making matters worse, Filtrete offers a decidedly rocky mobile experience for this unit. Setup requires locating a 6-digit code inside the chassis, using this as Bluetooth passcode, then bridging to your Wi-Fi network (on the upside, it does have a dual-band 2.4/5GHz Wi-Fi adapter onboard). The unit appeared to connect normally for me, but a day later I was still receiving an error that said the unit was "Setting things up."
A little digging led me to discover that the unit had disconnected from Wi-Fi, and nothing I did would bring it back—on either frequency band. I eventually tried removing it from the app and setting it up again fresh. This too was problematic: The unit could no longer be discovered by the app at all. Finally, another day later, the Filtrete was back and available to connect, and this time everything completed successfully. Unfortunately, after getting it configured again, I found it prone to losing its connection and spitting out random "System Error" messages when trying to change even the most trivial settings.
The app, at least in theory, offers a reprise of all the onboard controls, including manual control over fan speed, a filter level display, lighting controls, and a more fine-tunable timer (letting you set the countdown time down to the minute). Pollutant levels are measured at three different levels: PM1, PM2.5, and PM10. There's no scheduling system in the app, but you can use Alexa and Google Assistant for voice control and more advanced operations like this.
You'll pay a steep premium for the Filtrete brand name, which might be acceptable if the unit wasn't so loud and its app was more functional. As it stands, you'll get a better value from any number of alternative units.
Best Prices Today: Filtrete Smart Room Air Purifier (model FAP-SC02)