At a Glance
Expert's Rating
Pros
Physically smaller than the EP40 and much smaller than the KP400 (both of which have dual outlets).
TP-Link's least expensive outdoor smart plug
Cons
Provides just one outlet
Runtime monitor is currently not working
Our Verdict
There are better values in outdoor smart plugs, including the Kasa Smart KP400, the Kasa Smart EP40, and the Wyze Plug Outdoor.
Best Prices Today: TP-Link Kasa Smart Outdoor Plug (model KP401)
TP-Link's Kasa Smart KP401 single-outlet outdoor smart plug has one thing going for it: It's TP-Link's least expensive outdoor smart plug. It's not a bad product by any means, it's just that the Wyze Plug Outdoor features dual outlets and costs just $1 more. If you don't want to stray outside the Kasa Smart ecosystem, the dual-outlet Kasa Smart EP40 costs just $8 more than the single-outlet KP401.
Mentioned in this article
Wyze Plug Outdoor
Price When Reviewed:
$11.98
Hands-on time with the KP401 reveals hardware and software that is decidedly familiar. The IP64 weatherproofing is solid, though again the rubber outlet cover doesn't feel quite strong enough. An LED-illuminated button on top of the device provides for manual on/off control; the LED can be disabled in the control app if you prefer. Maximum power supported is 15 amps/1875 watts or up to a ½ horsepower motor. As with its other Kasa products, TP-Link claims a wireless range of up to 300 feet.
This review is part of TechHive's coverage of the best smart plugs, where you'll find reviews of the competition's offerings, plus a buyer's guide to the features you should consider when shopping for this type of product.
TP-Link's Kasa Smart app is used for setup—on a 2.4GHz Wi-Fi network only, as with all Kasa Smart products—and while I encountered one hiccup with the app refusing to accept a name for the newly configured plug, relaunching the setup process a second time completed without incident. (I had a similar issue with the EP40.) Performance is fine but short of dazzling; the plug frequently took several seconds to respond to commands, though the usual Kasa Smart features, including its randomized away mode, scheduling system, and turn-off countdown timer mostly all worked fine (if slowly).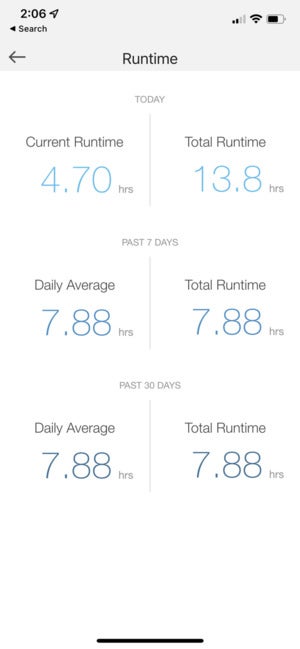 As with other Kasa Smart plugs, the KP401 includes a runtime monitor that tells you how long the plug has been on during the past day, week, and month. Strangely, with this plug I noticed a bug that didn't calculate total runtime for the week and month properly, unless you can somehow use the device more in one day than you can in a week. (This is surely a minor software hiccup that will be fixed soon enough.) Support for Amazon Alexa, Google Assistant, and Samsung Bixby voice assistants remain standard on the device.
If you're deep into the Kasa Smart ecosystem and need an outdoor smart plug, the $24 dual-outlet Kasa Smart EP40 is a much better value. If you're platform agnostic, the $18 dual-outlet Wyze Plug Outdoor is an even better deal.
Best Prices Today: TP-Link Kasa Smart Outdoor Plug (model KP401)