At a Glance
Expert's Rating
Pros
Offers the unusual feature of dimming
Robust construction and IP64 weatherization
Well priced considering the sparse competition
Cons
Provides only one outlet
Needless switching between screens to access dimmer function
We occasionally experienced delays in state changes
Our Verdict
If you need a dimmer for outdoor use, the Kasa Smart KP405 is a low-cost solution.
Best Prices Today: TP-Link Kasa Smart Wi-Fi Outdoor Dimmer Plug (model KP405)
I've been thinking about it for days, but realistic use cases for an outdoor, plug-in dimmer continue to elude me. Outdoor on/off plugs and switches, sure. An outdoor dimmer? Probably a niche situation. I guess if your string party lights are simply too bright to set the proper mood, well, maybe a dimmer makes sense. You be the judge.
TP-Link's Kasa Smart KP405 is a single-outlet dimmer that is otherwise identical to the company's single-outlet outdoor plug, the model KP401. The all-black, IP64-rated device has the common pigtail design, a rubber outlet cover (on the loose side, much like other recently released Kasa products), and a power button on top. A green LED indicates whether the power is on or off; this can be disabled in the Kasa Smart app.
Note that the physical power button cannot be used for dimming/brightening. It is strictly an on/off switch; all dimming features are available exclusively in the app. Maximum wattage supported is 300 watts of incandescent or 150 watts of LED lighting.
This review is part of TechHive's coverage of the best smart plugs, where you'll find reviews of the competition's offerings, plus a buyer's guide to the features you should consider when shopping for this type of product.
Setup is identical to other Kasa Smart products, requiring you to connect to a temporary network and bridge over to your own 2.4GHz Wi-Fi network. (As with other outdoor Kasa Smart products, TP-Link promises 300 feet of range.)
Setup was relatively uneventful in my testing, but I did find the unit to be surprisingly slow to respond to commands, sometimes taking up to 10 seconds to power on or off or change brightness; fortunately, it never completely dropped its connection. On other occasions it would respond with near immediacy.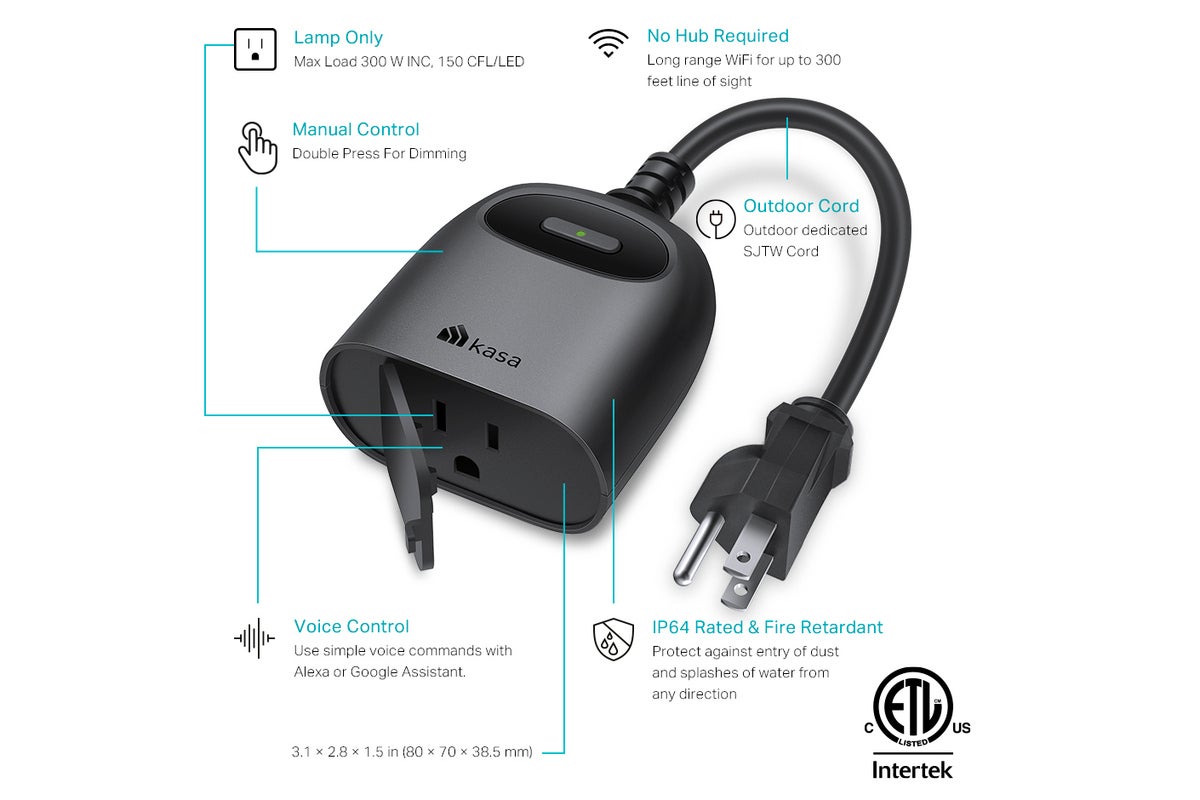 Power and dimming features are confusingly on separate panes within the Kasa Smart app, though a few presets are available on the primary pane that make it easy to get to commonly used brightness settings. These are easy and intuitive to change, I just wonder why all this couldn't all be accomplished within a single pane. A simple scheduling and timer system, as well as a randomized vacation mode, are included; Amazon Alexa and Google Assistant are both supported if you want more fine-grained control over multiple devices and voice support.
It's a fine product, but even if you're sold on the Kasa Smart brand, the only reason to consider the KP405 is if you need dimming features—and you don't need more than a single outlet at the location where you're installing it. If you don't need an outdoor dimmer, but you have other Kasa Smart products and wish to control them in a single app, both the single-outlet Kasa Smart KP401 (an on/off smart plug) and the somewhat older Kasa Smart EP40 (a dual-outlet on/off smart plug with independent control) cost less, but neither supports dimming.
If you don't care about dimming and you don't mind using another app, consider Wyze Labs' Wyze Plug Outdoor. It's our current top pick in on/off outdoor smart plugs, and it was selling for $12 less than the Kasa Smart dimmer using That said, dimming functions are unusual in an outdoor smart plug. If that's a must-have feature, this the Kasa Smart KP405 is a good value.