At a Glance
Expert's Rating
Pros
Plenty of power for even mid-sized rooms
Handy geofencing mode
Works with Alexa and Google Assistant
Cons
A bit loud on its lowest power setting
Slightly expensive (though not egregiously so)
Monitors only PM2.5 conditions
Our Verdict
This excellent air purifier can also fill the role of furniture.
Price When Reviewed
$460 (model 5440i)
Best Prices Today: Blueair DustMagnet (model 5440i)
DustMagnet is the latest brand in the Blueair air purifier lineup, and it's worth a look. (We previously covered Blueair's pricier and more powerful HealthProtect product.) Part of the concept with this purifier is that it makes for a stylish and quiet yet powerful addition to any environment, blending in so seamlessly that you can even use it as a (tall) end table.
Mentioned in this article
Blueair HealthProtect 7410i air purifier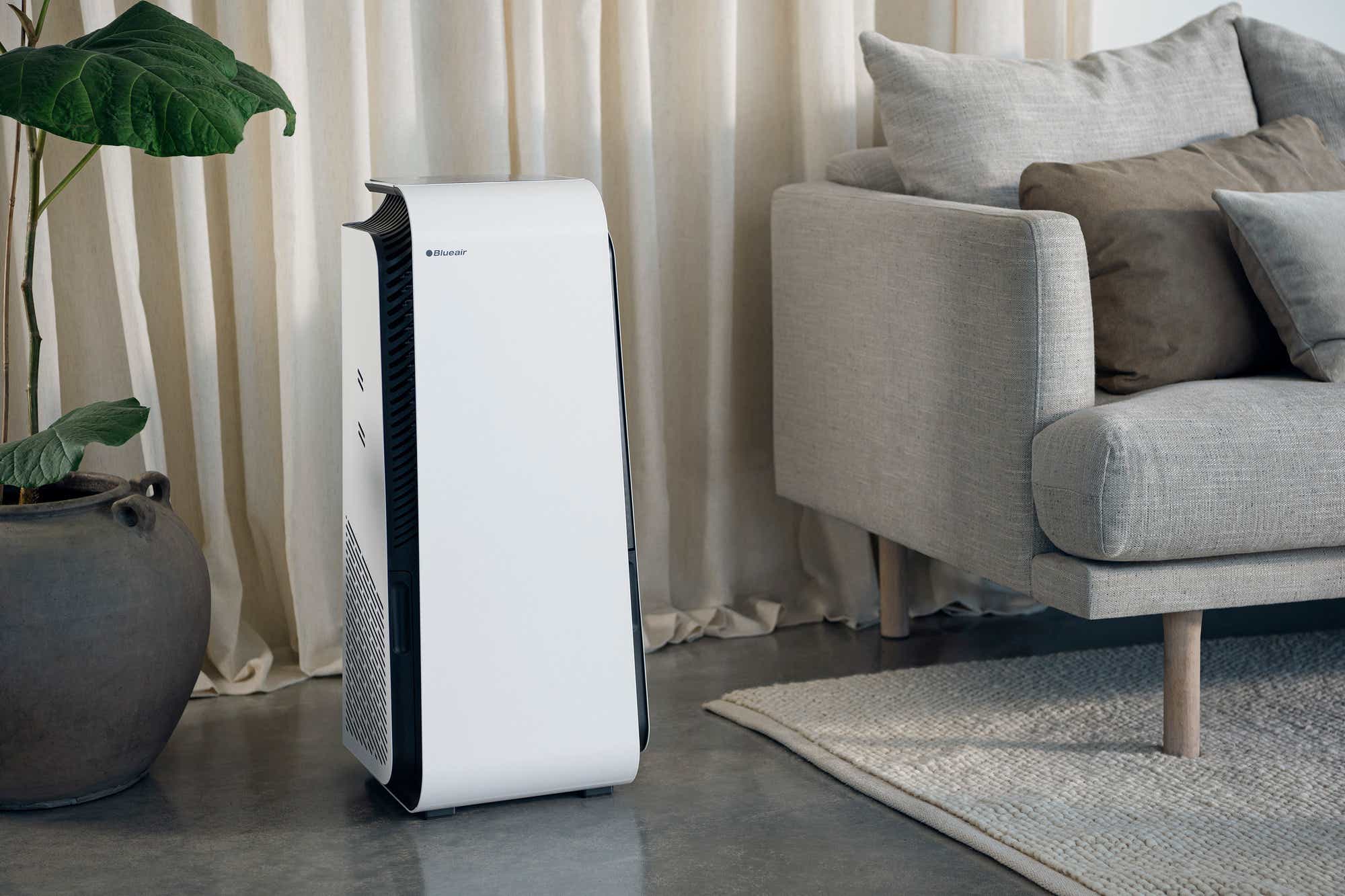 Price When Reviewed:
$599.99
That capability is made possible by a unique approach to airflow. While most purifiers suck in air through the base and emit clean air from the top, the DustMagnet sucks air in from vents on the top and bottom of the device, with an elevated platform above the upper vent that works as a small tabletop. Air is pushed through one of two filters and then emitted, clean, through exhaust ports on either side of the device.
This review is part of TechHive's coverage of the best air purifiers, where you'll find reviews of the competition's offerings, plus a buyer's guide to the features you should consider when shopping for this type of product.
The exhaust vents feature angled grilles to direct the air in two opposite directions, the idea being that it can create a swirling "vortex" of clean air in the room. I'm not sold that the vortex concept works as described, but I do like the airflow design on the whole.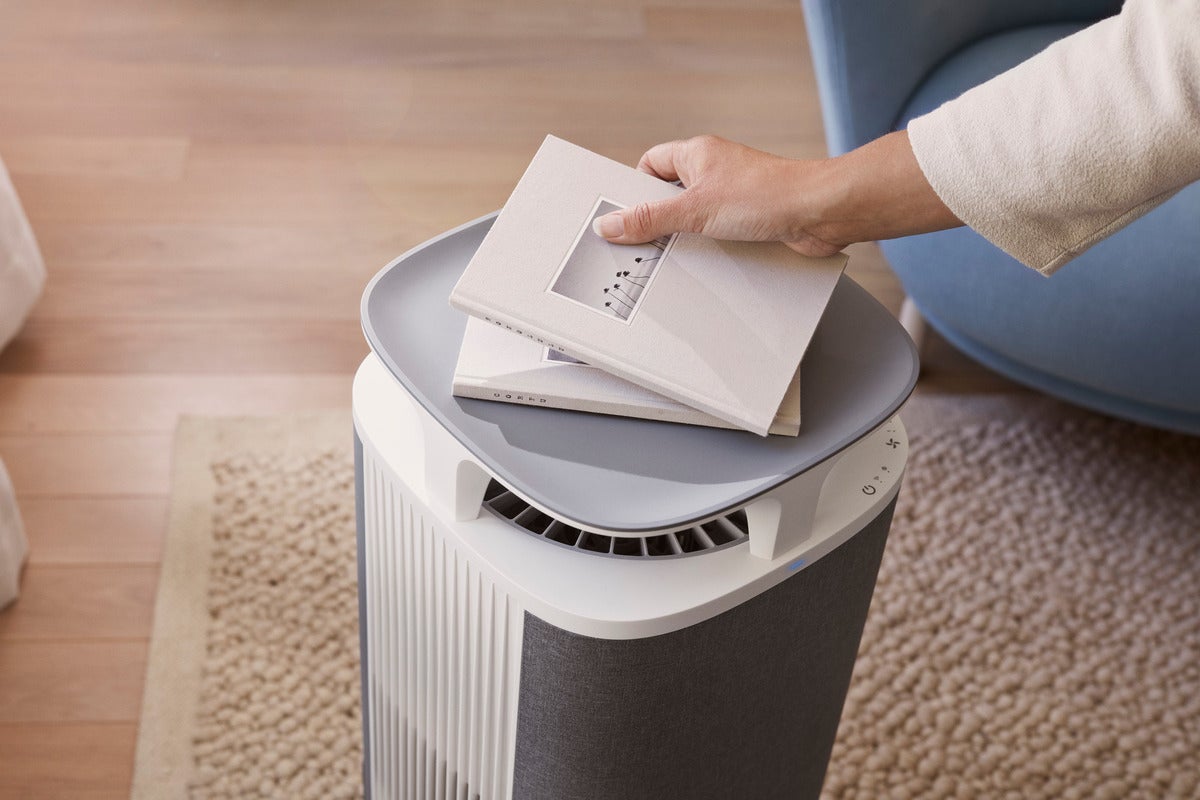 The purifier is available in two finish options. One is a traditional all-white plastic design (model 5410iRemove non-product link, which sells for $400), or you can upgrade to the $460 model 5440i that I reviewed. It features a gray fabric chassis that really improves this smart appliance's overall aesthetic. The two products are otherwise identical: both weigh 15 pounds and measure 25 x 11 x 11 inches (HxWxD) after the leg posts are screwed in.
Airflow specs are solid and only slightly lower than those of the HealthProtect, with the DustMagnet rated at clearing a 356 square foot room every 12.5 minutes. Its CADR (clean air delivery rates) numbers are good, too: 255 for pollen, 240 for dust, and 230 for smoke, all reported in cubic feet per minute. It's not the quietest purifier I've tested recently, even at its lowest of three settings, however its rated maximum volume of 50dBA makes it less noisy than many competing units at its highest setting.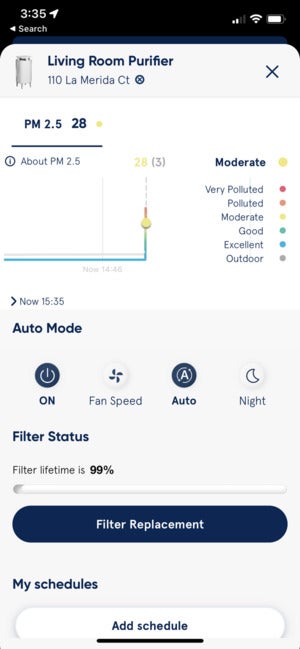 As noted above, the unit contains two separate filters which Blueair calls HEPASilent. These filters look a lot like HEPA filters but are less dense than true HEPA filters and thus require a less powerful fan to push air through them.
As such, the unit doesn't carry any HEPA ratings, but it does claim to capture 99 percent of dust particles sized 0.5 to 3 nanometers within 22 minutes at its highest speed. Filters are said to last 6 to 12 months; replacements run $55 for a pair (with discounts if you subscribe for regular replacements).
Onboard controls consist only of a power toggle and a button that cycles through three speed options, auto mode, and a sleep mode (which is essentially the level 1 speed with all other lights turned off). A small color LED on the front of the unit indicates current PM2.5 conditions, with one of five levels of air quality indicated.
The Blueair app used to control the DustProtect's smart features is the same as that for the HealthProtect line, and I had no trouble getting the purifier set up and connected to my Wi-Fi network (2.4GHz only). The home screen offers a graph of outdoor AQI conditions, and you can drill down into individual purifiers for phone-based control, either real-time interaction or to access the scheduling system (its overlapping schedule problems I previously encountered have since been fixed).
A child lock and brightness slider are also included in the mix, along with a graph of indoor air quality—PM2.5 conditions only—over time, plus a filter status monitor. Finally, a "Welcome Home" system can be used to geofence the product, switching it to standby mode when you leave the house and turning it back on when you're within 15 minutes of returning.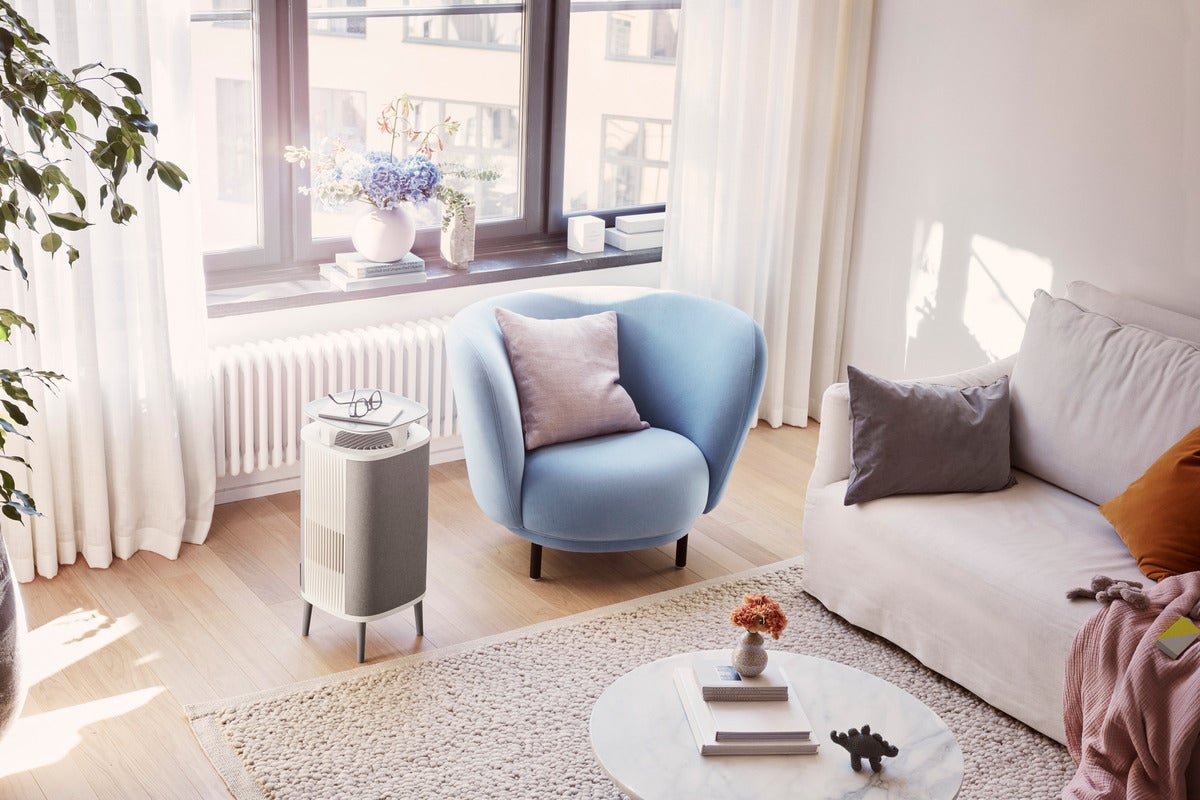 The unit can be connected to Amazon Alexa and Google Assistant for simple voice-based control, too. I had no trouble working with any of the smart features, which are largely intuitive, and never experienced any dropped wireless connections.
Its $460 price tag isn't inexpensive, but you'll encounter much costlier purifiers are on the market, including Blueair's own HealthProtect line, which starts at an MSRP of $660 and is only slightly more powerful (and doesn't look nearly as nice).
Unless you need more power for a very large room, I don't hesitate to recommend it.