At a Glance
Expert's Rating
Pros
Stuffed to the gills with features
Integrated camera and lighting means no add-on gear required
Broad integration with third-party smart-home ecosystems
Cons
Prone to dropping wireless connection
Expensive
Our Verdict
This incredibly smart garage door opener wholly earns its place at the top of the pile.
Best Prices Today: LiftMaster Secure View Ultra-Quiet Belt Drive Smart Opener (Model 87504-267)
If you want to smarten up your garage door, you can opt for a retrofit controller system that plugs into your opener—we've reviewed many of them at TechHive—or you can replace the entire opener with one that has all the smart features built in.
That's exactly what I did when testing the LiftMaster Secure View Ultra-Quiet Smart Opener (LiftMaster's model 87504-267), a top-of-the-line garage-door opener that has just about every feature you could want in a garage door opener, smart or otherwise.
This review is part of TechHive's coverage of the best smart garage door controllers, where you'll find reviews of the competition's offerings, plus a buyer's guide to the features you should consider when shopping for this type of product.
The feature list is so extensive there's really no other way to enumerate them than through bullet points. Here's what you get:
2,000 lumens of motion-activated lighting (the sensor is in the wired wall controller), which illuminates the entire garage when you set foot in it, courtesy of a strip of LEDs that wrap entirely around the opener's chassis.
A built-in 1080p camera that drops down from the bottom of the opener and can be (manually) positioned as needed—one that includes a two-way audio.
Built-in battery backup that can open the garage door (slowly), even if the power goes out.
A quiet, smooth-operating motor that opens and closes the door with less noise than any opener I've ever owned.
Integrated support for the myQ app, which supports remote garage door access, notifications, and third-party features such as Amazon Key. Support for Vivint, Ring, Alarm.com, IFTTT, and Apple HomeKit are all also included—although note that Vivint connections must be made via Vivint's app, not hardware.
A three-button visor remote control for your car and a wireless controller that can be mounted outside your garage.
About the only thing you don't get with this device are a rail and installation, which will run you a few hundred dollars, varying (widely) based on where you live. While it might be possible to do this yourself, I had this opener professionally installed by a local technician that LiftMaster dispatched to my home. Total installation time was nearly two hours.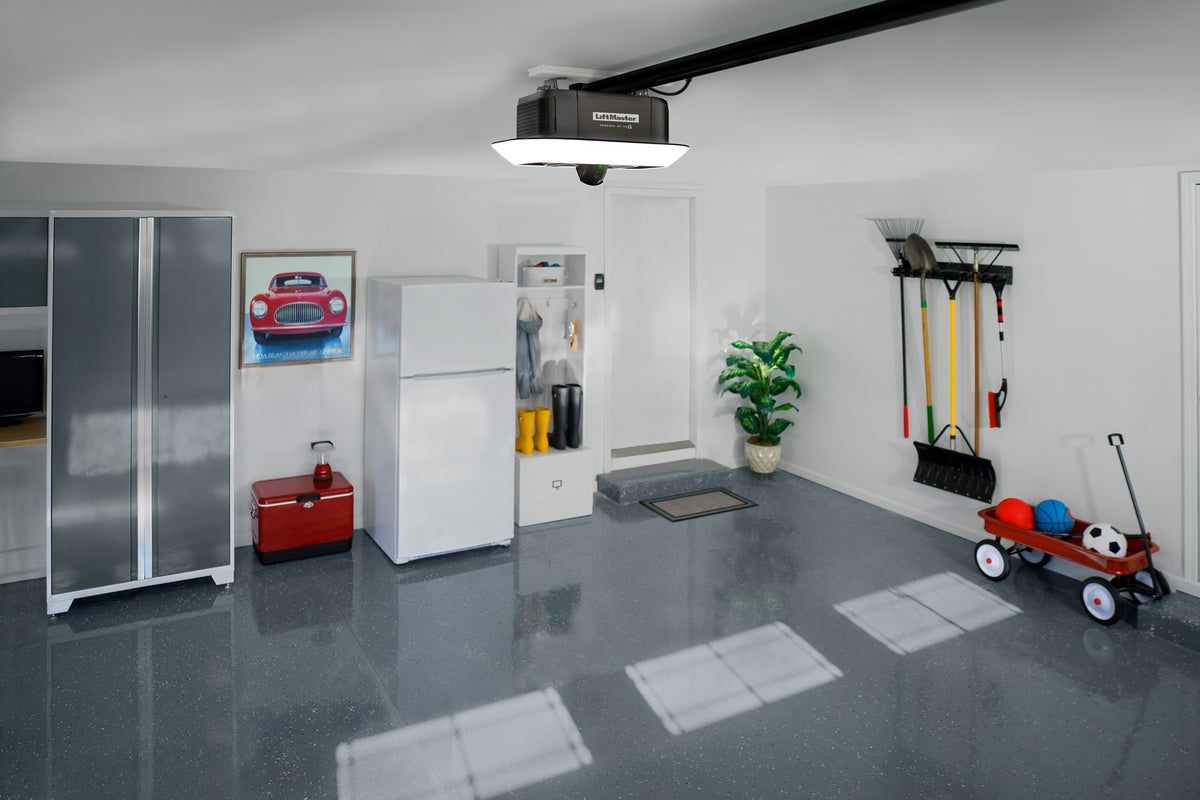 The system sets up quickly with the myQ app; I already had two other garage door openers connected through the myQ Smart Garage Hub, but starting from scratch adds virtually no time at all. Here, you gain access a bevy of features, including on-demand open/close control, access to a live video feed, a history of open/close activities, a notification system which can alert you if the door is opened, closed, stuck, or left open for a configurable length of time, and automations which can, for example, close the door every night at 10pm in the event that you've leave it open.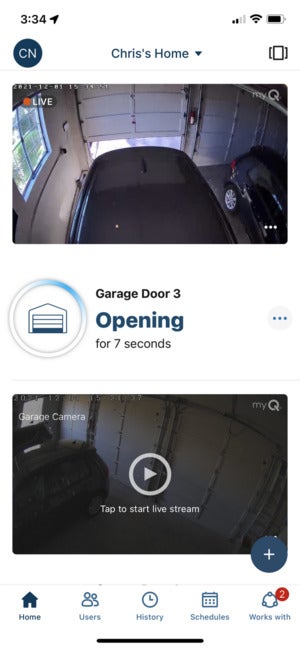 The only extra available for the app is video storage (all of which is recorded upon motion detection). This feature isn't included unless you pony up for a myQ Video Storage subscription: 7 days of video history runs $3/month or $30/year, or 30 days of storage can be had for $10/month or $50/year (currently half price).
In using the SecureView and myQ systems, I have had only one complaint: The system tends to drop its connection to my Wi-Fi router (only 2.4GHz networks are supported)—quite often in my experience. While it usually reconnects within a minute or two, I've encountered times when the opener was offline for an hour or more. That's a real hassle if you're trying to get into your garage, so be sure to keep a physical opener—or program your HomeLink system—as a backup. In a vehicle, those will be more convenient options than dealing with the app, anyway.
That issue aside, the SecureView really solves a lot of common garage door problems. The ability to schedule nightly door closings and receive both push notifications and emails if the door is left open adds considerable peace of mind—as does the ability to check a video feed to ensure everything's OK. I have three garage doors, and having all of them available and controllable on a single app screen—including two video feeds—is exceptionally convenient.
At nearly $450, the system isn't cheap; but honestly, it's not that expensive considering all you get. A relatively high-end opener with no smart features runs close to $300, and these come nowhere close to matching the capabilities of the SecureView. If all you want to use your garage door opener for is, well, opening and closing the door; by all means, stick with a cheaper system. But spend a week with an upscale model like this and you'll quickly realize how much you were missing out on—and how much of an impact it can have on your home.
Best Prices Today: LiftMaster Secure View Ultra-Quiet Belt Drive Smart Opener (Model 87504-267)