At a Glance
Expert's Rating
Pros
Makes your ceiling cans smarter and more attractive
16 million colors and tunable white light with up to 850 lumens of brightness
Connects to Wi-Fi, so there's no hub required
Very affordable
Cons
Cannot connect to 5GHz Wi-Fi networks (limited to 2.4GHz)
Not compatible with Apple HomeKit
Our Verdict
Cree Connected Max Retrofit Downlights are well made, they produce terrific light, and the Cree app is reliable and full featured. The price tag is the cherry on top.
Recessed lighting in the form of can lights, downlights, and pot lights has been around since the 1940s. It's a great way to light a room because the source is directly overhead, largely hidden in your ceiling. Cheap recessed lighting, however, can be industrial ugly. Look up and you'll see not just a bare bulb in a hole, but the springs securing the trim ring to the can. The Cree Connected Max Retrofit Downlight not only fixes that look, it delivers dimmable smart lighting in both full color and tunable white. And if you've been using incandescent bulbs in those fixtures, you'll save some money on your electric bill because Cree downlights use energy-efficient LEDs.
Cree's downlight is a 75-watt equivalent floodlight that produce up to 850 lumens of brightness while consuming just 11 watts of electricity at full power. It's part of a family that includes a dimmable white (but not tunable white) A19 bulb, a color and tunable white A19 bulb (which we reviewed in late 2020), and color bulbs in A21, BR30, and PAR38 form factors. These all connect to your Wi-Fi network, so they don't require a hub, and you set up and control them from Cree's app. They can also be controlled with voice commands (using Alexa, Google Assistant, or Siri Shortcuts) or with a Samsung SmartThings hub. The family is not, however, compatible with the Apple HomeKit ecosystem.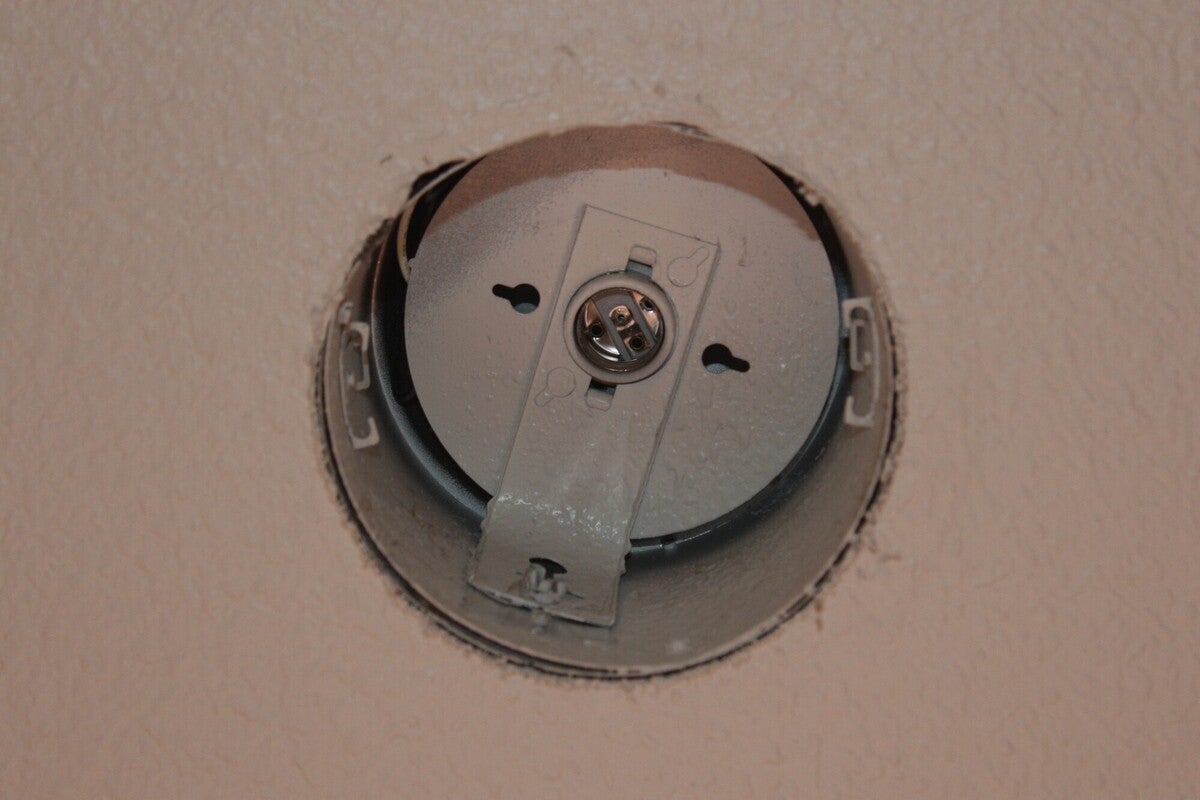 This review is part of TechHive's coverage of the best smart bulbs, where you'll find reviews of the competition's offerings, plus a buyer's guide to the features you should consider when shopping for this type of product.
Full color and tunable white
The can's white light can be tuned from a warm 2200 Kelvin to a very cool 6500K, or you can choose between 16 million colors. The downlights fit either 5- or 6-inch cans, but before you run out and buy one, check your existing cans to make sure they have E26 medium screw-in bases, versus fluorescent fixtures with ballasts. Cree's product is not compatible with the latter (compact fluorescents with E26 bases are fine).
The California home where I tested them had a mixture of both, due to a well-intentioned state building code that requires 50 percent of a home's permanently installed lighting to be high-efficacy fixtures. When we built the home in 2007, fluorescent cans were the only affordable game in town, so they were in both bathrooms and my kitchen.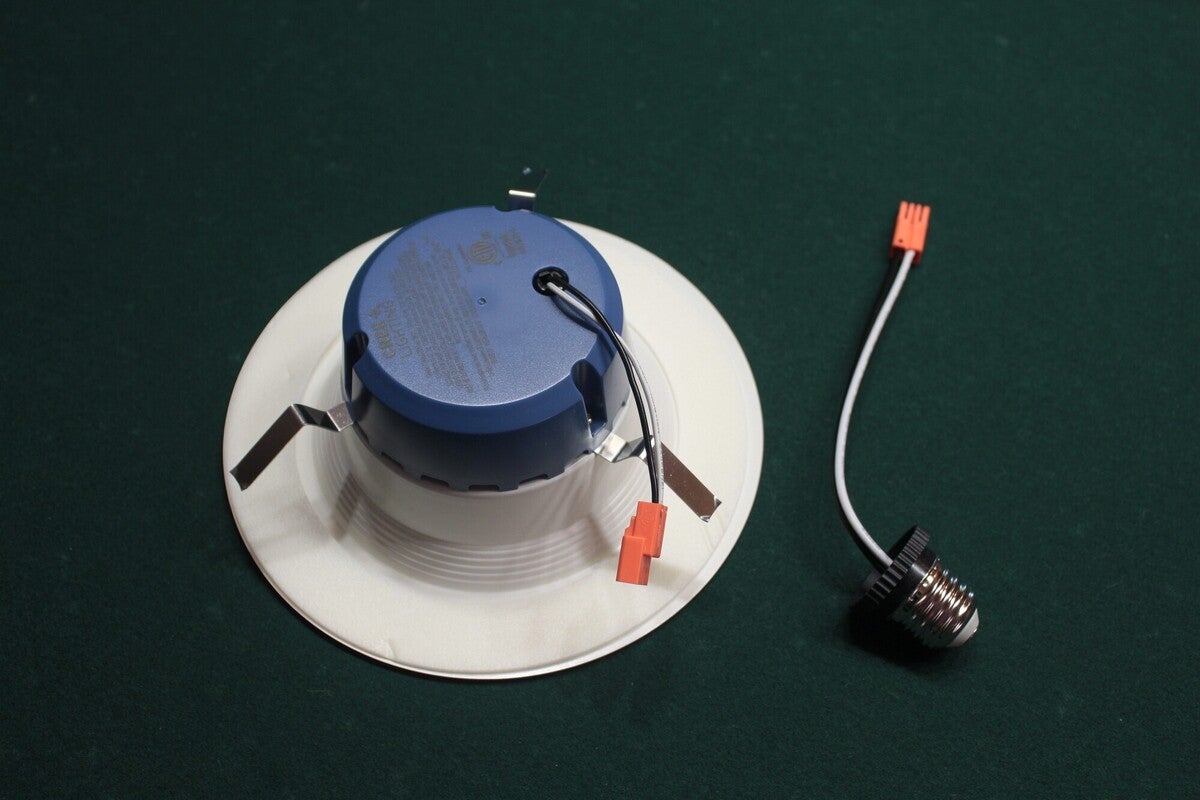 The room where I had my pool table, however, had five cans suitable for retrofit and I replaced all five with Cree's fixtures. This gave me an opportunity to see how multiple smart downlights would behave (more on that later).
The Cree downlights are incredibly easy to install. The first step is to remove the bulbs and the spring-mounted trim rings from the existing cans, a step that took longer than installing the retrofits. If your cans are mounted in a drywall ceiling, expect a bit of dust and debris to fall while you're doing this.
Mentioned in this article
Cree Lighting Connected Max Smart LED (Tunable White + Color Changing)
The next step is to screw a pigtail wire that has an E26 base at one end into the can's socket. This pigtail has a bayonet connector at the other end that you'll plug into the Cree downlight. Once you've done that, you push the downlight up into the can, compressing three spring-steel ears in the process. The resulting tension keeps the retrofit cans in place, and a built-in trim ring covers any rough edges around the hole in the ceiling. Now when you look up at the can, you'll see just the trim ring and the glass lens covering the LED.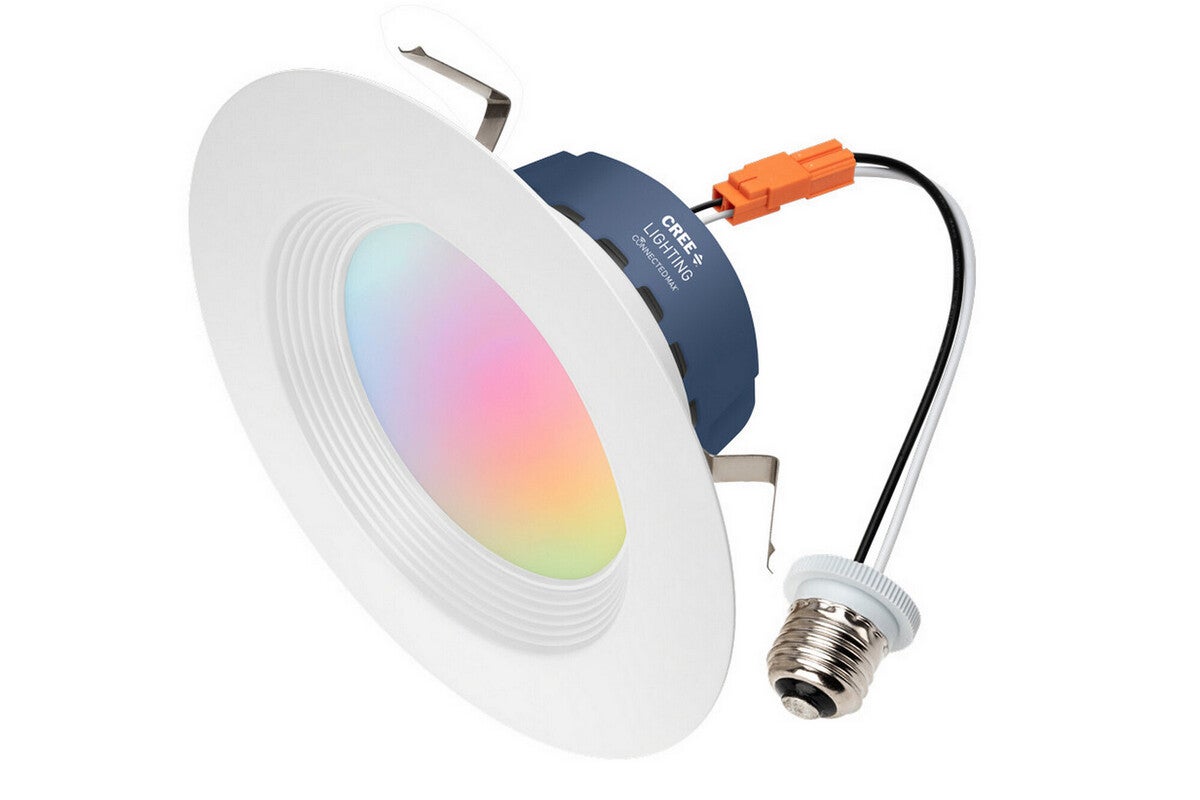 You can install and configure the downlights in Cree's mobile app one at a time, or you can install all of them at once and then configure each light individually. The downlights have both Bluetooth and Wi-Fi radios onboard, and the first step after physical installation is to pair the cans to the app via Bluetooth. The app will display all the cans it finds.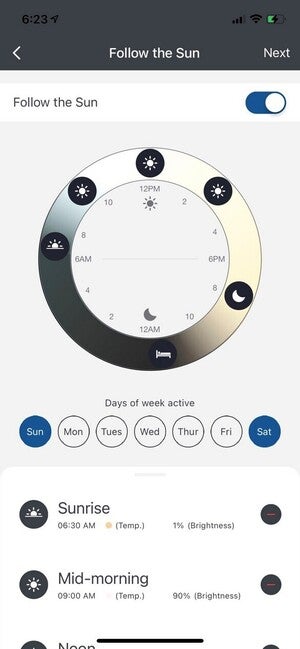 Tapping on one of the icons in the app will select that can for further configuration, and this will cause the relevant can to slowly flash on and off, so you know which one you're working with. The Cree app will display the Wi-Fi network your phone is connected to and then connect the can to that network. You can give the can a unique name at this point.
Note, however, that Cree Connected Max products can connect only to 2.4GHz networks. If you have a dual-band router that uses the same SSID for both networks, you might need to either turn its 5GHz network off temporarily or give the two networks different SSIDs. I used the former technique with a Linksys Velop mesh network installed at the home and the installation proceed without a hitch from there.
Once the cans are installed and added to your Wi-Fi network, you can control them individually or arrange them into groups and control all the lights in the group simultaneously. You can also define a home, rooms within the home, and assign lights or light groups to those rooms.
Programmability options
Cree's app has a robust collection of programming options, including a follow-the-sun setting that will adjust the LEDs' white color temperature in accordance with the position of the sun. The LEDs will slowly brighten with an energizingly cool light in the morning, slowly shift to a warmer relaxing hue as the sun moves across the sky, and then dim and turn off when it's time for bed. This feature can be fine tuned for each day of the week, and the cans can be programmed to behave differently on the days you work and the days you're off. While controlling multiple cans at once, I noticed very little lag—they all changed in close sync to each other.
You can also create other types of schedules as well as create custom lighting scenes or use predefined ones ("Relax," "Night Light," and "Fireplace" are the among available presets). You can sync the lights to music, too, but this last feature is the weakest since it depends on your smartphone's microphone to listen to the beat.
Cree Connected Max Retrofit Downlight: A great value
You could install smart LED bulbs in your ceiling cans and call it a day, but they won't make the cans themselves look any more attractive. Cree Connected Max Retrofit Downlights don't cost much more than smart bulbs, and they'll look prettier in your ceiling to boot. Apart from not supporting HomeKit, these cans are broadly compatible with other smart home ecosystems, and the Cree Connected app is reliable and easy to use. Even more importantly, these LEDs produce high-quality color and tunable white light that can be dimmed over a very wide range.