At a Glance
Expert's Rating
Pros
Automatically learns your heating and cooling needs
Can be controlled with Alexa voice commands
Broadly compatible with 24V HVAC systems
Cons
Not compatible with Google Assistant
Not compatible with Apple HomeKit
Power adapter kit costs extra if your HVAC system doesn't have a C-wire
Our Verdict
The Amazon Smart Thermostat is a fabulous value, provided your smart home revolves around Alexa and not Google Assistant or Apple HomeKit.
Best Prices Today: Amazon Smart Thermostat
A lot of smart thermostats are actually kinda dumb. They'll operate on a schedule, or you can use an app or a smart speaker to adjust the target temperature, but they don't take much else into consideration—such as if your home is even occupied when the time comes to heat or cool. Nest pioneered the idea of a thermostat that anticipates your needs, but the Amazon Smart Thermostat makes the concept affordable for just about anyone: Its list price is $60, but Amazon was selling it for just 48 bucks at the time of this review.
Designed in partnership with Resideo, the Honeywell spin-off that markets smart home products under the Honeywell Home brand, the Amazon Smart Thermostat uses cloud-based machine learning to analyze how you use your HVAC system, it then uses what Amazon calls Hunches to automatically heat and cool your home. Hunches are based on the location of your smartphone and how often someone interacts with Amazon's Alexa digital assistant.
This review is part of TechHive's coverage of the best smart thermostats, where you'll find reviews of the competition's offerings, plus a buyer's guide to the features you should consider when shopping for this type of product.
So, if you leave the house for work at roughly the same time every morning, the thermostat will learn to lower the cooling or heating load while you're out—unless someone is at home interacting with Alexa. The more of your life that revolves around Alexa, the better the thermostat's Hunches will become. The thermostat can also be programmed manually, but it's not compatible with Google Assistant or Apple's HomeKit ecosystem.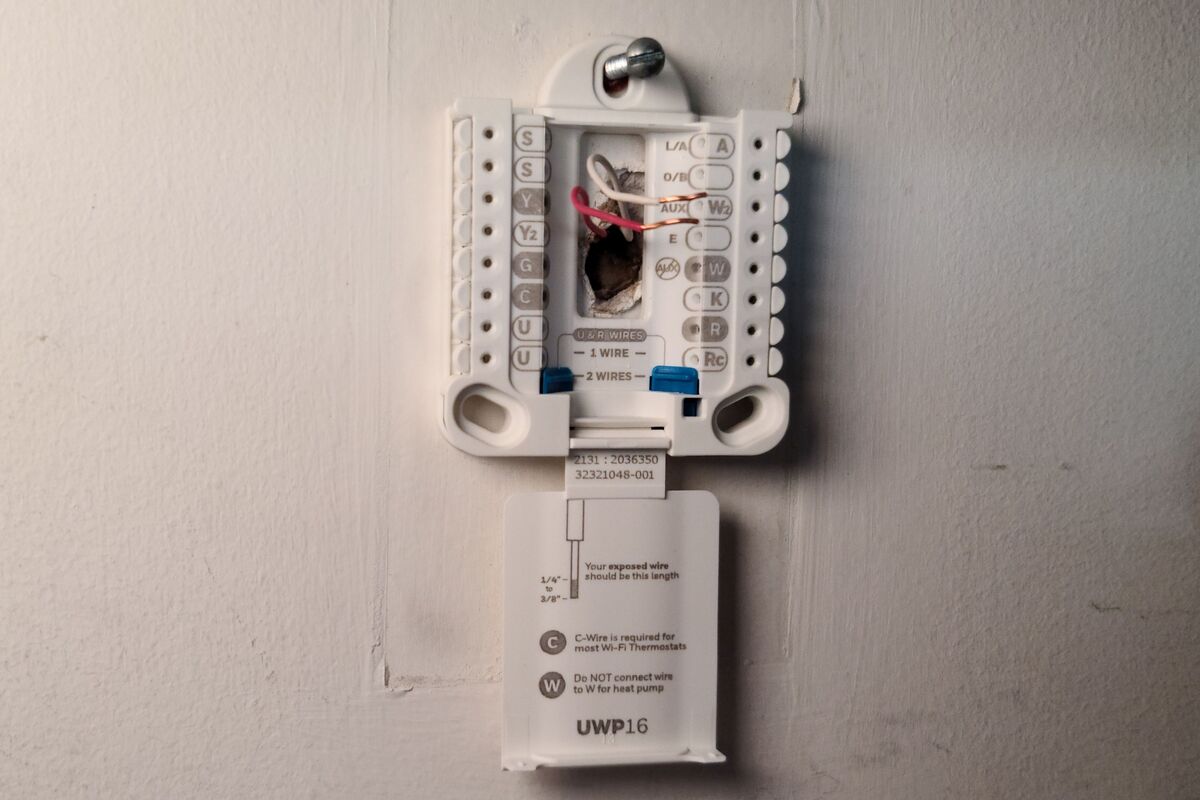 The Amazon Smart Thermostat works with just about any 24-volt HVAC system, it's not compatible with line-voltage systems that use 110- or 240-volt wiring (baseboard heaters and the like). It depends on a C-wire for power; if there's no C-wire in your wall, Amazon sells a bundle that includes an adapter kit. This bumps the thermostat's MSRP to $85 (the bundle was going for $63 when we reviewed it). You'll need to connect the thermostat to your Wi-Fi network, but it's only compatible with 2.4GHz networks.
Amazon Smart Thermostat specs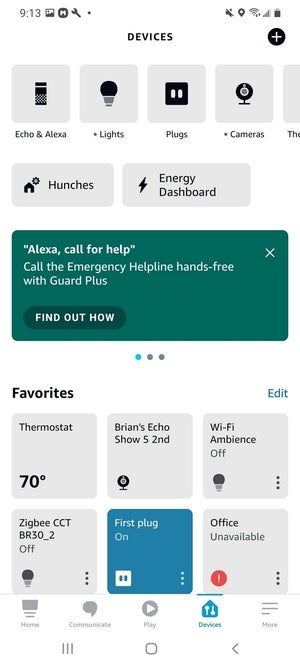 The Amazon Smart Thermostat is shaped like a square with rounded corners, and measures 3.5 x 3.5 x 0.8 inches (HxWxD). You can buy one in any color as long as it's white. The current temperature is displayed—in Fahrenheit or centigrade—with 0.9-inch numerals on a touch-sensitive display. It's easy to tap the thermostat's touch sensitive areas to adjust the temperature and select modes: cooling, heating, fan-only, or auto.
Unlike Nest thermostats, Amazon's lacks an indicator to report when your HVAC system is saving energy and money (Nest's products display a green leaf to communicate this). Both company's products are, however, Energy Star certified.
Unlike our top pick in smart thermostats, the much more expensive Ecobee Smart Thermostat with voice control, the Amazon Smart Thermostat is not equipped with microphones and is not a smart speaker in and of itself. That said, the device can be controlled by any Alexa-compatible smart speaker or a smartphone with the Alexa app installed, and it responds quickly to commands to raise or lower the temperature by stated degrees or by just saying "Alexa, make it warmer."
Setting up the Amazon Smart Thermostat
I started by turning off the HVAC's circuit breaker and removing the old thermostat. I then mounted the connection plate on the wall, fed the wires through, and snapped the thermostat onto the connection plate. The provided instruction manual was helpful but general. It took me about 20 minutes, but any competent HVAC tech should be able to install it it in a few minutes.
After turning the HVAC power back on, the thermostat's screen displayed "SEt," showing it was powered and ready to be configured. I opened the Alexa app on my Samsung Galaxy S20 phone and tapped on "+" to add the Amazon thermostat.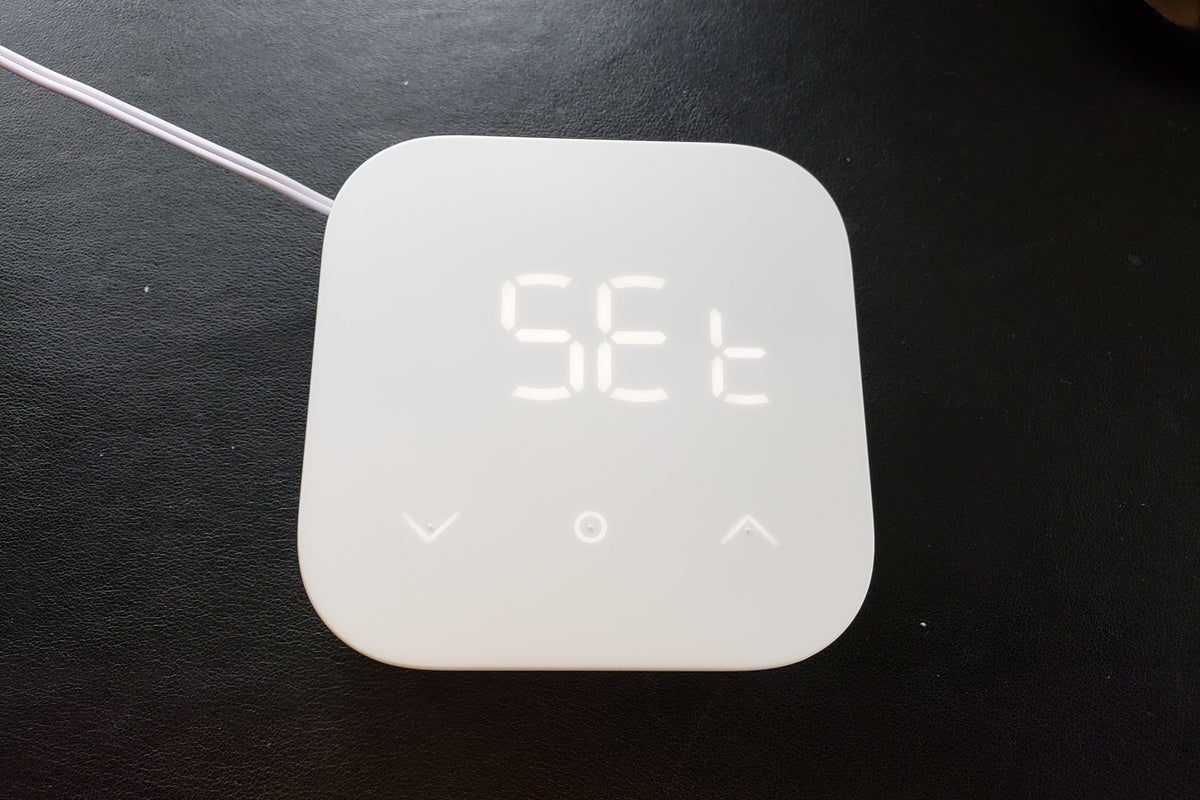 I needed to snap the QR code inside the thermostat, but to do this I needed to remove the connection panel. After putting it back in place, the app searched for and found the new thermostat. It set it up with little intervention in about 10 minutes.
Once online, the Alexa app showed the current temperature alongside other devices, like my home's smart lighting. It's easy to see and turn off the thermostat's AI Hunches, but I found it was best to let it try to predict my needs.
Amazon Smart Thermostat in the real world
During my week using the Smart Thermostat to control the heat in my office, I told it several times to lower or raise the temperature. It learned my idiosyncrasies and automatically turned the heat down when I went to bed and raised it when I arrived at my home office in the morning.
At $60 to $75, the Smart Thermostat is a great deal that can actually improve its performance over time as it picked up hints about my life. In other words, it quickly became a valuable member of my home.
Best Prices Today: Amazon Smart Thermostat